Elections
Philly DA candidate O'Neill is trying to be old-school and new blood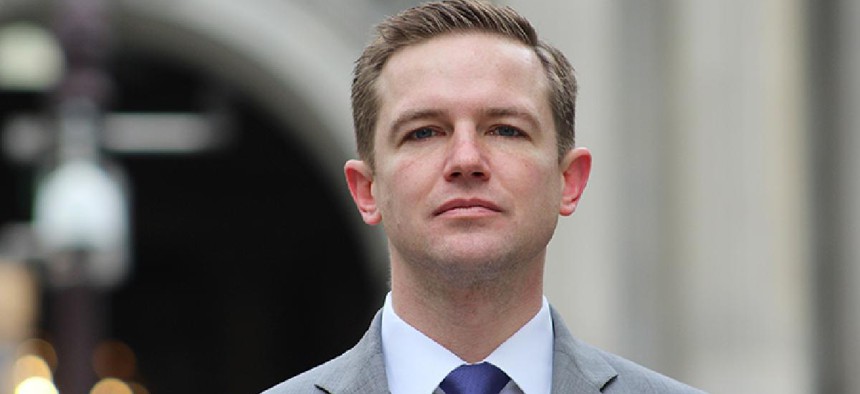 If ever there was a portent for an underdog candidate, it would have to be the ballot petition submitted by Jack O'Neill.
The 35-year-old, who had left the Philadelphia district attorney's office in 2016 after a 10-year stint, made a surprise entrance into an already crowded Democratic primary for district attorney with a petition filled with 1,776 signatures. And while nothing augurs success in the Cradle of Liberty quite like that number, those following the race were much more interested to know why he waited until the last minute to enter it.
"I wasn't interested in running against Seth," O'Neill said of his former boss, indicted current district attorney Seth Williams. "I saw everyone going to attack Seth, ignoring all the good reforms put in place the past eight or nine years, the great staff implementing those reforms – I didn't want to be part of that."
The calculus for the first-time politician changed when Williams announced in February that he wouldn't seek re-election due to a raft of legal issues that culminated in his federal indictment last month.
Given the current tilt of the campaign to malign virtually every aspect of the Williams era, it comes as something of a surprise to hear O'Neill not only acknowledge the DA's accomplishments, but to willingly list a number of initiatives he would like to keep in place in his own administration.
"There's a lot of discussion about what needs to be done, but a failure to recognize that we have been doing those things. We can do better and build off the success of these programs." he explained. "For example, for first-time drug offenders, we have a program called AMP" – the Accelerated Misdemeanor Program – "and we have AMP 2 as well. These are programs to basically release upon arraignment people who are drug offenders and give them certain things to do, and link them with rehab programs. It currently covers about 40 percent of the people eligible; we would like it to cover more; we just don't think people know it exists.
"We also have a program for felony offenders who are non-violent," he continued. "It's a really good program that only covers about 10 percent of the people it needs to. It costs $500-$1,000 per person. Can we expand it? Yes. But we need to go to City Hall and ask for more money. The difference between an offender who goes through this program at $500 per person is still substantially less than the $43,000 per year it costs to incarcerate them."
Touching on one of the flashpoints of the campaign, O'Neill agrees that cash bail should be among the first reforms implemented by the new district attorney.
For him, the key is to rethink the way the city deals with detainers and their impact on those incarcerated with no way of paying bail in a timely manner.
"We have thousands of people in our county jails right now, and the only reason they are in there is because they can't pay their bail," he said. "Everyone has missed the fact that we can do a lot more good when it comes to mass incarceration if the DA's office has the courage to say that if these people are on probation for something non-violent and low-level and they are arrested again for something non-violent and low-level, we are going to ask the judge to not lodge a detainer. We will put it on ourselves.
"The other thing we can do is, there are approximately 40,000 people on probation in Philadelphia right now," he continued, discussing the second piece of the detainer puzzle. "We can reduce that number substantially – I believe by half. If people have been following the conditions of their probation for two years, then probation isn't doing them any good anymore – it's preventing them from getting a job and from moving forward in their lives. I believe the DA's office has to have the courage to start taking these cases to the judge and making the case that their probation should be ended immediately. And it would not require much additional staffing – probably three attorneys to review the cases."
O'Neill's other main policy focus – reducing gun violence – stems from his years in the DAO's homicide unit. It also provides a clear opportunity for him to separate himself from an increasingly indistinguishable set of positions from other candidates. Even when he wasn't planning to run, he said, he was amazed by their lack of focus on the issue, which he said results in 1,000 deaths in the city each year.
To combat the epidemic, O'Neill would return to what he knows best: DAO programs that have already proven successful, like Focused Deterrence and Gun Stats.
"These programs seem expensive at first, but it just needs to be argued better to City Hall that you save a lot more keeping people out of jail, from being shot and being murdered, than by keeping them in jail at $43,000 per person per year," he enthused. "The Focused Deterrence program, which worked wonders in South Philadelphia – it reduced gun-related homicides 70 percent – is a program we can expand to every neighborhood in Philadelphia. The problem is that many of the candidates running haven't worked in the DA's office, or haven't worked in the DA's office recently. They just don't know about this program, how it works, how effective it can be and how it can be implemented in other neighborhoods.
"We have a way to save kids from being shot in drastic numbers and we're not doing anything about it," he added with evident frustration. "What separates me from everyone else is, I know how to do this."
There is no doubt that O'Neill loved working at the DAO, something that was reinforced every time he spoke in the present tense about his former job. And it's that sense of identification and desire to serve that compelled him to enter the race. But it also begs the question: why would someone who still has such a deep affinity for his former employer – so much so that he would risk his and his family's livelihood to try to take over its top spot – why would he leave after a decade?
While he never got into the specifics of his departure, it was obvious by the way his normally unruffled speech became halting.
"I left because of a lot of things that were going on in the office," he explained. "I felt like it had become very difficult for me to accomplish things the way I had for the last 10 years. I felt like ultimately, I needed to leave the office to do the good I wanted to do. It was a very difficult choice, because for most of my life, I wanted to be a prosecutor in the DA's office."
Although he wouldn't go into detail about his departure, he emphasized that his own experience would make him the best choice to lead an office that has been subject to demoralizing attacks for the better part of a year.
"The morale is unquestionably very low," he said. When this campaign became about attacking the district attorneys, it did even worse things for their morale. These SVU ADAs handle six or more sexual assault cases a week. There are people who have been there for decades handling homicides. They take it personally – they feel like politics and politicians have turned on the office and attacked them. It's one of the reasons I feel I'm the right candidate. I'm still a DA. I'm not someone who's spent his or her life attacking the DA's office. I'm not someone who hasn't spent his or her life as a prosecutor, or who was a prosecutor so long ago that no one could remember them. I'm still a DA. I'm one of them. I know what they go through, and I know what their motivations are. And as DA, I would be able to stand shoulder to shoulder with them to take back the ground lost."