Elections
Soros super PAC to make huge ad buy for Philly DA candidate Krasner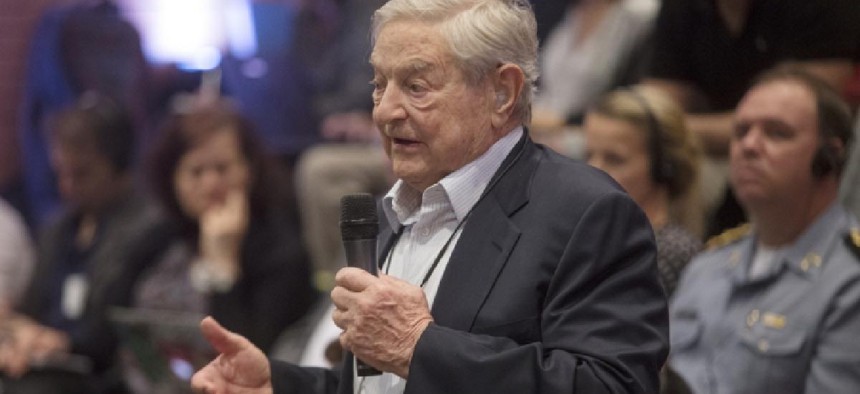 Sources have told City&State PA that a deep-pocketed super PAC linked to Hungarian-American billionaire George Soros has entered a $280,000 television ad buy in support of Democratic candidate for Philadelphia district attorney, Larry Krasner.
The purchase comes after months of speculation that a Soros-linked group would back the criminal defense attorney. The attorney has run a campaign painting himself as the "true" progressive in a field that has tacked progressively leftward.
An offshoot of Soros' Open Society Foundation, Safety and Justice PAC has been scouting for a candidate to back in the race since late last year. After a failed bid to recruit Public Defender Association chief Keir Bradford-Gray, the group set its sights on Krasner. That group has organized yet another local offshoot under the name "Philadelphia Justice & Public Safety" for the purpose of investing in the local DA race.
According to marketing information obtained by City&State PA, the money will pay for about a week of advertising, spread between cable and local broadcast stations.
The PAC dropped $224,000 on the city's main broadcast stations, with the biggest buy – around $95,000 – going to WPVI, the local ABC affiliate station. About $56,000 will go toward cable television ads. The ads will begin airing within the week. The investment could prove crucial in the crowded race to succeed disgraced DA Seth Williams. Seven Democratic campaigns have struggled to find donor support to get on local airwaves, which is viewed as a crucial step towards building name recognition with voters.
To date, only Michael Untermeyer, a self-funded millionaire, has purchased airtime – and then only in a slow trickle, beginning last month. Former federal prosecutor Joe Khan has recently telegraphed that his campaign has nearly raised enough to do the same. Speculation in political circles is rampant that various campaigns are saving up for last-minute bombardment to prime name identification just before the Democratic primary.
The group has organized as an independent expenditure political action committee. Although is spending thousands on Krasner's behalf, the Philadelphia Justice & Public Safety is barred from direct coordination with the campaign.
As a likely result, Krasner's campaign had nothing to say about the billionaire's interest, one of several races around the country his agents have sought to influence in recent years.
"We have no comment and cannot comment on what outside groups may or may not be doing," said Krasner campaign staffer Mike Lee. Spokesperson Rich Garella later clarified that Krasner had met with Whitney Tymas, a representative of the national Safety and Justice group. 
"He's met with a lot of people who are concerned about changing our criminal justice system," Garella said.
Soros notably poured hundreds of thousands of dollars into a 2016 race for the Cook County district attorney, which encompasses Chicago. A similarly named "Illinois Philadelphia Justice & Public Safety" backed progressive candidate Kim Foxx, although it's unclear how much the investment tipped the scales in that race. Foxx outraised her opponents by millions on her way to winning the race.
This is a breaking news story and will be updated as more information becomes available. An earlier version of this article incorrectly referred to Philadelphia Justice & Public Safety as a "dark money" group.