Republican
Congreso CEO's appearance at Trump rally troubles staff and others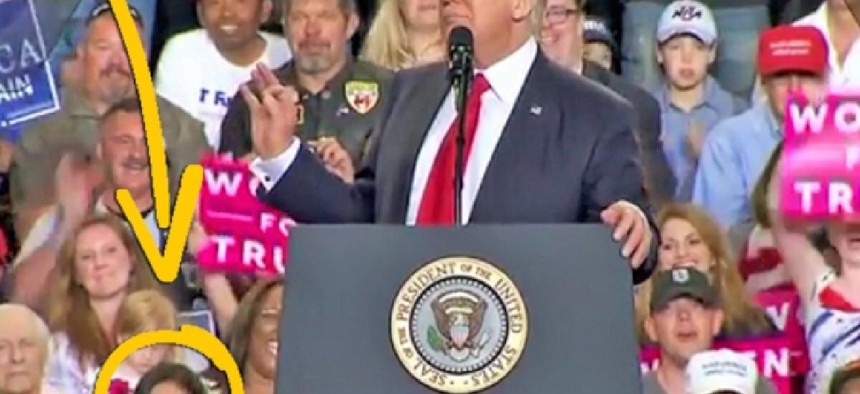 Among the thousands of faces in the crowd at the Donald Trump rally in Harrisburg last weekend, one stood out in particular for Philadelphia Latinos: Carolina Cabrera DiGiorgio, the newly minted CEO of Congreso de Latinos Unidos.
DiGiorgio, who immigrated to the US from Honduras, was shown in the audience on national television during the rally. Sources at Congreso, a nonprofit focused on strengthening Latino communities in Philadelphia, said her appearance sparked anger and confusion among the organization's employees.
Video and photos circulated among employees show DiGiorgio in a front-row seat at the rally, clapping and smiling as the president delivered his trademark jeremiads about "the wall," "fake news" and "the Democrats." Her spouse is PA GOP chair Val DiGiorgio, who was one of the speakers at the event.
Carolina DiGiorgio, who took the reins at the organization in January, said that she is "an open book with my Congreso family, board and staff" when it comes to her political affiliations and policy beliefs, but declined to answer specific questions about those topics with a reporter.
Congreso employees were reportedly incensed that she appeared alongside a president who has made his law-and-order stance on immigration a cornerstone of both his campaign and presidency.
"How could she be there when she is the CEO of an organization that is completely against almost everything that has come out of that man's mouth, especially about the wall?" one Congreso employee, who requested anonymity for fear of retribution, asked.
A state-funded social service organization, Congreso is the 14th-largest Latino nonprofit in the country. It tends to some of Pennsylvania's most deeply impoverished census tracts in the heart of North Philadelphia's impoverished Latino community, where 61 percent of its clients live on a family income of $10,000 or less.
But in an email, DiGiorgio wrote that she didn't feel compelled to discuss her appearance at the rally.
"Congreso has many important issues we dedicate our work to and, as a nonprofit... our employees' personal politics are not a part of our work, Republican, Independent or Democrat," DiGiorgio wrote. "I don't see the relevance of your question."
In a later interview, however, she opened up more about her politics as well as what brought her to Trump's event that night – family.
Her sighting in Harrisburg last week may be less shocking to those familiar with her ties to the state GOP. State voter records show that DiGiorgio is a registered Republican in Chester County, where she lives with her husband, who was recently elected chairman of the Republican Party of Pennsylvania. A South Philly native, Val DiGiorgio has been active in the state party for decades. His 80-year-old parents were seated next to his wife at the rally.
"I was there for my husband," Carolina DiGiorgio said. "I don't care what people are registered. I don't care what religion people are. I don't care if you're gay or straight, I don't care. Because at Congreso, everyone is free to come in and not be judged. And now you're judging me. For what? For being married to a Republican elected official? Well, you know what, he's extremely handsome and I fell in love. He had three kids. He's 10 years older than me. I got three kids on the day I was married and I love them to death. And there's nothing that would hold me back from supporting him."
The couple opened their wallets during the mudslinging Republican presidential primary in 2015, contributing $5,400 to New Jersey Gov. Chris Christie's failed run at the White House, according to FEC filings. Val DiGiorgio later came out in support of Florida Sen. Marco Rubio's presidential bid. Carolina DiGiorgio also noted that she has donated to and supported Democratic campaigns.
However, the couple did not make any donations to the Trump campaign.
For some, Carolina DiGiorgio's appearance at the rally raises questions about how she can balance her political life with her work at Congreso at a time when both employees and clients feel personally attacked by the president's policies on immigration and welfare.
Erika Almiron, director of Juntos, a South Philly-based Latino nonprofit, called DiGiorgio's appearance at the rally "appalling."
"In his first 100 days, Trump deployed an unaccountable ICE (Immigration and Customs Enforcement) office onto Philadelphia that has raided our homes and uses racial profiling to destroy our families," Almiron said. "I have zero confidence that someone who stands behind Trump while he chants 'Build the Wall' can run an organization that claims to support or help Latinos in any way, even if she herself is a Latina immigrant."
Councilwoman Maria Quiñones-Sánchez, whose district encompasses Congreso, heard rumblings of DiGiorgio's attendance through the grapevine. The councilwoman said she didn't believe the CEO's political affiliations affected her ability to serve Congreso's constituents, but nonetheless expressed concern over the optics of the situation.
"I respect Carolina's right to privacy and her own political views," Quiñones-Sánchez said. "However, I understand how staff and clients might interpret her visibility at the rally.  Our communities feel they are under attack by this new administration and are more sensitive at this time in our nation's history."
While Congreso serves a predominantly Puerto Rican community, it also serves hundreds of foreign-born Central American, South American, Asian and African clients each year, the agency's demographic reports show.
The family's party ties have previously raised questions about Carolina DiGiorgio's work within Democratic-led government administrations.
The question came up in 2015 when she took a job with the commerce department in Montgomery County under former Democratic Chair Josh Shapiro.
"That has no bearing on her qualifications," Shapiro, now the state's attorney general, told The Times Herald at the time. "She stands on her own two feet and is highly qualified for the position."
Ironically, DiGiorgio's work with Shapiro was later weaponized against her husband by his opponent in the race for state GOP chairman. As to where she falls on the political spectrum, DiGiorgio said she is a fiscal conservative. "I believe in accountability and responsibility and budgeting within your means," she added. "And yes, I know that sometimes that's going to have an impact on social issues, but I'm a social liberal."
DiGiorgio stepped down from Congreso's board last year to apply for the six-figure-salary job after Cynthia Figueroa left to join Mayor Jim Kenney's administration. Board member Wanda Mial said DiGiorgio was one of many diverse candidates that applied through a national search.
DiGiorgio's political connections have been long known, but board members felt they would be nothing more than a distraction. Mial added that, as CEO, DiGiorgio has expressed support for Congreso's undocumented community.
"She leads with the needs of the community first, which is why she was selected as the new CEO," said Esperanza Neu, the board chair at Congreso.
This story has been updated to include a subsequent interview with Carolina DiGiorgio.
Max Marin is a staff writer at Philadelphia Weekly, where this article first appeared.