Transportation
SEPTA's top cop has transformed its police force and public perception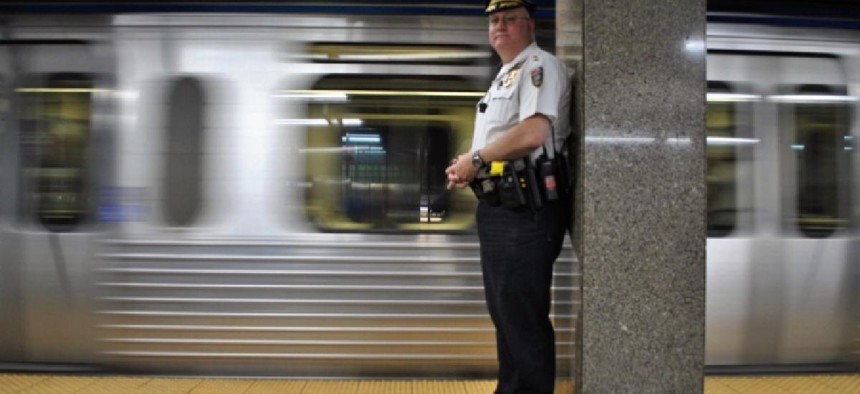 As the El train rolls to a stop underground, Thomas J. Nestel juts his head out between the sliding doors and scans the platform. Decked out in a white officer's tunic and gold stars, SEPTA's Transit Police chief, who is hunting a potential turnstile jumper, explains that jumpers like to wait until the doors are just about to close to skip fare.
You may know the 6-foot, 6-inch cop as the media-savvy guy who tweets photos of fare evaders from the transit authority's 24,000 security cameras. At the moment, he's clicking on his body camera, maybe preparing for a confrontation – but it's just another false alarm.
We get off at K&A – the intersection of Kensington and Allegheny avenues – where SEPTA Transit Police have implemented a new foot patrol detail. Nestel greets every other person on the corner, half with his unwaveringly jovial nature and half his sense of humor. Say hello to 60 Philadelphians, he says, and one of them will clap back with a "fuck you." On this day, we only get hellos.
"I wish a bank robbery would happen," the chief says.
He's joking – mostly. But he's also fishing for that Damn Good Story to tell about his undersold Transit Police.
The deeper story begins in 2012, when Nestel took the reins of the department and developed some long-term, less sensational goals: curbing fare evasion, neutralizing high-crime hotspots along the transit corridors and raising the public profile of a police department that many people know only as "not the real police."
That last one – that's why I'm here. But five years into Nestel's tenure, the department doesn't seem to need much help on the narrative front. He's gotten hundreds of headlines and generated untold amounts of goodwill toward the department. There's an argument to be made that Nestel is the city's most popular cop – outside the department, at least.
As for the other two items on his to-do list, in 2013, Nestel spearheaded a detail at Somerset station, a platform one stop south of K&A, one that has long been plagued by drug dealing. SEPTA credits the foot patrols for dousing the open-air drug bazaar that had defined the station for over a decade.
Of course, many in the neighborhood often complain the dealers just moved to different nearby locations. But the chief's job was to return some sanity to troubled transit hubs in his charge — not solve a broken war on drugs.
Nestel accomplished his other goal in part by ratcheting up citations – tickets for fare evasion have increased tenfold, from 416 in 2011 to 4,646 in 2014. Meanwhile, serious crimes on SEPTA Transit are down, in keeping with the citywide trend.
All that is to say the chief has met or is meeting many of his self-prescribed goals. It also means he's reaching the limits of what is, by definition, a niche police force. Aside from the longshot of stopping a bank robbery next to the El or gunning for a higher office, what does Thomas Nestel do now?
"When you're a chief, your job is always in jeopardy," he says on the El as we head back downtown. "You're only one bad step away from being a 'Mister.'"
Like any other CEO, half of the top cop's job is "professional meeting attender." Thursdays are command squad.
On the 13th floor of SEPTA's Market Street headquarters, the chief meets with his highest-ranking officers in a windowless conference room to run through the week's stats: overtime hours worked; arrests made; citations issued; internal policies abided and violated. This is where the praise is heaped and the necks are had.
About a month ago, Nestel implemented mandatory "bus checks." Each patrol team has to do five per shift. When a bus stops, the SEPTA officer is supposed to hop on, swipe his or her ID card and ask the drivers and passengers what's good. It's Community Policing 101, but the new policy is not exactly popular with beat cops.
District supervisors are reporting subpar check-in rates and the chief is dogging them over it. When he gets serious, Nestel's eyes get beady and his jokester grin flatlines.
"I'm the biggest cheerleader for the transit police – and the biggest taskmaster for the transit police," he tells me later. "We're four Thursdays in and (bus checks) should be a well-oiled machine by now."
Nestel can be hard to read as a law enforcement leader. On the one hand, he's a cop's cop who climbed the ladder from North Wildwood beach patrol ("the best job I ever had") up through the ranks of the Philadelphia Police Department. He'd eventually make chief of the comparatively sleepy 43-member Upper Moreland Police Department, then bounce back again to the city's higher-profile transit police.
Perhaps because he's an insider — and more so because of the checkered history of reform in the Philadelphia Police Department — it can be surprising to hear Nestel talk aggressively about things like officer discipline.
Early in his tenure, he says, every internal disciplinary measure, no matter how big or small, was fought by the Fraternal Order of Transit Police Lodge 109. He speaks frankly about the police culture of "shading the truth," even for the smallest of infractions. It gets him fired up.
"For God's sake, we're cops," he says. "We're supposed to be the ones that tell the truth. And if you come into an Internal Affairs investigation and you lie because 'that's what we've always done,' then I'm going to fire you. Because you're no good to me if you're a liar."
So, Nestel said he met with former FOTP president Richard Neal Jr. five years ago and carved out a new arrangement. The fruits of that deal: from 2012 through last year, 15 officers in the department's roughly 260-officer force have been terminated or resigned prior to termination, according to the department's statistics.
But Omari J. Bervine, who replaced Neal as union president last year, paints a picture of a department suffering under draconian leadership.
"Discipline under this Chief has been far more heavy-handed than under the previous administration and there has been a drastic increase in investigations of a trivial nature," Bervine said. "This has created an extremely stressful work environment for many officers, resulting in a dramatic decline in officer morale."
Bervine also noted that the majority of those terminated officers have been reinstated through the grievance process.
Meanwhile, some 30 officers have voluntarily left the department since the chief took over due to the "toxic atmosphere," sometimes for lower-paying jobs – an exodus that Bervine says left staffing levels "dangerously low." While he appreciates Nestel's efforts to raise the department's profile, he wonders about the cost.
Nestel acknowledges that his changes have been met with some discontent among the rank-and-file. At a time when the PPD is under federal supervision for racial profiling, Nestel took to curbing officers' use of discretion when issuing citations ("discretion breeds profiling," he says) and jumped at the chance to equip his cops with body cameras. Some officers have subsequently complained about the increased scrutiny.
There was even some resistance to his initiative to put beat patrols aboveground, on the streets. Police departments like to live by their boundaries. Until 2012, the department's possibly self-imposed law dictated that SEPTA cops' problems stopped at the edge of SEPTA property, where they became the PPD's problems.
But the chief is confident in the endgame of his policies.
"Police officers are people just like everybody else," Nestel said, seated beneath a TRANSIT PRIDE banner that hangs in his office. "I think that people generally feel strongly about two things: They don't like the way things are and they don't like change. So, were they throwing rose petals on the ground and prostrating themselves and saying 'This is marvelous'? No. Were they saying 'We're not doing it, we're taking a stand'? No. It takes time for officers to recognize the long-term benefit."
Nestel clasps his hands against his belt buckle when he's on camera. Fox 29 and 6ABC come to SEPTA's headquarters to interview him about a tussle on the Market-Frankford Line. Two young men got in an argument and one flashed a handgun – but no one called the cops.
Later, walking back to his office, he tells me that public speaking is his biggest fear, which has an air of false modesty. Nestel's public persona is built around his image as the calm, collected, nice-guy cop. You don't get there without a preternatural ability to defuse bad situations under the glare of the public eye.
In 2015, cellphone video of an egregious encounter between a SEPTA Transit officer and an alleged fare evader and his young daughter made national headlines. The cop got physical with the man, who was holding his child when he refused to step off the train. The chief, "horrified," took the blame — all of it. He said no policy and no $2.25 train ride was worth jeopardizing a child's life, and he must not have made that clear to his staff. Oh, to have been a fly on the wall at that week's command squad meeting.
Earlier this year, the Inquirer revealed that Vincent J. Fenerty, the embattled former head of the Philadelphia Parking Authority (and a friend of Nestel), funneled $100,000 in no-bid public contracts to the transit police chief. With the chief purportedly doing busy work like running background checks and clipping news articles, it felt like yet another case of Philadelphia's toxic insider trading.
But Nestel did what few other outed public figures do: "This is a great time for me to say that I support the media's need to serve as government's watchdog," he tweeted to his nearly 8,000 followers, with a link to the damning article about himself. His fans loved it. He sat on his own grenade and survived.
Nestel has gotten called out for his brashness, too. His Twitter followers have criticized him for grandstanding over fare evasion. Critics call it a poor-shaming campaign that targets a particular demographic. Still, he maintains a law-and-order outlook — "Folks jumping the turnstile aren't going to visit grandma or head to the library downtown," he says — but he did admit to toning it down in the aftermath of sustained criticism.
"I've learned a lot from people on Twitter. That's my learning environment, too. I used to show faces of fare evaders; now I don't show their faces. And I've decreased the number of times I use #cheesesandwich. But I do love it," Nestel says, referring to the hashtag he uses — an old police joke about the menu in Philly lockup.
His ability to project transparency and candor would do well for him in public office one day. But Nestel says he doesn't plan his career far into the future. Another position as chief? He said that, despite speculation, he didn't apply for consideration when former Philly Police chief Charles Ramsey retired.
But it's telling that some simply assumed that he had. How many fare jumpers can one man bust?
Talking about his legacy at the department, he says he simply wants every transit cop to be proud of their work. On a sunny afternoon, while the chief performs bus checks himself at 12th and Market streets, a PPD officer stops to chat.
The chief tells him I'm writing an article about transit police work.
"Are you bored yet?" the PPD officer asks me.  "You should come follow us around."
"They're just jealous," Nestel says.
Max Marin is a staff writer at Philadelphia Weekly, where this article first appeared.