Ethics
Before clinic scandal, Tartaglione gained from halfway house contract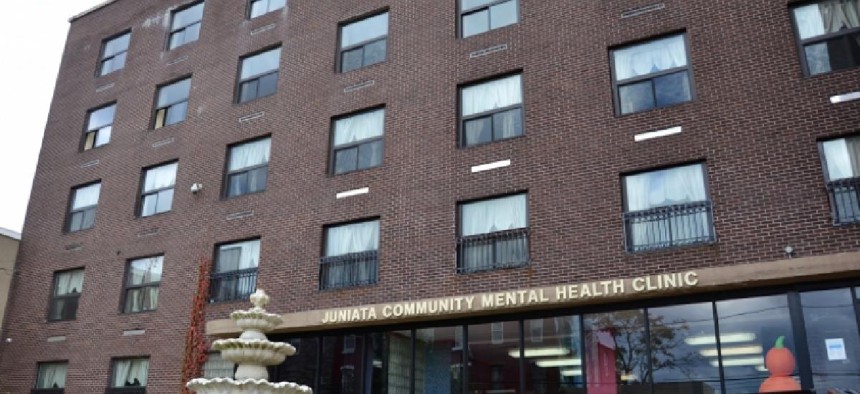 Already facing federal charges over an alleged money-laundering scheme at a North Philadelphia mental health clinic, Renee Tartaglione, the scion of a Philadelphia political dynasty, may soon be answering questions about how she also profited off state and federal contracts related to the prison industry.
Prosecutors allege that, in addition to bilking the government out of hundreds of thousands of dollars through Medicaid fraud, Tartaglione used a shell company to purchase two separate buildings and then rented the buildings back at exorbitant rates to the Juniata Mental Community Mental Health Clinic, where she served as board president.
In court last Wednesday, attorneys pruned through Tartaglione's tangled self-dealing arrangement at the clinic. But  Tartaglione maintained a similar stewardship over a publicly funded halfway house for a decade while she worked as a high-ranking city employee – even during her husband's stint in federal prison for bribing a trio of Atlantic City councilmen.
Although the ongoing trial is focused on the clinic, filings show prosecutors are also seeking records related to the Kintock Group, a large transitional housing provider in Philadelphia and New Jersey, and its connections to Renee Tartaglione and her associates – relationships that span from the Jersey shore to Harrisburg. Renee is the sister of state Sen. Christine Tartaglione, daughter of former City Commissioner Marge Tartaglione, and wife of North Philly ward leader Carlos Matos.
The Kintock story begins in 2001, a year before Tartaglione and Matos helped found the Juniata clinic.
That year, the Fort Washington-based transitional facility operator was looking for a site for a new 333-resident reentry facility. Real estate records show that Tartaglione and Matos, through their LLC, Par Economic Development Corp., purchased a one-story, 50,000-square-foot building for $975,000 in the city's Juniata Park neighborhood, at which point they promptly entered into a 10-year lease with Kintock.
Despite community concerns and zoning gridlock, Kintock eventually opened the building, with the aid of state and federal funding, to work with nonviolent offenders transitioning out of lockup. The facility's politically connected landlords, meanwhile, remained under the radar.
The correctional facility's lease shows that Kintock paid Par Economic Development upward of $25,000 a month in rent, with a stipulation that Kintock would have to buy the building after 10 years or vacate the premises.
On cue, the LLC sold the building to Kintock for $1.5 million in 2011, real estate records show.
The business arrangement was known by few outside of North Philadelphia. But its structure resembles that of the one with the mental health clinic, where prosecutors allege Tartaglione used another shell company, called Norris Hancock LLC, to buy and subsequently lease a new medical building to the Juniata Mental Community Mental Health Clinic for rates that began at $25,000 a month. The clinic relocated to this new facility from its previous home in the neighborhood – a smaller building also rented to the nonprofit through Norris Hancock LLC, which later turned into the political headquarters for the family-controlled 19th Ward.
William DeStefano, a defense attorney representing Tartaglione at trial, did not return requests for comment by press time. Neither did Kintock officials.
The Kintock building was not Par's first big real estate transaction. In 1995, Matos used it to acquire the burned-down Quaker Lace Co. factory near Fourth Street and Lehigh Avenue, just months before the School District of Philadelphia sought to purchase it to build the Julia De Burgos Elementary School.
At the time, news reports and critics accused Matos, who was then working as an aide in Christine Tartaglione's senatorial office, of gaming the district for profit. Matos said the criticism came from his political enemies, according to news reports. Matos, a veteran political organizer in North Philadelphia's barrio, purchased the two-acre parcel for $66,923. Months later, the school district paid him $1 million for it, minus the city liens for demolishing the charred factory.
Matos, while named as a co-conspirator in his wife's trial, has not been charged.
In addition to information about Kintock, legal filings indicate that prosecutors are interested in expense records related to Par Economic Development Corp., as well as Tartaglione's New Jersey beach home, her purchase of a boat and other financial dealings. It remains unclear whether these records are relevant to the allegations surrounding the health clinic.
Tartaglione's financial ties to the publicly funded agencies should have raised ethical red flags years ago. After all, she was working as deputy city commissioner under her mother while simultaneously stewarding the Juniata clinic and the Kintock halfway house.
Public employees in Philadelphia are barred from profiting either directly or indirectly from public contracts with the city. The Philadelphia Board of Ethics recently fined former Prisons Commissioner Louis Giorla after it emerged that he had profited off of a city medical contract with Corizon Health. However, directly or indirectly benefitting from state and federal contracts is not explicitly barred by the city charter.
But it wouldn't have mattered much in Tartaglione's case. She resigned in 2010 after coming under fire for a separate city charter violation: operating her then-incarcerated husband's political ward during office hours.
Tartaglione's involvement at the clinic, which had a city contract since 2005, continued until the federal indictment was brought against her last year.
A spokesperson for the U.S. Attorney's office said prosecutors will not comment during trial, and declined to elaborate on their evidence related to Tartaglione's case.
The trial, now in its third week, is deeply underpinned by the family's storied political life, with ailing political dynasties now pitted against one another: In the one corner, the Tartaglione crest. In the other, disgraced former state Rep. Leslie Acosta, the descendant of Ralph Acosta, who was one of the first Latino state representatives in the Pennsylvania Legislature.
While the crux of the federal prosecutor's argument is that Tartaglione embezzled hundreds of thousands of dollars through fraudulent checks at the clinic, DeStefano charges that Tartaglione wasn't the one taking kickbacks. 

He says the checks were fraudulently cashed by Leslie Acosta, who worked at the clinic prior to taking office, alongside her mother, Sandy Acosta, who served as the clinic's longtime bookkeeper.
Both women pleaded guilty last year, after agreeing to testify against Tartaglione.
Max Marin is a staff writer at Philadelphia Weekly, where this article first appeared.