Gambling
Gaming expansion revenue plan sharply divides Philly Dems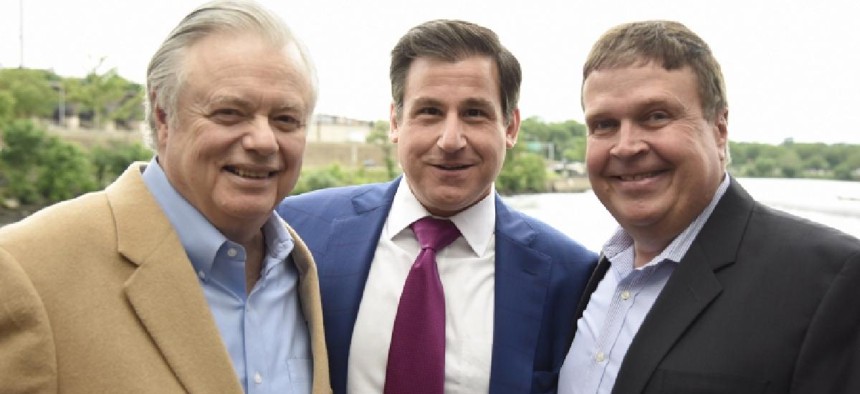 Philadelphia Mayor Jim Kenney spent the night in Harrisburg earlier this week. The reason: He was on a mission to impress upon Senate leadership the impact of the state budget on Pennsylvania's largest city. Informational meetings like these are routine around state budget deadlines, but capital sources said Kenney also made clear his opposition to bills that would massively expand video gambling and alter the disbursement of casino revenues in Philadelphia.
That latter item was floated by Kenney's fellow Philly Democrat, state Sen. Larry Farnese.
Farnese and a group of other Philly state senators had sought to insert language into a pending bill that would increase Philadelphia casino revenues paid out to the city's benefit to $10 million annually. But the language would also shear off $2 million in new revenues to the state's Department of Community and Economic Development for nonspecific "economic development" and "revitalization projects" in Philly.
Kenney's office took issue with passing off such a substantial chunk of the new funds to a politicized state agency that resides outside of the municipality's direct control.
"This revenue should be allocated directly to the city for basic services such as police and fire protection, sanitation and public health. To force these funds to be channeled through DCED takes control out of the hands of Philadelphians for whom this revenue is intended," said mayoral spokesperson Mike Dunn.
The larger gaming bill is currently in limbo as House and Senate Republican leaders continue to spar over competing visions of the legislation, which has fissured both parties. The lower chamber recently took out certain local share provisions, including Farnese's tweaks, while inserting a dramatic expansion of video gambling that faces mixed support in the Senate.
Despite the changes, Kenney nevertheless met with the senator yesterday morning to underscore his concerns. Farnese said he was blindsided.
"I didn't get the impression they (the Kenney administration) were opposed to it," he said, of authoring the initial language. "The fact that they may be opposed to it now, I appreciate that. They came in this morning and made their position clear."
Casinos are required by state law to return some slot machine revenues to their host communities, known as a "local share assessment." But courts invalidated these initial provisions last year, forcing legislators to craft a new arrangement.
Some, like Farnese, have seized the opportunity to make "improvements" to the previous system. Philly is unique in splitting $7 million in revenues it currently receives from the SugarHouse Casino between the school district and the city's general fund – the current breakdown is $5 million to the district, $2 million to the fund. 
The senator said that his changes would bring the city more in line with the system featured in other counties, which kick their local share towards economic development projects.
While Farnese underscored that "anyone" (including the city and school district) could apply for a cut of the new DCED funds. But the agency also has a history of being guided by the whims of state lawmakers, it's grants sometimes informally referred to as "walking around money" or "WAMs" by pols.
The senator countered that the city's budget was no more transparent than the DCED.
"(Kenney) wanted to put all the money back into the general fund. Well, we don't know how the general fund money is used," he said. "I think it's curious that the city isn't asking to increase the share that goes to the school district. They just want to know when they get their money."
Kenney's staffers say that while they continue to have concerns, the mayor will wait to see a final version of the legislation before acting further.
"The administration is monitoring the progress of this legislation as it moves through both chambers, and we continue to be interested in working with members on both sides of the aisle toward a resolution that will be positive for the city and school district," Dunn said.
Meanwhile, top City Hall sources continued to chatter about the proposal, saying it sounded like a plan out of the playbook of Farnese's predecessor, disgraced state Sen. Vince Fumo.
Fumo, now a political consultant, was an architect of an early 2000s bill legalizing slots in the commonwealth, using his influence to ensure that two Philadelphia casino licenses landed squarely in the Senate district Farnese now controls. Fumo was later jailed over a string of corruption charges that detailed his steering of funds to a pet nonprofit through the DCED. The former state senator's protégés, including Kenney, would ultimately help position Farnese as a successor. 
Fumo and Farnese have kept in touch – both men were photographed together during a Farnese fundraiser at the posh Waterworks restaurant last Wednesday. But Farnese flatly denied that Fumo had any sway over his decision-making, insisting that the language was taken whole cloth from an earlier proposal he floated, in 2009. Fumo did not respond to requests for comment.
"I see Senator Fumo when he's out walking around the city," Farnese said. "I was out to lunch two weeks ago on Friday and I saw him...But he's not telling me what to do with the gaming act."