Infrastructure
Winners and Losers for the week ending September 1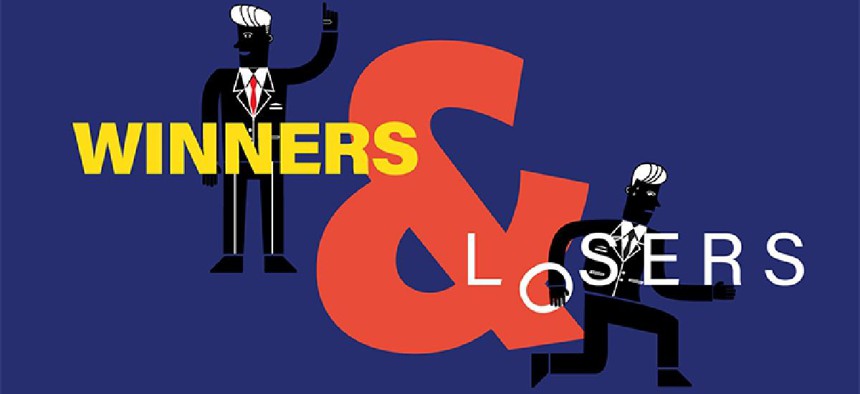 As with seemingly every other crisis, there is a surfeit of blame and castigation to be heaped upon the Trump administration over the tragedy unfolding in Texas after Hurricane Harvey. Using the storm's deadly approach to draw more eyeballs for announcing a pardon of convicted human rights-abuser and former Maricopa County Sheriff Joe Arpaio; rolling back safety regulations for building in flood-prone areas; the president choosing not to meet with a single victim or visit a single disaster site during his brief post-hurricane visit to the Lone Star state; the continued prevarications over global warming and its role in producing "once-in-500 years" storms like Harvey and its ilk that have wreaked havoc with alarming frequency.
But criticizing First Lady Melania Trump for wearing heels on the way to Texas? It's one thing to take up someone's Twitter feed with snark about Manolos and their inappropriateness for the occasion; it's quite another to see actual articles published about it. Forget about whataboutism – just because President Obama was taken to task in a ridiculous right-wing bout of pearl-clutching over his (gasp!) sartorial choice of a non-dark suit three years ago, that doesn't give license or reason to dedicate column inches and waste people's time on how FLOTUS was shod; it's just, um, shoddy reporting. She's not a first-responder, nor a victim, nor middle- or lower-class, nor does she seem to be interested in defending herself for simply being herself.
Don't misunderstand: This is no modern-day version of "Leave Britney alone!" by any stretch of the imagination. It's just a lament that out of all the stories to be told – that needed to be shared – about the devastation, courage, survival and future of Texas and Texans, so much ink and so many pixels were thrown away on stilettos.
WINNERS
City solicitors: The top lawyers for Philadelphia and Bensalem will have no trouble justifying their existence after it was announced that their municipalities will be suing, respectively, US Attorney General Jeff Sessions over his sanctuary city policy; and pharmaceutical companies over their roles in the opioid epidemic.
Kevin Haggerty: Harassment charges against the PA Rep. were dropped as part of a divorce agreement with his wife.
Lou Barletta: The Republican Congressman continued his career trajectory by announcing his candidacy for the US Senate seat currently held by two-time incumbent Democratic US Sen. Bob Casey. While the odds are long for unseating an incumbent senator – and could be considered to be even longer, based on his early and enthusiastic support of then candidate Trump – Barletta's campaign history shows it would be foolish to count him out.
LOSERS
Justin Simmons: The PA Rep. was absolutely eviscerated by Congressman Charlie Dent for his duplicity over his intentions regarding Dent's seat. Dent publicly called Simmons a "phony" and released private text exchanges depicting Simmons soliciting political support and donations.
Henry Gibbs: No proof of residency? No legit identity documents? No driver's test? No problem, if you were one of 30 foreign nationals who knew how to get Gibbs to deliver driver's licenses to them – for a fee – according to a federal indictment of the PennDOT employee.
Scott Wagner: This week in "WagnerWatch," the state senator and GOP candidate for governor made an unforced error with an anti-Semitic and nationalist dog whistle about Jewish Hungarian-born billionaire George Soros, which he then compounded by offering a putatively anti-Catholic explanation of the comment.