Elections
Sources: PA Rep. Thomas may step down, back Malcolm Kenyatta in 181st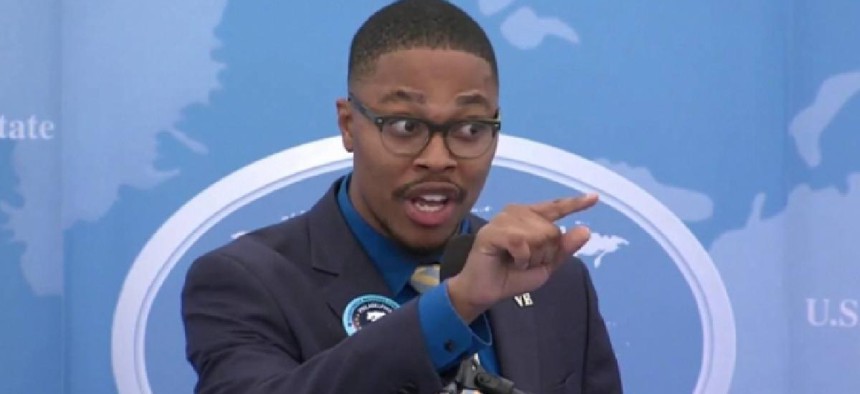 Sources have told City&State PA that longtime Democratic state Rep. W. Curtis Thomas may retire and back community organizer Malcolm Kenyatta as his successor in North Philadelphia's 181st House District in next year's election.
Kenyatta, who served as a delegate for former Democratic presidential candidate Hillary Clinton in 2016, recently formed a political action committee. Two weeks ago, he hosted a fundraiser at the Griffin Apartments in Center City and has a similar event planned on Capitol Hill in Washington D.C.
Contacted by City&State PA, Kenyatta acknowledged he was interested in the seat – but said he wouldn't challenge Thomas in a primary.
"When I ran communications for Rep. Thomas' last re-election campaign, I went and talked to kids and families struggling in his district. I understand the issues in his district," Kenyatta said in a recent phone interview. "Should he choose not to run, I want to look at that. That's what this whole exploratory effort is about."
Thomas' campaign spokesperson, Maria Beamer, similarly would not confirm that Thomas had decided to retire – but heaped praise on Kenyatta, to whom the legislator is distantly related.
"As far as I know, Rep. Thomas is running again. But he is impressed with Malcolm Kenyatta," she said. "I know Kenyatta has an interest and, if Rep. Thomas decides not to run, he'll back him...It's up in the air right now."
Kenyatta, the grandson of activist Muhammad Kenyatta, currently runs the Greater Philadelphia Chamber of Commerce's diversity and inclusion initiative. Involved with several LGBT political groups, he has also helmed several nonprofit efforts aimed at addressing the plight of North Philadelphia, an impoverished section of the city where Kenyatta was raised. (Full disclosure: Kenyatta has contributed op-eds to City&State PA.)
"Everybody who knows me knows that I have a passion and commitment to North Philly.  Our communities have struggles but they also have so much promise. If there's an opportunity to serve and support those communities, I want to do that."
The race has already attracted at least one Democratic challenger – Lewis C. Nash, a local pastor and founder of a North Philadelphia CDC. 
Nash did not respond to a request for comment.
This is a developing story and will be updated as more information becomes available.