PA House Democrats unveil "Plan for PA" legislative agenda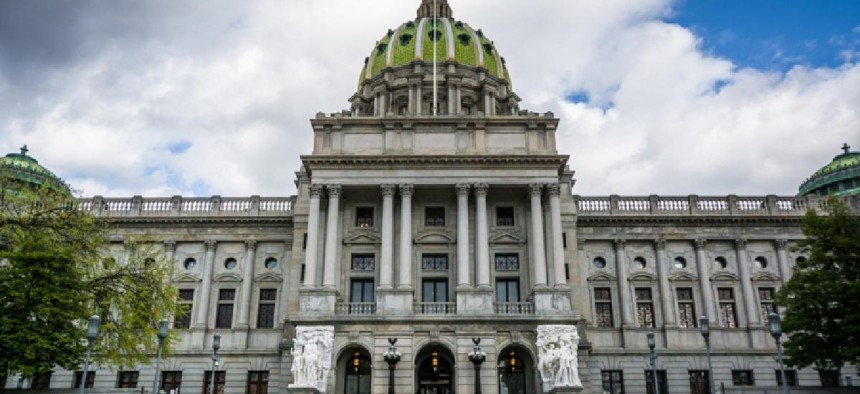 The House Democratic Caucus this week unveiled what they are calling the "Plan for PA," a legislative agenda they hope will get action in the coming months as legislators work on action in the interstitial period between the FY 2017-2018 budget and the FY 2018-2019 budget.
According to the caucus, the thrust of the four-pronged plan is a focus on solutions for working, middle-class Pennsylvanians that creates jobs, makes taxes fairer and ensures a quality public education.
"House Democrats represent cities, suburban communities, small towns and rural areas across the state, but all of us share a common dedication to a core set of values we believe matches the values and needs of Pennsylvania families and small businesses," said House Democratic Leader Frank Dermody (D-Allegheny). "We need to start getting things done for them, not continue to waste time on the enduring Republican agenda of partisan politics, making corporations richer and turning government over to the special interests."
The plan has four main themes: a "People First" plan focusing on safety, health, financial security and human dignity; a jobs plan that would make Pennsylvania more attractive for job growth to support families, enhance the economy and expand opportunities for working Pennsylvanians; a quality schools plan that provides education to all children while also allowing for adult continuing education to align skills with employer demands; and a fair taxes plan that eases the tax burden on working families by aligning taxes with what people can afford and ensures corporations and wealthy Pennsylvanians pay their "fair share.
"The Republican approach to governing Pennsylvania has been bankrupt for years," Rep. Dermody added.
"Instead of standing still, we can turn our attention and efforts instead to the values and policies our residents have been asking us to focus on for years -- values and policies shared by House Democrats. With the Plan for PA, we can build a Pennsylvania that works for all of us, not just the wealthy and well-connected."
While some legislation is forthcoming, House Democratic spokesperson Bill Patton pointed to at least 14 already-introduced pieces of legislation at varying stages of the legislative process the caucus considers to be part of the "Plan for PA."
A smattering of that selection includes the already-being-debated natural gas severance tax bill (House Bill 1401), legislation to raise the minimum wage (House Bill 1520), an update to Pennsylvania's Equal Pay Law (House Bill 830), the reauthorization of CHIP (House Bill 1388), legislation to provide for retirement savings for non-pensioned private sector employees (House Bill 465), two bills aimed at helping recent college grads purchase homes while paying down debt (House Bill 1223 and House Bill 1235), and legislation providing a tax credit for interest paid on student loans (House Bill 29).
Other bills aim to increase income limits for prescription drug assistance, expand the Disabled Veterans' Real Estate Tax Exemption Program, improve the Second Stage Loan Program to help businesses survive and grow in early years of development and to help small and disadvantaged business compete for government contracts.
"We see a real opportunity to get a number of these elements passed," Patton stated.
Responding to the minority caucus's plan in its current publicly available form, House Republican Caucus spokesperson Steve Miskin noted that its lack of specifics is typical of the House Democrats' past legislative priorities.
"It's great to talk in platitudes," he said. "As usual, by their lack of specifics, they don't take any stance."
Recently, House Majority Leader Dave Reed (R-Indiana) began circulating a co-sponsorship memo for a six-bill package that would reform the state budget process.
Inclusive of the sought-after reforms are proposals to: close the loophole allowing an out-of-balance budget to become law without the governor's signature; provide limitations on the Budget Secretary's authority over the waiver of lapsed funds; require the Budget Secretary to place funds in reserves in the event of a mid-year projected deficit; increase the disclosure of information related to the use of special funds; require the administration provide the legislature information about mandated costs and other funds used to gain federal matching funds; and requiring a statement of need and potential cost-savings when the governor requests supplemental appropriations.
As part of this ongoing effort, the House Appropriations Committee has scheduled a number of December hearings with Wolf administration department heads to investigate amounts in special funds within their departments.
Also, as part of this agenda and aside from recently enacted legislation that would conduct performance reviews of state tax credit programs, Rep. Jason Ortitay (R-Washington) has recently announced the introduction of House Bill 1947, legislation that would bring PennWATCH-like transparency to state tax credit programs.
The bill requires each state tax credit program to create an annual report detailing the name of the taxpayer receiving the credit, the amount of the credit used or issued, the amount of any remaining tax credit, and information related to taxpayers that buy or sell tax credits. The information would then be posted on the oversight agency's publicly accessible website.
"Transparency in government spending is essential to ensuring tax dollars are used appropriately," Rep. Ortitay said. "This legislation will make it easier to see how tax credits are benefiting the Commonwealth in a number of different areas. In addition, it will allow the public and General Assembly to better evaluate the effectiveness of programs."
Outside of the fiscal issues, the caucus is also looking to change the state regulatory process as it relates to natural gas drillers and the agriculture industry.
"This administration has brought DEP back to the old DER as a job-crushing, regulatory nightmare," Miskin said.
In furtherance of this agenda, Rep. Kerry Benninghoff (R-Centre) was successful in having an amendment adopted to the current natural gas severance tax bill under consideration that would streamline the regulatory process for natural gas drillers by requiring action by the Department of Environmental Protection on a drilling permit within 45 days or the permit would be deemed approved.
The House State Government Committee chaired by Rep. Daryl Metcalfe (R-Butler) has also been working on the issue of regulatory reform throughout the current legislative session.
Jason Gottesman is the Harrisburg Bureau Chief of The PLS Reporter, a news website dedicated to covering Pennsylvania's government