Economic Development
As Pittsburgh's Act 47 exit nears, lawmakers say ICA no longer needed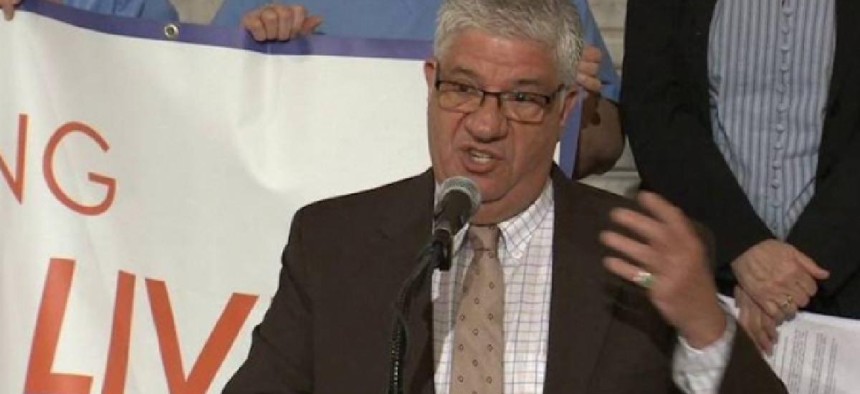 With talks of Pittsburgh leaving Act 47 status by the beginning of 2018 and with a zeroing out of the city's financial oversight authority's line item in this year's state budget, lawmakers and Pittsburgh officials are agreeing that there is no longer a need for the Pittsburgh Intergovernmental Cooperation Authority to continue past the end of the year.  
"The ICA did its job in helping Pittsburgh get its finances in order and making sure its budget priorities are in the right place," said House Republican caucus spokesman Steve Miskin. "Now things are happening with a continued positive trend and there's a feeling that the ICA has run its course and no more funding needs to be expended."  
Other lawmakers, such as Sens. Wayne Fontana (D-Brookline) and Jay Costa (D-Forest Hills), sponsors of legislation passed in 2016 known as Act 99, to reorganize and reform the Authority, also agree that the ICA has "run its course."  
"I don't personally see the reason to keep them at this point. It's just another layer of government that we don't need," said Fontana. 
Fontana had a bill drafted before the Senate last legislative session to do away with the Authority after an investigation into the ICA's former executive director Henry Sciortino found that he was not able to produce more than 90 percent of recorded documentation of the body's contracts and expenses. 
Instead of dissolving the Authority, Fontana worked alongside Costa to pass Act 99, which calls on the body to adopt a record-retention policy, file monthly financial statements, maintain a website, and establish a formal process to determine how state gaming monies can be used in Pittsburgh's "best interest" – a key component of the Authority.  
"There's already enough oversight with City Council and other bodies – it just seems to be too much," added Fontana. "If [the ICA] isn't unnecessary already, it will be in the near future. I'm in favor of dissolving them."  
Pittsburgh Mayor Bill Peduto agrees that as the city's finances are bouncing back, the need for both entities is becoming less.  
"As we continue to get to a point where our debt becomes more manageable and where our revenue can be on a continual basis and we've established a surplus fund, the need for Act 47 and ICA is becoming less," said Peduto. "We're not quite there yet, but we are getting there. I would not get rid of one without the other."
Interim ICA Executive Director Reynolds "Renny" Clark agrees with the lawmakers' sentiments, stating that the timing couldn't be better.  
"The ICA board members serve under the leadership of both the House and Senate minorities and majorities, so if they are saying that it's no longer needed, then we don't need to argue with that because they are the ones that set up the authority in the first place," said Clark. "I think it's great as Act 47 [overseers] are getting ready to submit their recession plan and Act 47 is probably going to go away after the first of the year." 
He is concerned, however, that if the city is not granted permission to leave Act 47 by the beginning of 2018, the authority will still have to operate until June 2019 with very limited funds.  
Per Act 99, the ICA is mandated to continue until the city leaves Act 47 status, or until June 30, 2019, whichever comes first. Compounded with the General Assembly cutting out the Authority's yearly appropriation of $250,000 this year, the body is expected to face a $20,000 deficit for its operating expenses by December, with no plan for continued funding going forward. 
In order to combat this, Clark stated that lawmakers need to consider an amendment to Act 99 dissolving the ICA of its duties once the city leaves the "financial distress" status of Act 47.  
"The board and myself have no authority to dissolve authorities or agencies but we also don't have any funds to operate with, so by the end of the year it will become a non-functioning authority even though Act 99 says we need to stay around until June 2019," said Clark. "What we need is a simple amendment to Act 99 changing the termination date."  
Costa said he supports such an amendment but questions whether such language would be able to move through the legislative process before early 2018. 
"We're certainly interested in looking at legislation along those lines," he said. "But the question is how quickly will we get it through the legislative process. We have a little bit of time because it's my understanding that we won't be [leaving] Act 47, at the earliest by the end of the year, or more likely early next year, possibly. But we are going to work to try and get it done."  
In the meantime, ICA board members are preparing for their Dec. 21 meeting where they will publicly discuss their plans to finish out the Authority's duties with their limited funds.  
Alanna Koll is the Pittsburgh Bureau Chief of The PLS Reporter, a news website dedicated to covering Pennsylvania's government.