Despite certain veto, House committee advances abortion bill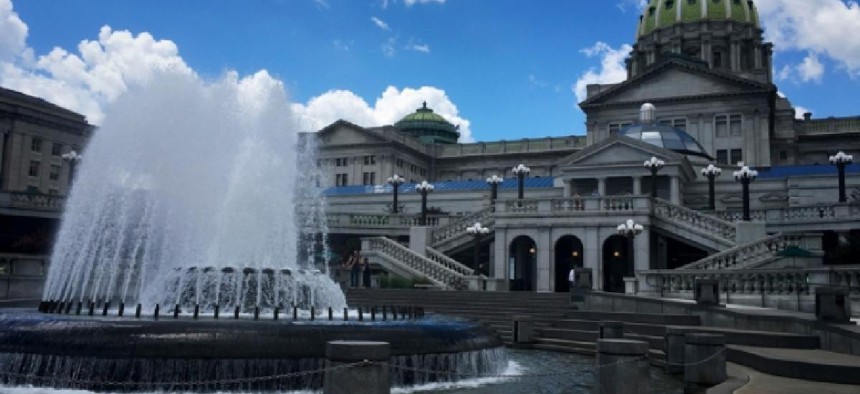 The House Health Committee on Monday advanced Senate Bill 3 along a party-line vote, despite a renewed promise from Gov. Tom Wolf to veto the legislation.
The controversial legislation sponsored by Sen. Michele Brooks (R-Mercer) would dramatically shorten the time after which abortions cannot be performed from 24 weeks of fetal gestation to 20 weeks. The bill also takes the step of defining – and completely banning – so-called "dismemberment abortions," which the legislation chooses to define as "[t]he act of knowingly and purposefully causing the death of an unborn child by means of dismembering the unborn child and extracting the unborn child one piece at a time from the uterus through the use of clamps, grasping forceps, tongs, scissors or similar instrument."
The legislation does not provide any exemptions for those seeking abortions in the case of rape, incest or fetal abnormality. It does, however, provide exemptions for preventing either the death of the pregnant woman or the "substantial and irreversible impairment of a major bodily function" of the pregnant woman.
Democrats, who were uniformly against the legislation in the Health Committee, offered a number of different reasons for opposing the bill.
Rep. Kevin Boyle (D-Philadelphia) noted that while he finds the entire legislation distasteful, it's the lack of exemptions in the case of rape or incest that especially draws his ire.
"Right now, the biggest social issue is sexual violence against women, and there is such great focus on sexual harassment, sexual assault and rape. We know the vast majority of sexual assault victims, the vast majority of rape victims, don't report the crimes committed against them immediately – if they report them at all," he said. "This bill would actually restrict their ability to terminate their pregnancy because they were raped by a sexual assault assailant."
Others saw the legislation, particularly the move to ban abortions after 20 weeks, as a violation of constitutional rights that establish an ability of a pregnant woman to have an abortion prior to viability, which has long been established by the medical community at 24 weeks.
"This legislation is a radical departure from the established black-letter law from the case rulings in Roe v. Wade and Planned Parenthood of Southeastern PA v. Casey," said Rep. Gerald Mullery (D-Luzerne).
Others found it difficult to support legislation that both goes against most expert medical advice given to committee members – organizations like the American College of Obstetrics and Gynecology and the Pennsylvania Medical Society oppose the bill – and draws bright-line rules that are to apply to all pregnant women regardless of circumstances.
"As a woman, we are off-base," said Rep. Mary Jo Daley (D-Montgomery). "I think that we need to listen because we are also at a point where we are going to criminalize the situation for the physicians. I believe, actually, it does fit into the constitutionality of the issue because it would actually prohibit a woman from having a procedure that is legal."
One proponent of the legislation, committee Majority Chairman Matt Baker (R-Tioga), said the bill represents "a sanctity-of-life issue" that keeps up with medical advances in treating premature births.
"Some of us have been to NICU units and we've seen the preemies and we've seen these very little infants being saved," he said. "What's really phenomenal is the bulletin boards where you see them 10 years later, 15 years later fully grown and living wonderful lives with their parents."
When the legislation passed the Senate in February of this year, it did so along a bipartisan 32-18 basis, though lacking the necessary test votes to successfully override a gubernatorial veto, which is already a fait accompli.
To that end, Gov. Wolf Monday reasserted his promise to veto the legislation, which he has repeatedly called "an attack on women."
"Once again, Harrisburg Republicans are moving the most extreme anti-choice legislation in the country that criminalizes abortion and leaves no exceptions for victims of rape or incest," Wolf said. "I have met with women and medical professionals and understand how devastating and dangerous this bill would be for patients. That's why I will veto this attack on women. Put simply, women's health care decisions should be left up to women and their doctors, not politicians in Harrisburg."
Last session, a similar bill sponsored by Rep. Kathy Rapp (R-Warren) cleared the House by a 132-65 vote, short of the number needed in the House to override a gubernatorial veto.
Baker stated that it is too early to tell what the vote will be in the House this session – he speculated the General Assembly's reputation of being anti-choice will hold true once again – or if there will be enough supporting votes to show the chamber could override a veto.
"It's too early to say whether we do (have the veto override numbers) or not," he said. "Every term we have new members coming in, going out and some members have not been tested on any type of pro-life or abortion-related bill, so it will be interesting to see how the votes go."
Outside of the already-named medical organizations, the legislation is also opposed by Planned Parenthood and the ACLU of Pennsylvania.
Noted supporters of the legislation outside the Capitol include the Christian Medical and Dental Associations, the Pennsylvania Catholic Conference, and the Pennsylvania Pro-Life Federation.
Jason Gottesman is the Harrisburg Bureau Chief of The PLS Reporter, a news website dedicated to covering Pennsylvania's government.