Economic Development
Fiery Philly City Council meeting ends with stop-and-go bill passage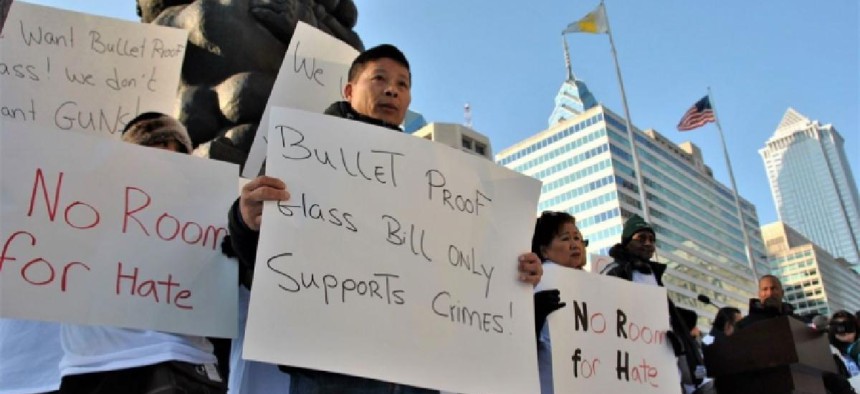 Philadelphia City Council passed a controversial bill Thursday, 14-3, that seeks to tighten regulations around the city's notorious beer-selling convenience stores, ending a tense, weeks-long debate between predominantly African American community members and Asian American business owners.
The sole contentious feature of the bill, sponsored by Councilwoman Cindy Bass, was a single-paragraph provision about the removal of bulletproof glass from convenience stores better known as stop-and-gos, which sell takeout booze as well as, in many cases, shots of liquor.
In its original form, the bill would have mandated removal of the protective glass in 2018. By final passage, however, Council members amended the language to have the Department of Licensing and Inspections issue regulations for "the continued use and removal" of glass no earlier than 2021. It remains unclear how L&I will pursue the enforcement.
Proponents of the bill, which follows on the heels of recently passed legislation in Harrisburg targeting stronger enforcement of the establishments, cited decades of complaints about stop-and-gos selling shots of liquor while eschewing their liquor license requirement to offer hot food and/or proper seating.
Others painted a far more severe image of stop-and-gos, describing their owners as profiteers of misery encouraging drunkenness, drug use and other public nuisances and hazards in predominantly poor neighborhoods of color.
 "They aren't delis," Bass told a packed Council chamber on Thursday. "They are places to buy drugs to get high … indoor open-air drug markets masquerading as restaurants."
Adam Xu, chairman of the Asian American Licensed Beverage Association of Philadelphia, said that the overwhelming majority of the 230 stop-and-gos he represents – what he called "beer deli stores" in a fiery op-ed opposing the measure – operate in compliance with state law. He added that he and his fellow business owners agreed to all of the reforms outlined in the bill – except for the bulletproof glass.
But Bass and others would not budge.
"Everybody agreed on 90 percent of this bill right away," Councilman Bill Greenlee said. "I would like to have seen the whole issue of the glass taken out of the bill, but we came up with changes in wording" as a compromise.
The reasoning behind that, according to Xu, is as transparent as the glass itself.
"Taking down the bulletproof glass is inviting crime, not getting rid of the crime," Xu told Philly Weekly. "So what is the rationale behind this? The rationale is to drive us out of the community."
The public testimony before the bill's passage was perhaps the most visceral to be heard in Council chambers all year.
Asian American business owners told gruesome tales of customers shooting — sometimes fatally — their family members and other employees, prior to the installation of bulletproof glass.
Meanwhile, black community members blamed these establishments for a litany of neighborhood woes, including the crimes that occur in and around the stores.
"Stop-and-gos have always been a thorn in the side of black and brown communities," said Asa Khalif, leader of Black Lives Matter Pennsylvania. "Nothing – and I meaning nothing – good has ever come out of their presence."
Khalif alleged that stop-and-go owners gave "their approval" for drug dealers to do business inside their stores. As testimony carried on, criticisms veered further into the personal. One woman cited the stop-and-gos for serving sugary drinks and unhealthy food.
While the issue split largely along color lines, some African American men joined stop-and-go supporters outside of City Hall in support of the bulletproof glass.
"If you live in the neighborhood I live in, you'll see the bloodshed," Russell Mott, an African American man from the Logan neighborhood, said at a rally outside of City Hall. "If they take these bulletproof glasses down, them families will be at risk. I've seen people jump over the counters, go after the owners, spit on them through the glass."
In her closing statement, Bass quoted from an agreement between Council in 2004 in which the Asian American Licensed Beverage Association agreed to several reforms: hiring their own security guards, taking alcohol management training programs, and ceasing the sale of "any product that can be primarily used for drugs," such as glass stemware and rolling papers. Bass said that the 14-year-old concessions were never legally binding, and thus never executed.
The sole "no" votes on the bill came from Council members David Oh, Allan Domb and Mark Squilla.