Infrastructure
Lawmaker continues quest to regulate tattoo parlors, tongue splitting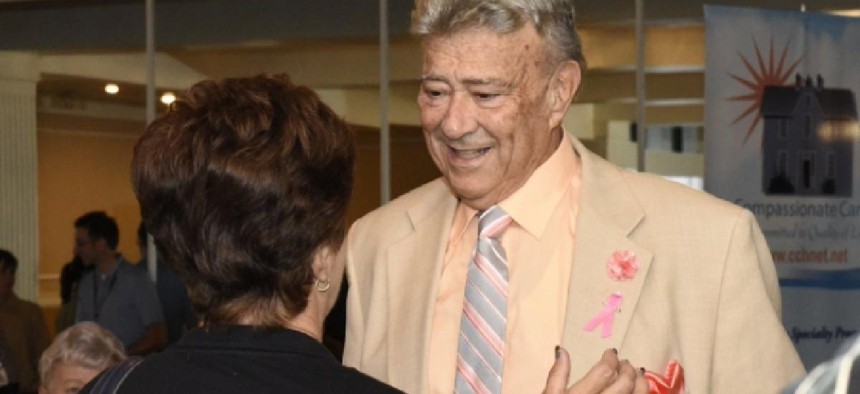 An adage often attributed to Albert Einstein says, "The definition of insanity is doing the same thing over and over again and expecting a different result."
However, earlier this month, Rep. Tony DeLuca (D-Allegheny) proved that sometimes persistence pays off after his decade-plus quest to try and regulate tattooing, body piercing and corrective cosmetic artists finally received a committee vote.
Currently enshrined in House Bill 456, DeLuca has introduced legislation to regulate the tattoo and cosmetic artist industry every session since at least 2001, but it has never been brought up for so much as a committee vote.
"Studies have found that about 40 percent of people under the age of 40 have or had a tattoo, yet this business is not regulated. Currently, there are no state health standards for establishments that offer tattooing and/or body piercing but there is a real concern that these procedures may be occurring in less than sterile environments," DeLuca told members about why they should sponsor his legislation.
"Since there is an increased risk of disease and infection occurring as a result of these invasive procedures, I feel this proposal is necessary to safeguard consumers' health and safety."
More specifically, his legislation would require the Department of Health to regulate the industry by developing regulations laying out hygiene standards for tattoo and cosmetic facilities; requiring artists to undergo a written examination prior to registration; and banning tongue splitting – the act of cutting a tongue centrally from its tip to the rear base (allegedly a common procedure for body modification enthusiasts) – except when performed by a physician.
Penalties and disciplinary matters are provided for in the event of a violation of the department's eventual regulations.
The legislation was unanimously approved by the House Health Committee in early December and even received the vocal support of committee Majority Chairman Matt Baker (R-Tioga), who called the legislation "a common-sense public health" bill.
"It's my understanding that this industry, as a whole, is largely unregulated and facilities are not subject to oversight or an inspection. That amazes me when you think that nail salons and so many other business and organizations are, but entities that are dealing with tattoos, needles and body piercing subject to health concerns is not," he said. "I'm very concerned about safe practices, which, if not followed properly, can lead to scarring, nerve damage, hepatitis C, liver cancer, etc."
According to information provided by the National Conference of State Legislatures, almost every state – including Pennsylvania – prohibits the tattooing of minors without some form of parental consent. However, Pennsylvania is part of a distinct minority, along with Nevada and Maryland, that has scant state laws regulating the industry as a whole.
While there is no known industry opposition to the legislation, some free-market advocates question the need for the state to regulate another profession.
"Often, these licensing and regulatory burdens are arbitrary and do little to protect public safety while imposing costs in the form of higher prices and fewer job opportunities for working people," said Bob Dick, a senior policy analyst for the Commonwealth Foundation, a conservative-leaning Harrisburg think tank. "Instead of imposing an undue burden on people trying to provide for themselves and their families, the legislature should focus on repealing needless licenses. To help Pennsylvanians start new businesses, employ more people and improve their quality of life, an overhaul of occupational licensing is a must."
DeLuca's legislation was not considered by the full House before the year-end break but could be brought up for the second consideration amendment process as soon as the legislature returns at the end of January.
Jason Gottesman is the Harrisburg Bureau Chief of The PLS Reporter, a news website dedicated to covering Pennsylvania's government.