Infrastructure
Two state senators seek to boost volunteer firefighter numbers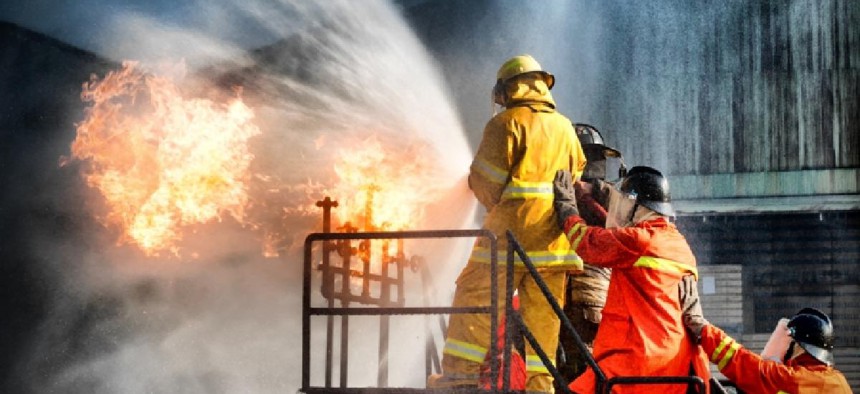 State Senate Minority Leader Jay Costa (D-Allegheny) and Sen. Randy Vulakovich (R-Allegheny) are teaming up together on a measure currently moving through the state Senate that would incentivize high school-aged Pennsylvanians to join volunteer firefighting companies.
Senate Bill 955, which cleared the Senate Education Committee by unanimous vote, would establish a 3-year pilot program providing $150,000 each year to three community colleges – one each in the Eastern, Central, and Western parts of the state. 
Community colleges would be charged with establishing partnerships with secondary schools to provide firefighting training to high school students.
The duo said the legislation is necessary due to the alarming decrease in the number of volunteer firefighters in Pennsylvania: they numbered 330,000 in the 1970s, but there are fewer than 50,000 active volunteer firefighters today.
Pennsylvania has a rich history of volunteer firefighting dating back to 1736, when a volunteer fire company established by Benjamin Franklin was organized to fight fires in Philadelphia.
"Years ago, the fire companies had to turn away members; now they are struggling to just get enough members to respond," Vulakovich said. "Even to get a driver to drive the fire truck, they are having some difficulty."
The program established under Senate Bill 955 seeks to build on successful model programs currently in place at locations like Harrisburg Area Community College, the Community College of Allegheny County and Bucks County Community College.
"I promised to all the fire companies that we are going to work real hard to try and get them through this dilemma that they have with recruitment and retention," Sen. Vulakovich stated. "Sitting back and just talking about it is not enough; we've been doing that for a long time. Now we need to take some action."
Senators supporting the legislation noted the importance of volunteer fire companies, not only as a cost-saver to the Commonwealth – some have estimated it would cost $8 billion to fund professional fire services to cover the work done by volunteer fire companies – but also as a result of the sacrifice made by volunteers to protect their neighbors.
"If you think about some of the situations they get in, it's pretty frightening that they do it without hesitation and without getting paid," said Sen. John Eichelberger (R-Blair), who chairs the Senate Education Committee. "These are people that risk their lives, and we need to do something to help them."
Costa, who is also the minority chairman of the Senate Veterans Affairs and Emergency Preparedness Committee, added that the measure will add to the well-trained fire companies already existing in Pennsylvania.
"I'm a supporter of this bill, and of all of the work community colleges do, because I see the gaps that they are filling to prepare our young people for a wide variety of fields," he said. "Community college is an affordable, accessible way for students to start tackling any number of skills; in fact, I started my own post-secondary education in community college. Maintaining a well-trained fire service is crucial for our safety across the state, and community colleges are a natural home for that training. While Senate Bill 955 only creates a pilot program for this training, I have no doubt that our community colleges will rise to the challenge and exceed expectations, as they always have."
The next step for Senate Bill 955 is to be considered by the full Senate.
Of note, the legislation is part of a number of bills resulting from the preliminary work of the Fire and EMS Study group recently authorized by the Senate earlier this session after the passage of Senate Resolution 6.
The bicameral and bipartisan group is tasked with looking at Pennsylvania's fire and EMS makeup and how to better improve services, increase volunteerism and ensure long-term stability.
Jason Gottesman is the Harrisburg Bureau Chief of The PLS Reporter, a news website dedicated to covering Pennsylvania's government.