Elections
Brady's resignation could alter US Rep. Boyle's district in redraw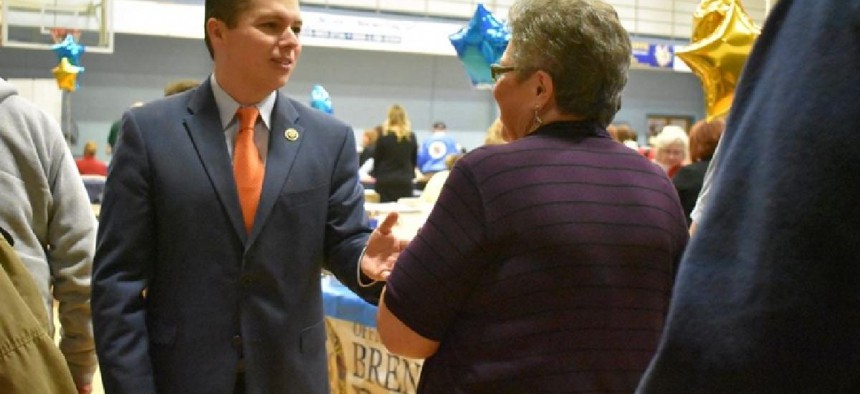 After years of speculation, today's announcement that U.S. Rep. Bob Brady would not seek another term in office has sent ripples across Philadelphia's political sphere. An already crowded field of Democratic challengers is likely to grow. And Brady's longtime perch atop the Philadelphia Democratic City Committee, due for renewal in June, is also being called into question.
But some political observers say that the resignation could have a more subtle impact – changing the way Harrisburg redraws Philadelphia's gerrymandered congressional districts in connection with last week's Pennsylvania Supreme Court order. Those districts were drawn partially to benefit powerful incumbents like Brady.
Brady has said he hoped his announcement would buffet the younger congressman, now the most senior rep left in Philadelphia, in any redraw.
"I don't want to be disingenuous and wait for the lines to be drawn and then decide not to run," Brady said. "To be honest with you, are they trying to favor me? Absolutely they're trying to favor me. There's a lot of [potential] maps that have just two congressmen in Philadelphia."
Removing the complexity of Brady's district would result in more consolidated congressional districts for the city. The question is if the consolidated districts go to Brady successor, U.S. Rep. Brendan Boyle or U.S. Rep. Dwight Evans, as that process would shrink one of Philadelphia's three congressional districts.
"Brady not running for reelection removes one factor from map-designing that mapmakers were considering," said campaign lawyer Kevin Greenberg. "Pat Meehan's decision to not run for reelection also removes a factor," he added, referring to the recent announcement that the PA-7 incumbent would drop reelection plans after a sexual harassment scandal.
The evaporation of two big political names removes political complexity from redrawing the political map in Southeastern Pennsylvania. Reflecting racial politics, Brady's district has sprawled to include his home in mostly African-American West Philadelphia, but also pockets of white voters across town and in Delaware County. Meehan's district is widely regarded as one of the most gerrymandered in the nation.
"It's easier to draw districts that comply with the Voting Rights Act and the court's direction...with only three incumbents to consider in the four-county metro region," Greenberg said.
Boyle, who took office in 2015, occupies the smallest slice of the city and, the reasoning goes, would likely see the biggest change to his district. 
It's all speculative, of course, asHarrisburg Republicans are working to stall the state Supreme Court order in the U.S. Supreme Court. But the GOP-dominated Legislature is still moving forward with new, theoretically nonpartisan maps that could, under one scenario, push PA-13 – Boyle's district – out into the suburbs and leave him with a smaller slice of his home territory. To Brady's comments – Boyle said he thought it was more likely his district would grow to become a consolidated district encompassing the eastern half of the city, with Brady's district becoming a stub that extended out to the western suburbs.
For his part, he said he supports gerrymandering reform, but joked that he simply wanted to know which part of the state he would wind up representing ahead of his reelection.
"As far as what that does for yours truly, my approach has been, 'Just hurry up and tell me where the lines are and I'll run.' I'm very proud of my record and I hope that much of my district stays intact," he told City&State PA.
Boyle said he was confident about his chances of winning in the city or suburbs, but reiterated that he thought Brady's decision would ultimately help him and Evans.
Not all were so confident that the lines would dramatically change, one way or the other. Delaware County Democratic consultant Joe Corrigan said he expected Brady's district to stay intact, and had a word of warning for anyone seeking the seat occupied by the powerful Democratic insider.
"If districts stay the same, and there's a good chance they will, the person who wins the seat will have to represent Delaware County again," he said. "The Delco Democratic party is among the most transparent and progressive in the state, and we're not going to put up with machine politics."