Elections
Campaigns brace for disarray after snap gerrymandering redraw order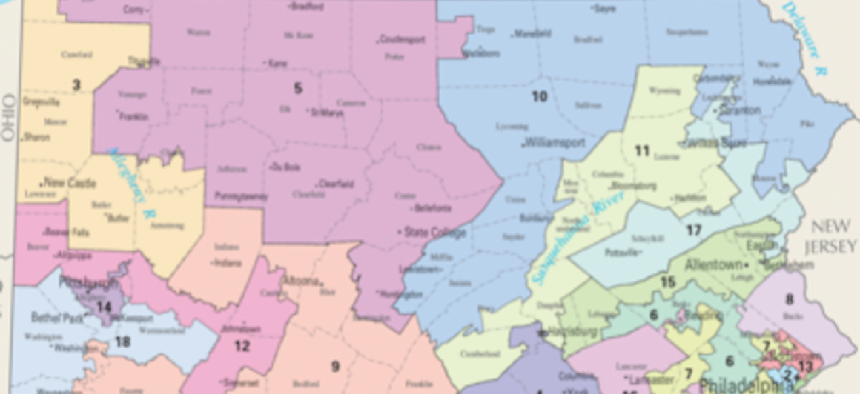 Siding with petitioners in a lawsuit over the constitutionality of the state's 18 congressional districts, the Pennsylvania Supreme Court ordered a sweeping revision of the redistricting process that could upend numerous races across the state.
While the decision was viewed as a win for Democrats who have long felt marginalized by gerrymandering – the party holds just 5 of Pennsylvania's 18 U.S. House districts – campaign consultants from both parties were concerned about the ramifications such a radical change could bring in an election year.
"As a Democrat, it's encouraging because the lines drawn currently for Democrats are about as unfair as they get," said Democratic campaign consultant Mark Nevins. "But as a campaign consultant, as a strategist, this is a "Game of Thrones"-style, season-ending cliffhanger. We don't know what's happening."
The order, released by the state's highest court in a suit first brought by the League of Women Voters, found that the 2011 Congressional Redistricting Act was crafted in a partisan manner that violated the state Constitution. The order requires the Legislature and Gov. Tom Wolf to come up with a new map by Feb. 19 – with an exception being granted for the March special election for PA-18.
Newly drawn lines could radically alter the dynamics of the races already well underway in the currently drawn districts. For example, in 2012 – the last year new districts went into effect – Democratic Reps. Marc Critz and Jason Altmire wound up facing off against one another in a single merged district.
"We don't know where our candidates are, if we're in competitive districts, if two of our candidates are going to be in the same district – it's completely upended strategic planning that was taking place," Nevins said. "How do you raise money now? You don't even know if they're going to be in your district anymore. Some will always give, but it's more challenging."
Meanwhile, Republicans, who drew the current political districts in 2011 with the support of certain Democrats, saw the 4-3 decision itself as a partisan move by the high court's Democratic majority.
"Unfortunately, four members of the Supreme Court today put partisan politics ahead of the Constitution. Anytime that happens, it puts candidates in an uncertain situation," GOP consultant Ray Zaborney said.
However, some observers were more reserved. Republican campaign consultant Mike Barley pointed to a federal decision in a North Carolina gerrymandering suit that saw courts give Republicans in that state more time to come up with a new political map.
"You lose an election and go to a partisan court and argue to get the lines changed. It sets a bad precedent, but we were expecting it," he said. "We're in uncharted waters, but I think there's more people who think that redistricting is unlikely to happen in time to affect the 2018 races."
Federal courts have been demonstrably kinder to states with bizarrely drawn political maps like Pennsylvania's: In one recent decision, a judge ruled that questions about partisanship were not the Feds' concern. However, the League of Women Voters suit was solely based on the state Constitution.
While further court appeals to the state decision are a near impossibility, Senate leadership has been critical of the lawsuit and sources said they would exercise every option to delay a redraw. Legal experts said that GOP leaders in the state Legislature could blow the court-imposed deadline or choose to pass off a map that Wolf was unlikely to sign, forcing the Supreme Court itself to draw new maps. 
Reform advocates, for their part, were thrilled – although they noted that long-term issues remained.
"It's huge news. We're delighted that the court has recognized the level of partisan mischief that goes on in making these maps," said David Thornburgh, of the good government group Committee of Seventy. "But all this does is fix the districts this time around. This doesn't fix the process. It's still operative-driven – it's still backroom deals with big data and highly secretive maps."
While the court decision does not install a new redistricting process, experts said it does set a precedent for future lawsuits over excessive partisanship in future redistricting processes, like any disputes likely to arise as a result of the 2020 census. Barley observed that not all Democrats would be thrilled by that prospect. 
Many insiders on the left had planned to use their Supreme Court majority to take the reins in the next round of redistricting under the current system. In effect, some hoped to gerrymander districts back in Democrats' favor, even at the expense of the geographic common sense that reform advocates say is part of their goals.
"I think [Democrats] are jumping the gun. They've been building their majority in courts for the next redistricting under the current system," Barley said. "This decision changes the way the system is done. It's not going to behoove anyone to flip the system on its head."
Yet even with major questions looming ahead of and beyond the 2018 election season, Nevins said Democrats in Pennsylvania had little left to lose – and all voters had much to gain. 
"These lines can't get worse for us. We're literally at rock bottom," he said. "As much as I would like to draw the lines to benefit my candidate, at the end of the day, there is a better way to do it. Any movement in that direction is good for residents."
This is a developing story and will be updated as more details become available.