Gambling
First Category 4 license goes for $50.1 million, to be in York County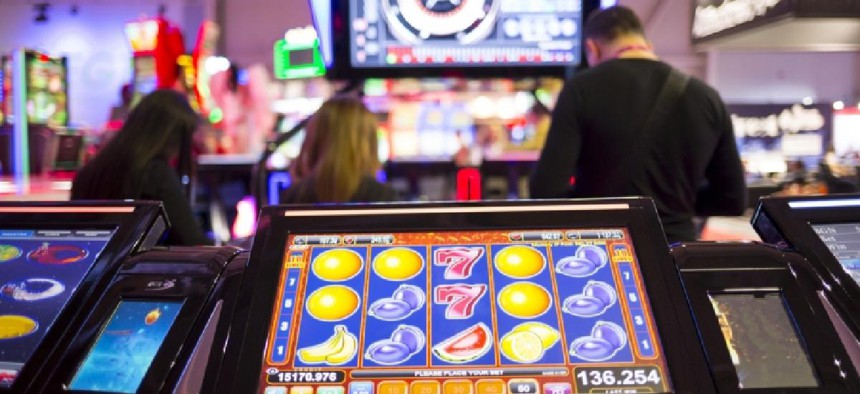 The first mini-casino has already brought in major money for the Commonwealth.
The first round of bidding for Pennsylvania's newest brand of casinos started Wednesday just prior to the Pennsylvania Gaming Control Board's regular meeting and the winning bid went to Mountain View Thoroughbred Racing Association, a subsidiary of Penn National Gaming that operates Hollywood Casino in Grantville, just outside of Hershey.
The winning bid, which rang in at $50.1 million – nearly seven times more than the required minimum bid of $7.5 million – allows Mountain View to place a category 4 casino within a 15-mile radius around Yoe Borough, York County.
Category 4 casinos, better known as mini-casinos, were authorized by Act 42 of 2017, a sweeping gaming reform and expansion measure utilized by budget crafters to bring in around $200 million in the current fiscal year and a recurring amount of $90 million to $100 million in out years.
While the provision expands gaming into a number of different areas, including iGaming, sports betting, fantasy sports, video gaming terminals, and allowing slot machines in airports, the most lucrative up-front provision – and the most controversial – allowed for the expansion of Pennsylvania's traditional gaming industry into mini-casinos.
The legislation does put a 25-mile radius buffer of protection around existing casinos and allows current casino operators the first right to bid on the ability to operate a mini-casino in the location of their choice.
Local opt-out provisions were also included that allow municipalities to opt-out of having a mini-casino in their jurisdiction. As of the already passed opt-out deadline, around 40 percent of Pennsylvania's municipalities – more than 1,000 in total – have opted out of having a Category 4 casino in their area, despite the enticement of a local share.
Additionally, the mini-casinos themselves are limited in scope.
According to Act 42, the number of slot machines will be limited to between 300 and 750 from the original complement of machines held by a winning pre-existing casino. The number of table games will be limited to 30 tables, with the ability to add 10 more after one year. Though not able to bid in the current first round, Category 3 casinos wishing to operate more slot machines than their original complement can pay $10,000 per additional machine.
In order to add table games to a mini-casino, applicants must pay $2.5 million for a table games certificate.
The Category 4 portion of the gaming law has also recently been made the subject of litigation.
A suit recently filed in Pennsylvania's Commonwealth Court seeks clarification as to the location of where the mini-casinos may be located, either in the center of the 15-mile radius of the selected location or anywhere within the radius.
Another suit filed at the federal level by Penn National Gaming – which placed the winning bid on Wednesday – says the Category 4 portion of Act 42 must be stricken in its entirety in that it violates their constitutional Equal Protection rights by unfairly singling them out for cannibalization.
Penn National's senior vice president for public affairs and government relations Eric Schippers said the unique potential for Penn National's Hollywood Casino to be cannibalized by the new markets was the impetus for the bid's size and location, despite the fact that he contended the new law put Penn National in "the perverse position" of having to bid against itself.
"We still stand by the fact that we were singled out and that our constitutional rights of equal protection were violated by the provisions of this law," he said. "Now, recognizing the law is on the books today, we felt like we had to come today and protect our flank, so we have bid in a way that we think maximizes the ability to play defense with one eye toward offense."
He said the potential casino's proximity to the city of York, the highways of I-83 and US-30, the Maryland border, and the markets in Washington, D.C. and Baltimore also allow Penn National the ability to sell to their shareholders that Wednesday's successful bid is an offensive move that will allow them to provide incremental value to Penn National's overall portfolio of gaming operations.
While the $50.1 million is not officially due until Friday by 4 p.m., Schippers said that despite the lawsuit, the bid will be paid and the company also intends to pay the $2.5 million for a table games certificate.
After the payment of $50.1 million, Mountain View has six months to apply for the appropriate Category 4 license.
As of Wednesday, Schippers said they plan on complying with all applicable deadlines in order to preserve their interests in the new casino should the law be upheld.
"We are going to pursue all of our options in terms of how we proceed from here, but certainly we're following the timeline set out in the law," he said.
Meanwhile, the Borough of Yoe and another rumored potential location for the casino in Springettsbury Township, York County, have opted out of the ability to host a mini-casino.
As such, Schippers said Mountain View is still in the process of exercising its due diligence in determining where to put the category 4 location it now has the rights to pursue.
"We are committed to that circle, with the coordinates we put in there, which is within York County," he said.
The City of York, which falls within the 15-mile radius, has not opted out of hosting a Category 4 location.
According to House Appropriations Committee Majority Chairman Stan Saylor (R-York), the amount of the bid signals a "very good start" to the bidding process.
"We'll continue to look at those kinds of bids as they go out," he said Wednesday. "I don't want to get too optimistic. I think that's been one of the problems we've had in the past with budgeting: we are way too optimistic in revenue."
He added that should bids continue to come in at the same clip as today, it would make budgeting easier as budget crafters seek to provide funding for items like special needs children and education programs.
Three other casinos, needing to be either Category 1 or Category 2 facilities to participate in the current round of bidding, submitted bids and locations Wednesday for proposed Category 4 facilities. However, in order to not taint future proceedings, those bidders, amounts and locations remained confidential with the Gaming Control Board's director of hearings and appeals.
The ongoing first round of bids will continue once every other Tuesday through the middle of May. The next date for bids to be submitted is Jan. 24.
Jason Gottesman is the Harrisburg Bureau Chief of The PLS Reporter, a news website dedicated to covering Pennsylvania's government