Leaks show Krasner firings targeted top staff, 'Porngate' prosecutor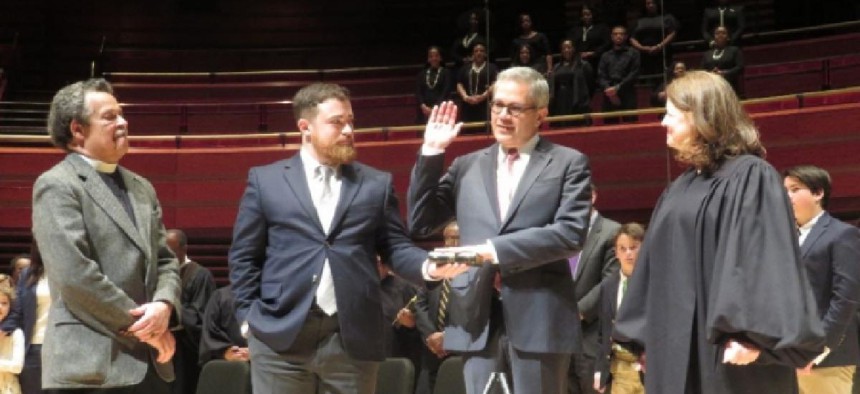 Larry Krasner is wasting no time putting his stamp on the District Attorney's Office of Philadelphia. Just three days after being sworn in, the new district attorney has already sent shockwaves through the building, with the Inquirer reporting today that "dozens" of ADAs had been let go. 
Krasner's office declined to release names but confirmed in a statement late Friday afternoon that 31 employees in the 534-person department were asked to resign immediately.
Since his election in November, speculation has loomed about a mass exodus of DAO employees, especially those who found themselves at odds with Krasner's progressive priorities. But Krasner, who easily coasted to victory on a wave of support for criminal justice reforms, made no secret of his intention to clean house. He noted that past top prosecutors — including former Gov. Ed Rendell, who started his political career as Philly's DA in 1977 — initiated staff shake-ups soon after taking office.
Some names have since leaked from inside the rapidly transforming office. While some ADAs expressed shock at their dismissal, other sources saw a clear method to the madness. One source inside the DAO – who held onto his job – described a list of two dozen fired attorneys circulating among staff as "supervisors with different visions, veteran high-salaried do-nothings or younger prosecutors associated with misconduct." 
A number of names on a list of axed staffers include attorneys assigned to the DAO's homicide division – which handles many capital cases – and drug enforcement and civil asset forfeiture units that have drawn the ire of criminal justice reformers. Although Civil Asset Forfeiture Unit chief Drew Jenemann was not dismissed, Melissa Francis, who headed the DAO's Dangerous Drug Offenders Unit, was let go. That division works closely with the CAF unit, both of which were the subject of a recent joint City&State PA and Philadelphia Weekly investigation.
A relative confirmed Francis' dismissal over the phone, saying she was "fired for sticking up for what she believes in."
Reviewing the list of reportedly terminated staffers, former Civil Asset Forfeiture chief Beth Grossman – who was Krasner's Republican opponent in the general election –  expressed regret that many "were and are friends, colleagues and dedicated public servants."
Other sources noted that numerous murder squad prosecutors were let go. This unit had a record of seeking the death penalty at the behest of former DAs, despite Gov. Tom Wolf's moratorium on state executions. (Only three convicted murderers have received the penalty in Pennsylvania in the last 37 years, the last being executed in 1999.)
Andrew Notaristefano, a homicide prosecutor who has convicted dozens of murderers in more than a decade at the office, confirmed to the Inquirer Friday that he had been let go "without explanation." The longtime prosecutor, however, has over the years fought for a Death Row verdict in court under the leadership of former DAs Seth Williams and Lynne Abraham – even arguing for it in a 40-year-old murder case last year.
In 2015, a Philadelphia judged ordered a retrial in a 2002 death penalty conviction due to a glaring DNA mix-up. Common Pleas Court Judge Benjamin Lerner called the case "a gross series of unimaginable mistakes" by both police and prosecutors. In his defense, Notaristefano, who was assigned to handle the retrial, said that it was an "honest mistake" and that the convicted killer's attorneys – one of whom was Michael Coard, a longtimer Krasner supporter who sat on his transition committee – had also missed the blunder.
Other notable homicide prosecutors who sources confirmed had been terminated include ADAs Tom Lipscomb, Bridget Kirn, Joe Whitehead, Laurie Moore, Namratha Ravikant and Gwen Cujdik. 
E. Marc Costanzo was also fired. Both he and fellow prosecutor Pat Blessington had been close associates of Frank Fina, a former state prosecutor whose feud with disgraced Attorney General Kathleen Kane dominated headlines for years. Costanzo had joined Fina and Blessington retreating from the AG to the Philadelphia DA after a bitter internal feud with Kane, who would later seek to tar all three during the so-called "Porngate" scandal. The former AG, brusied by reports she had scuttled a corruption investigation linked to Fina, later revealed that the men had been amongst several hundred employees on the receiving end a lewd office email chain – although Costanzo and Blessington had not actively participated in the emails.
Although calls to both men went unreturned Friday, a DA source with firsthand knowledge of Costanzo's firing confirmed his dismissal. Update: Despite initial rumors that Blessington had also been fired, sources later confirmed that he had, in fact, been kept on.
Several high-ranking deputies and division chiefs were also among the terminated, according to multiple sources. Among them: Trial Division chief John Delaney, Jr.; Pre-Trial Unit Chief Michael Barry; Derek Riker, chief of the district attorney's Diversion Courts Unit; and James Carpenter, chief of the Family Violence and Sexual Assault Unit. Sources said that Riker and Barry were involved in the city's MacArthur Grant-funded initiative to reduce recidivism. None could be reached by phone or text message on Friday.
Caroline Keating-McGlynn, another unit chief who was also among those said to have been terminated, had most recently headed up the DA's Gun Violence Task Force, a state-funded arm of the DAO focused on gun crime that is also a major beneficiary of asset forfeiture funds. Keating-McGlynn also helped spearhead some of the department's "focused deterrence" efforts in South Philadelphia – but the zero-tolerance approach to gang violence has fallen out of favor with criminal justice reformers.
ADA Mark Gilson was also let go. He was dismissed from the DAO's insurance fraud unit, but had previously led the DA's Conviction Reivew Unit, which revisits old cases and, sometimes, exonerates convicted men and women. Gilson told City&State PA and Philly Weekly that he was "shocked" by his dismissal.
"I have no idea. There was no rhyme or reason," he said of the firings. "They fired half of the homicide division."
However, City&State PA had previously published criticisms of Gilson's tenure at the CRU from associates of Anthony Brown. After catching a murder charge in the early 2000s, Brown was, improbably, tried by Gilson and represented by defense attorney candidate Tariq El-Shabazz. El-Shabazz would later compete against Krasner in the 2017 Democratic primary and take credit for overseeing the CRU after being appointed as a deputy DA in 2016.
But, after Brown's conviction, evidence emerged that El-Shabazz may have inadequately represented his client. In May of this year, Brown's friends and family accused both El-Shabazz and Gilson of refusing to seriously revisit the case they had both worked years ago, albeit from opposite sides of the courtroom, during their respective time at the CRU.
Gilson said he did not believe his time at the CRU impacted his firing and noted his work helping to exonerate another man, Donte Rollins.
Other staff members who were terminated include Greg Rowe, Chief of the Legislation and Policy Unit and a former staffer under Gov. Ed Rendell, and ADAs Cari Mahler and Salena Jones. Sources also named ADAs Lauren Realberg, Jason Kleinman, and Laquan Lightfoot as part of that list, though they could not be immediately reached for comment. 
It remains unclear how soon Krasner will replace these positions or how the firings would impact each division's caseload – some DAO sources said that veteran homicide attorneys could be tough to quickly replace.
"DA Krasner has confidence in the ability of our employees to adapt to these changes," spokesman Ben Waxman said in a statement. "That includes appropriately handling cases or other matters that are scheduled for the coming weeks." 
The DAO did not offer further comment on the firings. 
Correction:
A correction has been made to this article about Andrew Notaristefano's role in a retrial case due to a DNA mixup. Notaristefano was not the prosecutor in the 2002 murder conviction; he was assigned to the 2015 retrial. An earlier version of this story referenced inaccurate internal reports suggesting Bryan Hughes, Brain Zarallo and Pat Blessington had all been dismissed.