PA House Republicans to prioritize welfare reform in 2018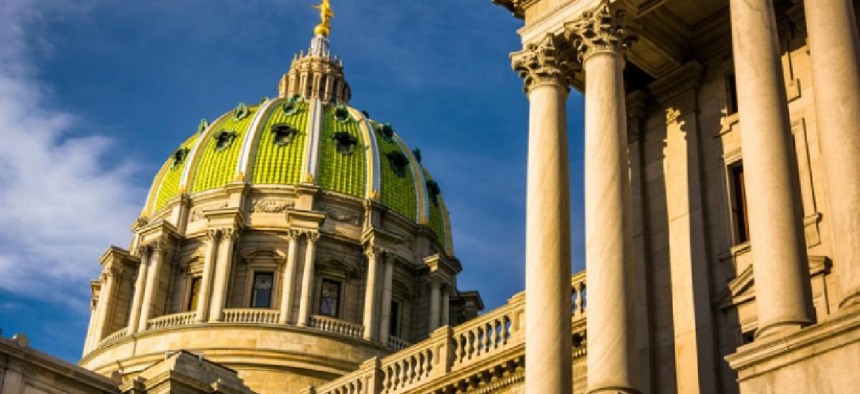 On Tuesday, a baker's dozen of House Republicans supported a package of 20 pieces of legislation seeking to implement welfare reforms, an agenda being pushed by the House's majority caucus in 2018.
The effort, spearheaded by Rep. Mike Tobash (R-Schuylkill) and Rep. Aaron Kaufer (R-Luzerne), is said to be one of the many ways House Republicans are trying to tackle fiscal issues facing the Commonwealth.
"We need to break Pennsylvania's cycle of poverty; we need to get away from the mentality of borrowing and increasing taxes to grow our economy," said Tobash. "One of the things on the horizon is making sure we are very astute at taking care of our welfare benefits moving forward."
According to the members standing in support of the welfare reform push Tuesday, the welfare programs housed in the Department of Human Services are endangering the state budget and the lack of enforceable program requirements has created an environment where people are choosing welfare over work.
"These are welfare programs that are stressed to provide the benefits that we need for our most vulnerable citizens, that are a deterrent to obtaining the dignity that comes with earning a living, and aren't supplying the workforce that employers need in order to grow," Tobash said.
With many of the bills in various stages of the legislative process, the lawmakers at Tuesday's news conference highlighted just a handful of the full legislative package.
House Bill 1659, sponsored by Tobash, would prohibit the Department of Human Services from applying for federal waivers from work requirements for recipients of the Supplemental Nutrition Assistance Program (SNAP) and would require able-bodied adults without dependents to work, perform community service, participate in a work program or be enrolled as full-time students in order to receive benefits.
According to Tobash, as of the beginning of 2018, 59 of Pennsylvania's 67 counties and 10 municipalities have received waivers from SNAP's work requirements.
House Bill 1788, sponsored by Rep. Kerry Benninghoff (R-Centre), would eliminate the extended Temporary Assistance for Needy Families (TANF) benefits beyond the current five-year time span and would place a cumulative 48-month lifetime limit on the receipt of TANF benefits for Pennsylvania residents.
Benninghoff, who, as chairman of the House Republican Policy Committee, has convened a number of hearings on the issue, noted testifiers have shared stories of people gaming the system by moving to Pennsylvania to continue receiving TANF benefits after their limits have been maxed out in other states.
House Bill 1559, sponsored by Rep. Kristin Phillips-Hill (R-York), would require the Department of Human Services to opt in to the federal option by requiring both custodial and non-custodial parents to have a child-support cooperation agreement when the parents apply for SNAP benefits.
Additionally, a forthcoming bill from Kaufer would create a pilot program to encourage private-sector employers to hire individuals receiving welfare benefits by allowing TANF recipients to receive both their welfare benefits while working 20 hours per week and receiving the associated pay. The pay would then ramp up after six months until a year of work until the recipient makes enough money to get off of TANF benefits.
Kaufer noted implementing work requirements for able-bodied Pennsylvanians without dependents would lower the number of SNAP recipients by 52 to 66 percent and could potentially save Pennsylvania between $175 million and $210 million annually.
"We are talking about solutions-oriented government here," said Kaufer. "We need a safety net for those who truly need it, while restoring the dignity of work."
Other reforms in the package, such as requiring the Department of Human Services to apply for federal Medicaid-requirement waivers in order to help reduce costs, include some of the provisions found in the Human Services Code bill that was vetoed by Gov. Tom Wolf as part of the budget process.
Also in attendance at the press event announcing the prioritizing of welfare was House Speaker Mike Turzai (R-Allegheny), who pledged the support of the entire House Republican leadership team.
"We believe that (the state Department of) Human Services recognizes the dignity of each and every person that comes through the door and we want to promote that dignity through work and a pathway to self-sufficiency," he said.
Though supported by House Republican leadership, House Democratic leadership Tuesday panned the effort, calling it "disappointing" to see Republicans "repackaging a discredited idea from the past."
"The fastest way to reduce the number of people on welfare is to raise the state's inadequate minimum wage. House Democrats are working to get that done in 2018 as part of our Plan for Pennsylvania," said caucus spokesperson Bill Patton. "Every state that has tried a work search requirement quickly discovers the same thing. It doesn't save money; it actually costs more and degrades the delivery of benefits. Rather than doing something that will only expand bureaucracy, we ought to focus on maintaining services that directly help people in need."
Gov. Wolf's press secretary, JJ Abbott, said the governor's office will review the package of bills discussed Tuesday, especially given the governor's continuing goal of trying to help Pennsylvanians find job-ready skills and move toward independence while still maintaining a viable safety net.
However, he did offer a skeptical tone as things move forward in the current legislative direction.
"Gov. Wolf has consistently voiced his strong opposition to any legislative changes that could have widespread and potentially life-changing effects on the health and well-being of millions of Pennsylvanians," Abbott said. "Seniors, people with disabilities, individuals suffering from substance use disorder, and low-income working families need our support and assistance, not to have their lives be made even more difficult by politicians in Harrisburg."
Jason Gottesman is the Harrisburg Bureau Chief of The PLS Reporter, a news website dedicated to covering Pennsylvania's government.