Elections
What's next for PA politics in 2018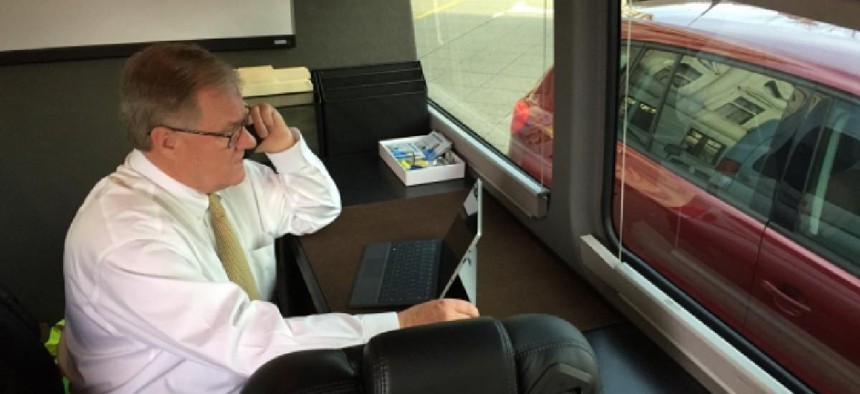 This time last year, Democrats were locked in a hopeless stupor following the upset election of Donald Trump, with no clear path forward – while Republicans looked to add even more power in the Commonwealth. Several gerrymandering lawsuits were floating through various courtrooms with no clear timeline or immediate relevance. Mike Stack and Daylin Leach, at least to much of the general public, were just a couple of relatively uncontroversial state-level electeds.
To say the least, much has changed – except for the state's grim financial prospects. As Pennsylvania gears up for another (likely bruising) political season in 2018, here are some top people and trends to keep an eye on. 
"The Wave Year"
Not so long ago, Pennsylvania Republicans had dreams of adding the Commonwealth's other U.S. Senate seat and the governor's mansion to the growing list of elected offices held by the party. But today, many inside the GOP view the challenges against U.S. Sen. Bob Casey and Gov. Tom Wolf as increasingly uphill battles. Worse, in a midterm election that will serve as a referendum on the popularity of President Donald Trump, both incumbents could wind up facing presidential surrogates. 
Former Congressman Lou Barletta, who built a political base in part off of an anti-immigrant platform and his relationship with Trump, is widely expected to secure his party's nomination for the Senate race. State Sen. Scott Wagner, an arch-conservative polemic who also draws comparisons to Trump, is a top contender in a gubernatorial primary field that includes House Speaker Mike Turzai and businessman Paul Mango.
Some politicos on the right are privately expressing concerns about even staving off first-timers like Conor Lamb, a Democrat running in the socially conservative 18th Congressional District. That special election, which will be held in March, will be a critical bellwether for the staying power of a conservative surge that helped deliver PA for Trump in 2016. Lamb, a moderate Democrat, will face state Rep. Rick Saccone, yet another far-right Republican who has highlighted his similarities to Trump.
The outcome of that early race could impact how willing donors will be to finance other hotly contested Congressional seats. Virtually all of the House seats in Southeastern PA are up for grabs, with Democrats looking for wins against US Reps. Ryan Costello, Charlie Dent, Brian Fitzpatrick and Pat Meehan. Dent and US Rep. Bill Shuster both notably announced their retirement – although the latter was unlikely to face serious Democratic opposition.
Those second-tier races – not to mention numerous others for state House and Senate seats – could complicate costly Republican quests for Casey's seat and the governor's mansion. Some on the right were already concerned with the pace of fundraising for Barletta's campaign, which had also struggled to find a permanent campaign manager.
"If the Barletta campaign is anemic, that's a problem," said Democratic consultant Ken Snyder. "What happened to Roy Moore in Alabama takes the wind out of his sails. If he has Republicans grumbling that they made a bad bet on a flawed candidate who was too far right down south, in Pennsylvania, they must be thinking twice."
Not all Democrats are cheering next year's contests. U.S. Rep. Bob Brady was rocked by a scandal over a payout to a past electoral challenger that disabled two of his top campaign aides. He will face a primary test in former deputy mayor Nina Ahmad – his first real challenger in years – and indicted traffic court judge Willie Singletary. More are likely to come.
Worse than losing his top two advisors may be a resurgent interest in ward politics by younger voters who helped put outsider candidates Larry Krasner and Rebecca Rhynhart into office. Events priming newcomers to run for committee person slots in 2018 sold out last year – a trend that may not work in the Democratic City Committee chair's favor.
A whole new playing field
Some still believe that at least one lawsuit over Pennsylvania's infamously gerrymandered political districts could change the status quo. 
There are many variables at play. In a state lawsuit that holds districts drawn in 2011 in violation of the Pennsylvania Constitution, Commonwealth Court Judge Kevin Brobson recently ruled that the current map does indeed benefit Republicans, but stopped short of ruling the districting unconstitutional. However, the case will now be fast-tracked through the state Supreme Court, which is dominated by Democrats.
Both sides of the suit, initially sponsored by the League of Women Voters, claimed victory. State Senate leadership, which has loudly opposed the suit, praised the decision for finding that the petitioners had failed to demonstrate that politicized gerrymandering was actually unconstitutional. But some Democrats viewed Brobson's decision – which endorsed key findings presented by petitioners – as setting the stage for the Supreme Court to establish a new precedent.
However, the timing is extraordinarily tight to impact impending midterm elections and Republicans have intimated that they would fight the case all the way to the U.S. Supreme Court. There are also separate cases winding through the nation's highest court filed in Pennsylvania, Wisconsin and elsewhere that could potentially have their own far-reaching ramifications if the justices decide to wade into an issue traditionally left to the states.
Of course, changes will eventually be coming to PA's congressional map no matter what. Redrawing will commence with or without a new system in place, while the impending 2020 census looks primed to cost the Keystone State another House seat. 
The End of the Boys' Club
With revelations that both Congress and the state House have dedicated – and used – protocols to settle sexual harassment charges leveled at elected officials, some pols are likely more worried about getting taken out by their own past transgressions toward women than by an electoral challenger.
In the last month alone, congressional candidate and state Sen. Daylin Leach, state Rep. Thomas Caltagirone, state fire commissioner Tim Solobay, state Senate security chief Justin Ferrante, and state education chair Larry Wittig have all been confronted by media reports of harassment or other sexual misconduct towards women. That same month, LancasterOnline uncovered some $8 million paid out to settle state trooper harassment charges and, in November, Philadelphia Sheriff Jewell Williams was hit by multiple sexual harassment suits.
Leach, Caltagirone and Williams seem determined to continue with their political careers, but the other state officials named in recent reports have all stepped down. The furor is unlikely to die down soon – the continued scandals have spurred bills to bar anonymous sexual harassment settlements and restrict the use of state funds for such payouts. 
Others say that there are still more scandals to come. Many women who have worked in Harrisburg and other political circles have noted that these revelations are hardly surprising given the infamous culture of sexism that pervades the male-dominated statehouse – or the Commonwealth's all-male congressional delegation's home away from home on Capitol Hill. 
The Lieutenant Governor's Race (yes, really)
As bettings odds for Wolf's reelection swing in his favor, an increasing number of candidates seem to think Lt. Gov. Mike Stack is on his way out. The scandal-plagued second banana was hit by allegations he abused his state employees and, perhaps, his office expense account. 
Those debacles – which are still unfolding – spotlighted a long-tense relationship between Wolf and Stack, who will face no fewer than five challengers in his bid for reelection: Iraq war vet Aryanna Berringer, Chester County Commissioner Kathi Cozzone, State Rep. Madeleine Dean, Braddock Mayor John Fetterman, and Lancaster County Commissioner Craig Lehman.
The race can seem like much ado about nothing. The lieutenant governor has few official duties beyond staying alive in the event that the governor keels over – principally, overseeing the state Senate, where he can cast the deciding vote in case of a tie, and performing the same function with the Board of Parole. 
But for many of the declared Democratic candidates, it's a statewide platform that serves as a stepping stone to higher office. Fetterman has talked openly about his interest in challenging U.S. Sen. Pat Toomey. Even the current officeholder was, prior to the abuse scandal, reportedly eyeing the governor's mansion himself. 
There is also more political intrigue than just the high-profile governor's race. Many Senate Democrats took the unusual step of publicly backing Stack last month – which one source said was aimed as a show of support for a loyal Democrat and telegraphing that Gov. Tom Wolf ought to avoid meddling in the race. Wolf has said repeatedly that he is staying out of the race, but Senate staff grumbled that he has privately favored Dean.
On the GOP side, candidates will be forced to choose between influential Republican gubernatorial candidates – Wagner and Turzai  – without knowing which will ultimately triumph. The field continues to grow, as Otto Voit recently joined Jeff Bartos and Gordon Denlinger in the primary, while state Sen. Dave Argall is still rumored to be waiting in the wings.
The billion-dollar question
No one likes the state budget process. Despite public rhetoric, most electeds on both sides of the aisle hate cutting services or raising taxes. Everyone, voters included, hates following the endless and internecine horsetrading that has marked the last several years of budgeting in Harrisburg.
Despite Republican calls to force a more expeditious budgeting process, the oft-delayed fiscal deals are the product of long-term issues with no easy solutions. Deficits, like the estimated $3 billion hole faced by officials for the 2018 budget, are likely to become perennial features in a state with a moribund economy, stagnant tax revenues, growing pension obligations and little hope of aid from Washington.
Budgeting has been complicated by hesitancy to make additional cuts to the state budget and general opposition from a GOP majority to tax hikes – which has led to several rounds of boutique tax hikes and borrowing to patch recent budgets. These strategies have led to a radical expansion of gambling and liberalization of liquor sales as more traditional revenue generators become tapped out.
For 2018, Republicans have already made clear they have their sights set on welfare reform. Democrats, reduced to a vocal opposition party after years of electoral losses in Harrisburg, are still calling for a natural gas severance tax. But both efforts have fallen flat in past years and pols will be even more on edge with tough elections on the horizon.