Year of uncertainty sees top Philly DA staffers flee to AG Shapiro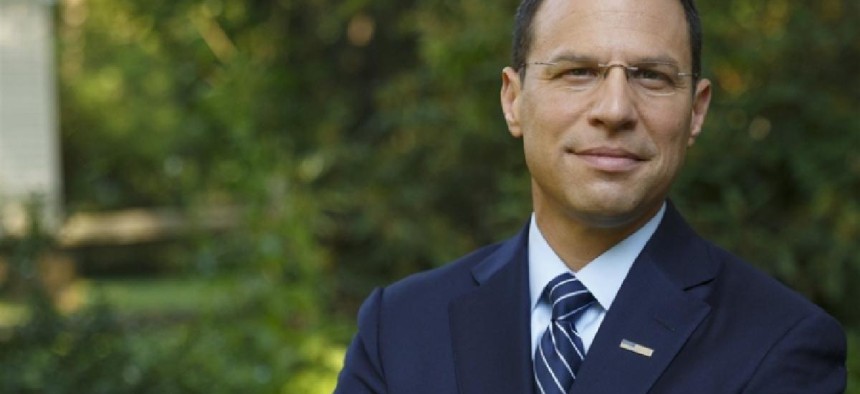 Well before the dismissal of dozens of top staffers that marked Philly DA Larry Krasner's first week in office, the District Attorney's Office had become a tumultuous workplace at best. Scandals, firings and erratic decision-making marked much of now-jailed former DA Seth Williams' time in office, sapping employee morale before his resignation and conviction last year on federal bribery and conviction charges.
All the while – at least, since his own 2017 swearing-in ceremony – Pennsylvania Attorney General Josh Shapiro has been there to provide a soft landing for nearly a dozen ADAs seeking refuge from the Philadelphia DAO.
Even before Krasner announced his bid, top DAO staffers were decamping for various AG offices across the state. Since the new Philly DA cut 31 staffers on Jan. 5 as part of his previously stated effort to reform the office, rumors have been rampant at the Philly DAO that some of those recently dismissed – and even staffers who escaped scrutiny – were likely to follow the path of those who found employment under AG auspices.
"It was almost like a joke around the office that everyone's running over there," said one former DA staffer.
Recently dismissed Dangerous Drug Offenders unit boss Melissa Francis has also joined the AG's Office, taking a $109,000-a-year job, AG spokesman Joe Grace confirmed. Shapiro also snagged Ron Eisenberg, a top deputy who formerly headed the DA's 60-attorney Law Unit. Eisenberg was not let go but took a $50,000 pay cut from his $170,000-a-year gig in Philadelphia to accept his new job. 
This news outlet reported last week that Brian Zarallo, the DAO's one-time homicide unit chief, had been a contender to lead a newly created major trials unit under Krasner. But the DAO confirmed on Tuesday that Zarallo had instead abruptly submitted his resignation last Wednesday. The AG acknowledged that Zarallo had already been hired at that office for a $125,000-a-year position – the same salary he earned at the Philly DAO. 
Several DAO sources said that Zarallo had been selected to lead the AG's effort to prosecute a headline-grabbing Penn State hazing trial. Although he was ultimately not asked to resign, Zarallo's name had appeared on hit lists of reportedly dismissed staffers being circulated within the Philadelphia office on Jan. 5.
Former Assistant U.S. Attorney William DiStefano intimated that these departures were an anomaly. Large district attorney's offices like Philadelphia's are usually regarded as proving grounds for ambitious young attorneys and a natural home of dedicated homicide prosecutors he said. The AG's office places greater priority on big-ticket white-collar cases compared to the DAO's focus on prosecuting a high volume of violent crimes. 
"The better upgrade would be from the Philly DA to US Attorney or into private practice. I think going from the DA to the AG is more of a sideways move, salary-wise or career-wise," DiStefano said. "The Philadelphia DA Office's attraction for well-qualified young lawyers is that they're able to get a lot of experience. My opinion is that it's really not an upgrade to go from Philly DA to Attorney General – but it's probably a more stable office."
Not long ago, the AG office weathered its own share of drama linked to Shapiro's predecessor, Kathleen Kane, who was convicted and sentenced on charges of perjury and abuse of office. Still other seasoned homicide prosecutors and top unit chiefs had joined Shapiro's office well before Krasner began efforts to institute the far-reaching, progressive criminal justice reforms he promised during his campaign. 
Jen Selber, former head of the DA's homicide unit, was one of Shapiro's first picks from the Philly office. She joined the Harrisburg office as an executive deputy attorney general overseeing its criminal division last January, as the scandal surrounding a federal investigation that would eventually lead to DA Williams incarceration was reaching a fever pitch.
Jodi Lobel similarly landed a job as executive deputy of operations in Shapiro's cabinet. A 23-year DAO vet and former head of Williams' charging unit, Lobel left the DA in 2015 to run for judge, briefly rejoining the DAO in 2016. She departed the office for good in August last year.
Laurie Malone, a deputy in Williams' pre-trial unit, joined the AG last March, heading up the latter office's medical fraud cases. Linda Montag, who won an award in 2015 for her work in the DA's insurance fraud division, joined former homicide prosecutor Kirk Handrich at the AG's office in mid-2017. Both now serve as senior deputies at the AG's eastern regional office in Philadelphia. Former DA southern division chief Kirsten Heine joined the AG's office in November, as did senior deputy DA Paul Redell – although Grace, the AG spokesperson, said he had recently returned to his former office under Krasner.
For its part, Shapiro's office – which employs hundreds of people – said it was proud of all its hires and that the AG had sought talented lawyers from far afield, including the Philadelphia DAO.
"My office has hired high-quality individuals from across the Commonwealth over the past year as we rebuild the Office to best serve the people of Pennsylvania," Shapiro said. "These individuals come from local, state, federal, public- and private-sector backgrounds. The common denominator of all these hires is talent, experience, integrity and a desire to serve the people of our Commonwealth.  We take pride in every employee we hire."