Congress
Former prosecutor Ashley Lunkenheimer jumps into PA-7 primary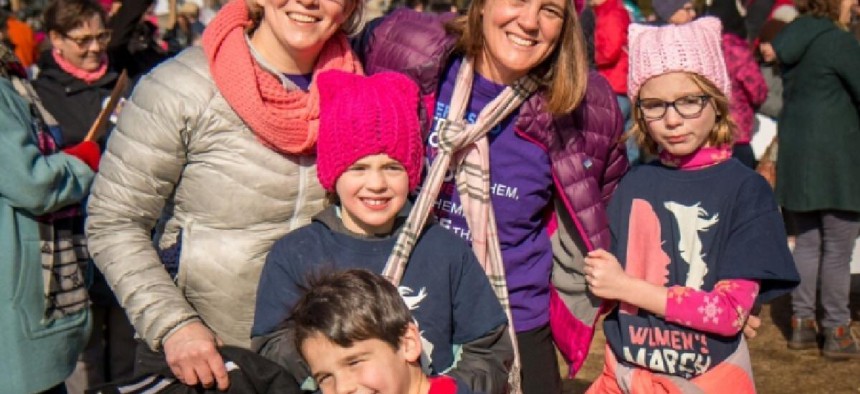 Despite a chance that PA-7 might not look a whole lot like PA-7 come May, former U.S. Attorney Ashley Lunkenheimer officially announced that she will become the seventh Democrat to date to enter the race.
Lunkenheimer has a master's in social work but worked for a decade busting up drug gangs in and around the city of Chester as a prosecutor. She most recently served as counsel for AmeriHealth Caritas, working on new applications for Medicare and Medicaid.
The attorney says her experience working around on all sides of the poverty equation gave her a unique perspective on the struggles of the Seventh District's most vulnerable residents.
"I've seen and worked with, and understand how a lack of a good education can lead individuals to crime," she said. "The criminal justice system alone does not help people in a complete sense. I want to work in all areas of the community to improve people's lives."
Lunkenheimer said she was still working out policy positions, but outlined general support for progressive immigration policies, expanded healthcare access, increased educational funding and anti-poverty initiatives, such as supportive housing for chronically homeless men and women.
Like many Democratic newcomers this year, Lunkenheimer cited the administration of President Donald Trump as a key factor in her decision to run for office. She also cited the twin sexual harassment scandals in PA-7 as motivating factors: one that ended incumbent U.S. Rep. Pat Meehan's political career and another that paralyzed fellow Democratic challenger Daylin Leach's campaign.
"It does play into my decision to run," she said. "We need to have zero tolerance for sexual harassment."
Political observers have said that the same social forces that disabled Meehan and Leach were likely to give female candidates an edge in 2018, but Lunkenheimer will still face an uphill battle in such a crowded primary. Former CIA agent Shelly Chauncey, real estate agent Elizabeth Moro, lawyer Daniel Muroff, bioengineer Molly Sheehan and state Rep. Greg Vitali all have an edge on fundraising and building name recognition. Trump supporter Joe Billie is currently running on the GOP side, although Meehan's sudden resignation in the wake of his harassment scandal has sent local Republicans scrambling to come up with other establishments candidates.
Still, since Friday, Lunkenheimer says she had raised some $70,000 from "individual donors," including friends and relatives.
"I know I need to get out in front of the people. I need to let them know who I am and what I've done," she said. "Time is scarce, but I'm proud of my early fundraising."
There is still the gerrymandering factor – a state Supreme Court decision will likely result in a new congressional map that could radically reshape Southeastern PA political districts.
But Lunkenheimer says an increasingly likely redraw of Pennsylvania's congressional districts doesn't have her down. She was confident that her residence in the county seat, where she lives with her wife and three children, would remain part of PA-7.
"I'm from Media, the heart of Delaware County," she explained. "I have every reason to believe I will stay in the district...It will affect my campaign, but it's hard to conceptualize the 7th without Media."