Elections (Archived)
Wagner attacks Wolf on school safety, opioids, taxes and more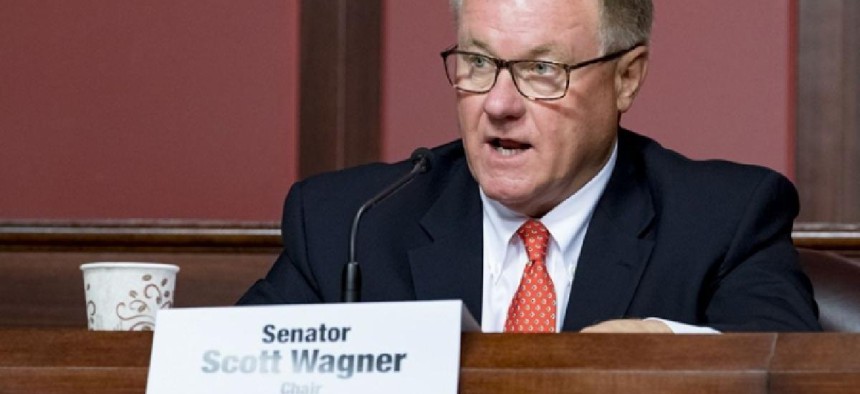 State Sen. and GOP gubernatorial candidate Scott Wagner was the featured speaker at February's Pennsylvania Press Club luncheon, where he laid out his plans to prevent school shootings in Pennsylvania and how he would operate Pennsylvania differently from current Gov. Tom Wolf.
Sen. Wagner is currently the Republican-endorsed candidate for governor, although he still faces two primary challengers.
Beginning his remarks by addressing the recent school shooting at Marjory Stoneman Douglas High School in Parkland, Florida, Wagner said the shooting is a symptom of a continuing "crisis in America today."
"The tragic shooting that happened in Florida recently should be a wake-up call to everyone. We protect our money. We protect our airports. We protect our politicians. But we don't protect our children," he said. "To hear the pain in the voices of the survivors is shattering, sobering and infuriating. To see the government's failure to protect our children is astounding. To imagine that this kind of tragedy and failure could happen right here in Pennsylvania is unfathomable. It's high time that we have a government – and a governor – willing to stop all the talking and do something about violence in our schools."
Stopping short of saying Pennsylvania needs more gun regulation – something he said would not have prevented the Parkland shooting – Wagner laid out a multifaceted approach to ensuring school shootings in Pennsylvania would not occur should he become governor.
Prime among his plans, he called for an increase in funding for mental health treatment, raising mandatory-minimum sentences for gun-related crimes, putting trained armed security guards in every school, making state money available for school safety initiatives, ensuring thorough background checks are conducted, and putting each school through a "high-level" security assessment.
"It is critical that we provide the safety and security our children need and deserve in our schools," he said. "A government that has 208 regulations on the use of a ladder, and can fund tax credits for horse racing and Hollywood, can certainly find the money we need to protect our children."
Wagner also said that he has introduced legislation to make a school shooting resulting in death a mandatory death sentence for the perpetrator.
"Let me make the message crystal clear: If someone kills one of our children, we will kill them," he said. "We have failed our children, their parents, their siblings and survivors too often. As governor, I will not fail them."
Wagner said he would support the arming of teachers and has voted for Senate legislation that would provide for that. He added that he believes having trained and armed security guards is the preferred method of in-school protection.
Wagner then went on the offensive, chiding Gov. Wolf for his current death penalty moratorium.
"Tom Wolf would prioritize the life of an evil school shooter over the lives of innocent children, over those who grieve for them, and over those who sought to protect them," he said. "If ever we needed an example of where the system is failing us, we need to look no further than our gutless governor, Tom Wolf."
A spokesperson for the Pennsylvania Democratic Party countered by arguing that Wagner was using the Parkland shooting as a means to score political points.
"If Scott Wagner really wanted to improve school safety, he would have voted to fund the school safety initiative in last year's budget," said Beth Melena, communications director for the Pennsylvania Democratic Party. "Wagner is just a typical politician who is using a tragedy to score political points while doing absolutely nothing to save lives in Pennsylvania. Wagner's vote against greater school safety funding, his refusal to support greater background checks to purchase firearms, and his failure to denounce Trump's decision to weaken background checks for people with mental health issues show that he is not taking school safety seriously."
Wagner continued his attack on Wolf, assailing the governor's record on issues like combatting the opioid epidemic, seeking taxes on Pennsylvania's energy industry and unionizing nursing homes, saying such moves prove that the current governor is "lined up lock, stock, and barrel with the liberal left."
A request for comment from the governor's reelection campaign was not immediately returned Monday.
During a Q&A with the audience, Wagner said that a recent mailer criticizing Republicans voting against a paycheck protection measure sent by the Citizens Alliance of Pennsylvania, whose chairman emeritus is heading up the Wagner campaign, was "unfortunate" and that those with CAP ties have been terminated from their contractual relationship with his gubernatorial campaign.
"Everyone has a right to an opinion, but my mission right now is to become the next governor and we're going to have more teamwork and less criticism from outside groups," he said.
He also reiterated his concerns with the future viability of the Pennsylvania State System of Higher Education, noting rising costs related to salaries, pensions, and post-retirement health care, coupled with a likely inability to change the business model of the system, puts its future solvency at risk.
"I don't know how we can do this," he said, "we're running out of runway,"
Wagner also endorsed privatizing the state liquor system, arguing the money he believes is being lost on the system could be reinjected into state government to create more fund availability for school safety.
He also said he is in favor of LGBT employment and housing protections, but, if elected as governor, will not sign "a third bathroom bill."
Wagner addressed his various business holdings by arguing there is no conflict of interest in owning a business that makes money off of government contracts, and added he will not be putting his business interests in a blind trust since the organizations are currently managed by an advisory board and management team, with his focus mainly on his senatorial duties.
Finally, Wagner said that as governor, he will not continue the recent practice of Gov. Wolf of letting bills become law without his signature.
"This is back to a gutless governor and a governor who has no backbone," he said. "I am going to work with the House and Senate members, whether they are Democrat or Republican, and we're going to pass good legislation for the people of Pennsylvania, but I'm not going to run away from not signing bills. That's a requirement of being a good governor."