Elections
Wagner cuts ties with campaign staff after attack mailer imbroglio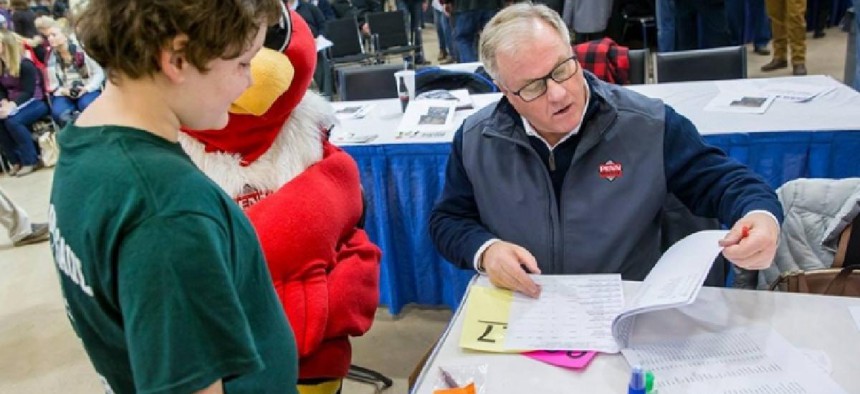 GOP gubernatorial candidate and state Sen. Scott Wagner shook up his campaign days after City&State PA published a story linking his former campaign chair to a series of attacks on fellow Republicans.
During a speech to the Pennsylvania Press Club yesterday, Wagner implied that he had cut ties with former campaign staffers who had been involved with a PAC called the Citizens Alliance of Pennsylvania. That group, which promotes conservative political candidates who exhibit ideological purity, sent mailers to thousands of households in recent weeks blasting nearly 30 fellow Republicans for voting against a bill designed to restrict the automatic collection of union dues.
"It's unfortunate that the flyer went out and the people that have any affiliation with CAP – one was a consultant – we have terminated that relationship," he told reporters at the event. "The second person actually had a terminated relationship with CAP, but there is a perception he is affiliated with CAP."
Later, Wagner's campaign confirmed that the individuals the state senator was referring to were strategist Ryan Shafik and campaign chair John Kennedy – who founded CAP and now serves as chairman emeritus.
"Yesterday, I accepted the resignation of my campaign chairman John Kennedy and strategist Ryan Shafik," Wagner said, through a campaign spokesperson on Tuesday. "I also made it clear that my team is to have one focus - defeating America's most liberal governor, Tom Wolf. Dividing our party is unacceptable and I want every Republican to help implement our agenda in Harrisburg."
Revelations that Wagner's top campaign staffers were tied to attacks on other Republicans had drawn scorn from GOP players across the state. Wagner had recently won the Republican endorsement for his gubernatorial candidacy and has sought to unify the party around his quest to unseat Gov. Wolf.
"CAP was formed back in 2008 or 2010 because Pennsylvanians are fed up. Everybody has a right to an opinion, but my mission right now is to become the next governor, and we're going to have more teamwork and less criticism from outside groups," Wagner explained of his decision to cut ties with the group, on Monday.