Infrastructure
Winners and Losers for the week ending February 2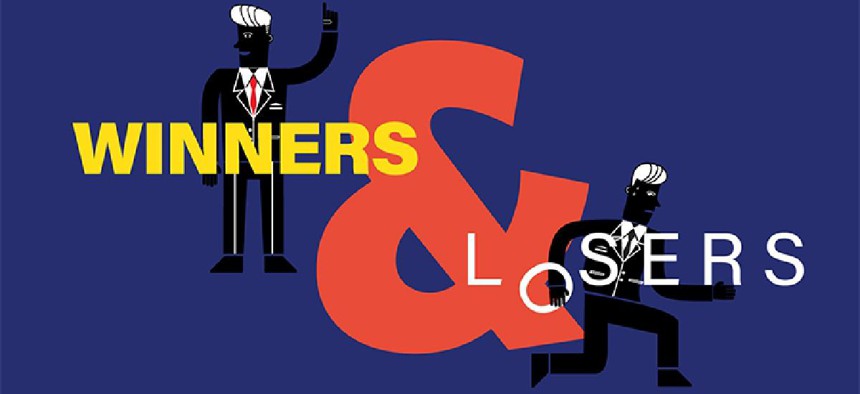 The news that K.T. McFarland was withdrawing her nomination to become ambassador to Singapore certainly wasn't Friday's biggest news. And if the headline sounded familiar, that's because at this point, it is: the former deputy national security adviser was at least the 20th nominee by the Trump administration to abandon the process or – in a few cases – to have their nomination rejected.
This may seem like a trivial number; after all, there are thousands and thousands of positions that a new administration needs to fill. But when you combine this figure with the proliferation of high-profile firings and resignations – not to mention the staggering number of vacancies that continue to go unfilled across the government – the picture that emerges isn't pretty.
And 54 weeks into this administration, it's certainly not encouraging.
2/3/17: Vincent Viola withdrew his name for consideration to become the US Army secretary. His inability to unwind businesses that could create conflicts of interest was cited as the reason.
2/15/17: Andrew Puzder withdrew from consideration to become US Secretary of Labor after a relentless stream of negative revelations, including his longtime employment of an undocumented worker, sexist views and anti-employee positions made his path to confirmation untenable.
2/26/17: Philip M. Bilden withdrew from consideration to become the Navy secretary after he determined he couldn't satisfy conflict of interest concerns "without undue disruption and materially adverse divestment of my family's private financial interests," according to his statement.
4/19/17: Todd Ricketts withdrew his name from consideration to become the Deputy Secretary of the Department of Commerce. He was unable to untangle his finances enough to satisfy conflict-of-interest requirements.
5/5/17: Mark E. Green withdrew from consideration to be named US Army secretary after uproar over his inflammatory comments about LGBTQ people and Muslims.
5/19/17: James Donovan withdrew from consideration to become Deputy Secretary of the Treasury. He cited family reasons for the withdrawal.
7/12/17: James Clinger withdrew his name from consideration to become head of the Federal Deposit Insurance Corporation. He cited family reasons for doing so.
8/2/17: George Nesterczuk withdrew from consideration to become the head of the Office of Personnel Management. He was fiercely opposed by unions for his positions.
9/13/17: Daniel A. Craig withdrew from consideration for the No. 2 spot at the Federal Emergency Management Administration after it was discovered he falsified government travel and timekeeping records during his time serving in the administration of President George W. Bush.
10/3/17: The Trump administration pulled the nomination for David Ehrhart to become general counsel for the Air Force. NO reason was made public.
10/3/17: The Trump administration pulled the nomination for Ryan Dean Newman to become general counsel for the Army. No reason was made public.
10/17/17: US Rep. Tom Marino withdrew from consideration to become the Trump administration drug czar after it was revealed he was a prime force behind legislation that made it virtually impossible for the DEA to interdict suspicious narcotics shipments from drug companies.
11/2/17: Sam Clovis withdrew from consideration to be the chief scientist at the Department of Agriculture not because of his lack of scientific background but because of his connections to George Papadopoulos, who has emerged as a central figure in the special counsel investigation into the Trump administration's ties to Russia.
11/9/17: Tim Kelly's name was withdrawn from consideration for assistant secretary for career, adult and technical education at the US Department of Education. Kelly's history of blog posts demeaning Muslims and efforts to attract women to STEM careers.
12/13/17: Michael Dourson withdrew from consideration to become head of the Office of Chemical Safety and Pollution Prevention at EPA after concerns mounted over his consistent downplaying of the toxicity of chemicals that he would be required to oversee in his federal role.
12/13/17: Brett Talley withdrew his name to be a federal judge in Alabama after Senate Judiciary Committee Chairman Charles Grassley (R-Iowa) said he would oppose confirming Talley in the full Senate. Talley had little legal experience and was rated "not qualified" by the American Bar Association.
12/14/17: The White House withdrew the nomination of Jeff Mateer for a seat on the U.S. District Court for the Eastern District of Texas. Among his litany of anti-LGBTQ statements and positions, Mateer said transgender children were part of "Satan's plan."
12/18/17: Matthew Petersen, who had been tapped to be a judge on the U.S. District Court of the District of Columbia, withdrew his name after withering under questions from the Senate Judiciary Committee.
12/19/17: Scott Garrett was rejected by the Senate Banking Committee to become the head of the Export-Import Bank. During his time as a Congressman, Garrett and fellow Tea Partiers consistently tried to shutter the institution and was quoted as saying that the bank's "crony capitalism distorts the market to help some of America's biggest companies.
2/2/18: K.T. McFarland withdrew her name to become ambassador to Singapore. The Trump administration's former deputy national security adviser's communications with then NSA chief Michael Flynn over his contacts with Russian authorities proved too much to overcome.
WINNERS
Darrell Clarke: The bombshell announcement that US Rep. Bob Brady won't run for reelection set off a furious round of jockeying for position within the Democratic Party in Philadelphia. The most portentous move might have been made by Clarke, the Philadelphia City Council president, who will expand his power base by taking on a special adviser role under Brady on the Democratic City Committee.
Joanna McClinton: Sources tell City & State PA that the state Rep., whose district encompasses much of the currently configured 1st Congressional District, will run for Brady's seat.
Jerry Oleksiak: It's not often you get to make history your first day on the job, but that's what happened when Oleksiak automatically became Pennsylvania's new Secretary of Labor & Industry after the state Senate refused to act on his nomination due to "concerns" – the first time a Cabinet position has been filled without Senate approval.
LOSERS
Marcel Groen: A catastrophic inability to comprehend how the #MeToo movement has catalyzed a paradigm shift in the political realm cost the state Democratic party chair his job. Somehow missing that the time for equivocating about alleged sexual harassment and sexual abuse charges has passed, Groen failed to call out accused legislators like state Sen. Daylin Leach and state Rep. Thomas Caltagirone; a self-immolating interview with the Daily News' Will Bunch this week was the final straw for Gov. Tom Wolf, who had Groen resign.
Paul Mango: There is something to be said for the maxim, "any publicity is good publicity. But the GOP gubernatorial candidate should be juuuuuust a little more discerning in the future. He received sustained received bipartisan criticism for granting a YouTube interview to the leader of a 200-member religious congregation that some say is a cult – and who is the son of infamous cult leader Sun Myung Moon, who founded the Unification Church, whose members were known as "Moonies." On the bright side: At least he's not hurting for liquidity yet: he loaned his campaign an additional $6.7 million.
Gov. Tom Wolf: Mango can take solace in the news that the incumbent didn't survive the week unscathed, either. Somehow, Wolf managed to forget a campaign pledge he made to have Pennsylvania join the Regional Greenhouse Gas Initiative, a market-based effort by states in the Northeastern US to reduce carbon emissions.