Elections
Super PACs plow millions into final stretch of PA-18 special election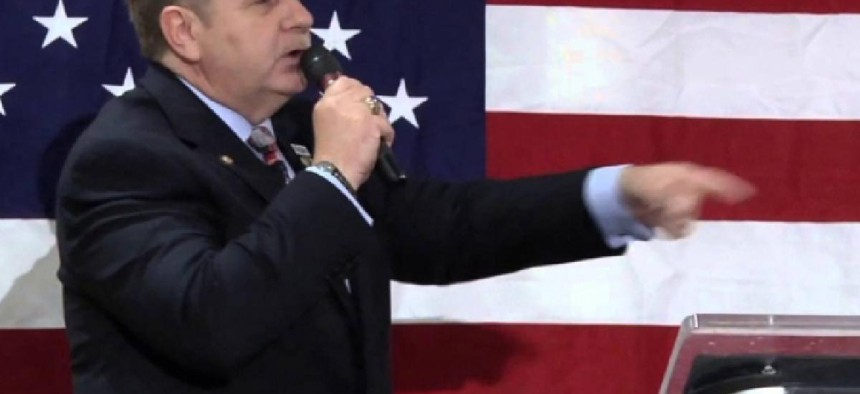 As votes are cast and tabulated for the crucial special election in Pennsylvania's 18th Congressional District, shadowy super PACs and affiliated nonprofits have sunk big money into ads ahead of what some now expect to be a race with a photo finish.
As of last week, both parties had poured a combined $11.4 million into ad buys on behalf of GOP candidate Rick Saccone and Democrat Conor Lamb.
Veteran political analyst Terry Madonna called the scale of ad spending "uncharted territory" for a Pennsylvania congressional race.
"A typical congressional race in PA is one where incumbents historically win with ease, given the nature of the gerrymander in 2011," he said. "We've only had one or two races since where there's been any appreciable spending...You're usually looking at a million dollars. It's nowhere near what we're seeing spent on this."
It's a contest that has brought the district, which stretches across the outskirts of Pittsburgh and through the heart of Pennsylvania's Trump country, into the national spotlight as Republicans look to stave off a potentially humiliating defeat. To the surprise of many, Lamb – a pro-gun, pro-life former Marine judge advocate general – has used a strong resume to narrow Saccone's built-in demographic advantage.
"I think early on, this race was conceded by national Democrats," Madonna said. "Until the last couple of weeks, this was thought of as an easy win for Saccone."
As the competitiveness and stakes in the race have increased for both parties, outside PACs have sunk millions into campaigning on behalf of both candidates. These groups are prohibited from directly coordinating with either campaign but can raise unlimited sums of money. Other groups, known as 501c4s, can also receive unlimited donations and are not required to disclose their donors.
Saccone's campaign, which has struggled to pull in about $700,000 in campaign contributions since the beginning of the year, has relied more heavily on outside groups running attack ads on his behalf than Lamb. Republicans estimate the state rep. has enjoyed about $7.8 million in outside group ad buys throughout the campaign.
In addition to support from Republican congressional leadership, the billionaire Ricketts family has deployed both super PAC Ending Spending and the dark money nonprofit 45Committee to support Saccone. Heavily backed by TD Ameritrade founder Joe Ricketts, the former group was purportedly founded to back candidates that would "cut government waste." Ricketts spun off  the latter group to spend millions in support President Donald Trump, 
Trump's own super PAC, America First Action, has also kicked in millions for Saccone. Backed up by oil billionaire Harold Hamm, had planned to raise some $100 million to support candidates across the country in the mold of the president.
On the Democratic side, Lamb has drawn in more than $3.3 million in contributions since January, with much of that total coming from small donors scattered across the country. He's spent a great deal of that war chest on his own ads – some $803,000 in the last week. Lamb has pointedly said that he would not accept any money directly from "corporate PACs." 
However, other PACs and 501c4 groups, with names like the Patriot Majority – a top Democratic PAC linked to longtime strategist Craig Varoga – and VoteVets have together dropped six figures on his behalf; other groups have donated directly to his campaign. A third group, End Citizens United, which has become well known for backing candidates that swear off corporate PAC dollars, is also backing Lamb.
VoteVets has been Lamb's biggest single outside supporter – spending more than $356,000 supporting Lamb in February and March, nearly as much as Patriot Majority and End Citizens United combined.
Founded by veterans, VoteVets has spent millions since 2006 with the aim of electing progressive Democratic veterans. The group has become a larger conduit for Democratic campaign dollars in suburban and rural races where strategists have sought to put the image of warrior candidates ahead of party affiliation.
But Republicans say the group more subtly promotes environmentalist policies that don't normally sell in Pennsylvania coal country. In addition to its nominal aim of keeping America out of foreign wars, VoteVets has also promoted anti-fracking initiatives and cap-and-trade legislation.
National Republican Campaign Committee spokesman Chris Martin said the group is backing Lamb in hopes he'll support similar policies in Congress.
"Why hasn't Lamb denounced them for pushing a national energy tax that would eliminate 97,500 jobs in Pennsylvania?" he asked.
Madonna said the conservative-sounding names of these Democratic PACs – this is a race where Lamb has scored points for appearing to run to the right of many in his own party on certain issues.
"He's a Marine, pro-life, and conservative on cultural issues," he said. "He's not a quintessential urban Democrat."