Infrastructure
Top Philly DA staff exodus continues under Krasner administration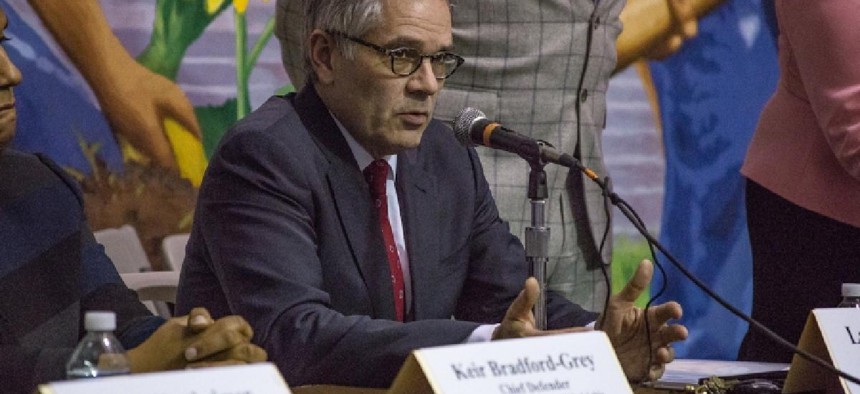 A full quarter of the prosecutors and other senior staff at the Philadelphia District Attorney have departed since Larry Krasner took office with a plan for sweeping reforms.
An analysis of city payroll records shows that out of 335 prosecutorial staff, investigators and senior administrators employed at the end of 2017, 84 staffers have either quit or been asked to leave. The DA's office employs more than 500 staffers in total.
On the campaign trail, Krasner promised that his pledges to bring radical, progressive reforms to top prosecutors office would attract new talent. To some degree this has held true: at least 61 new staffers have joined the office since Krasner's January inauguration, most at either the very top or bottom of the office food chain.
The new hires have done little to dissuade many of Krasner's critics, who have long warned that his efforts to bring a softer touch to an office dominated for decades by an unwavering "law & order" philosophy would eventually drive experienced prosecutors away from the office. 
"The office has lost a lot of experience and institutional knowledge in the last three months," said former ADA Mark Gilson, who was let go by Krasner in January. "From what I see and what I've heard, that has not been replaced. Victims of crime and citizens of the city will suffer for it."
It's true that virtually every senior deputy under interim DA Kelley Hodge has since left the office – with the sole exception of office vet Sybil Murphy, whom Krasner appointed as interim supervisor of special investigations. However, the majority of assistant unit chiefs held on to their positions. Out of 103 veteran ADAs, only 34 have left the office since last year. 
None of the office's investigative staff detectives or police appear to have left the office.
But criminal justice advocates familiar with the transition have praise for the new dynamic in Krasner's office.
Dr. Toorjo Ghose, a professor at the University of Pennsylvania School of Social Policy & Practice, and CEO of The Center for Carceral Communities, attends newly implemented meetings between top DA staffers and criminal justice experts like himself.
"There are some amazing new faces and some amazing old faces on Krasner's staff," Ghose says. "It's not like everybody is on the same page. But everybody is there because they are dedicated to the bigger cause. They're bringing in the old regime strategies and the new regime strategies – and from a practitioner's standpoint, that's amazing. That's how change is made."
Ghose noted that turnover is common between administrations, and commended new hires like Robert Listenbee, Jr., a former Obama official who now serves as Krasner's first deputy DA, among others.
It was not immediately clear how many employees were asked to resign, how many departed the office in protest of Krasner's vision, and how many simply moved on to other opportunities. For example, Tanner Rouse, an experienced homicide prosecutor, left that position to run for office.
The Philadelphia DA's office also employs approximately 200 additional support employees – including clerks, paralegals office assistants, interns and IT professionals. Those positions were not included in this analysis. The DA's office did not return a request to confirm the roster of former employees and new hires by press time.
Krasner made headlines for aggressively pursuing the resignation of a string of top staffers at the end of his first week in office, leading to the sudden departure of nearly 30 employees. 
The mass layoffs echoed a pattern established by other district attorneys whose political campaigns were backed by criminal justice reform organizations linked to billionaire George Soros. 
"The only way to change the culture in the DA's office is to remove folks who foster that culture and who are the descendants of the Lynne Abraham and Ron Castille and Seth Williams style of prosecution," says Jondhi Harrell, executive director of the Center for Returning Citizens, a nonprofit that helps with the reentry process into society for those returning from incarceration. "Krasner started that process with the firing of top prosecutorial staff in his first week and, since then, other folks have left once they realized that agenda was gone."
Indeed, Krasner had said openly during his campaign that he would seek to dump staff who were opposed to his platform of seeking sentencing and bail reform, and greater police witness integrity. However, the DA has since been cagey about disclosing details surrounding the shakeup.
Gilson added that additional staff has resigned since the compilation of payroll records for the first quarter of the year – including veteran staffers like Michael Bonner & Ali Borgatti.
"A lot more people have left just in the last few weeks," he said.
TWITTER: @RW_BRIGGS & @MAXMMARIN