Emails: Kenney staff organized groups that shut down soda tax hearing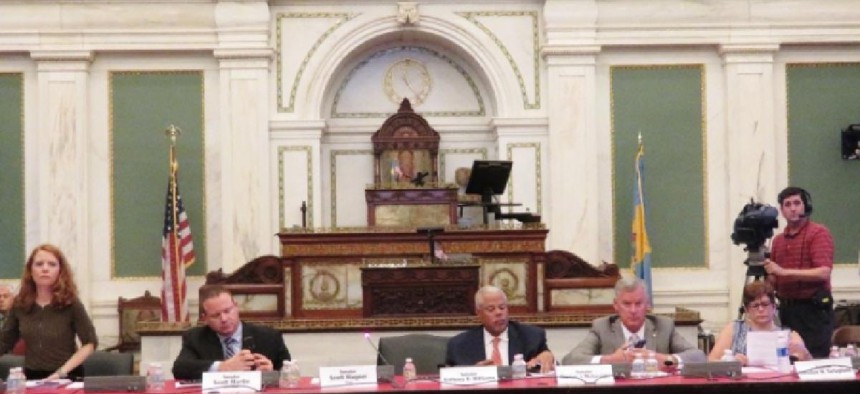 Editor's note: This post has been updated to include the contents of a letter from state Sen. Anthony H. Williams to PCCY board members in repsonse to their accusations against him.
A series of government emails, recently obtained by City & State PA, reveals members of Philadelphia Mayor Jim Kenney's inner circle closely coordinating with nonprofit groups to oppose a hearing on the city's controversial soda tax last summer.
A June 2017 fact-finding hearing of the Pennsylvania Senate Local Government Committee – hosted at Philadelphia City Hall, instead of its usual state Capitol location – was shut down shortly after commencement due by noisy, vuvuzela-wielding protesters that supported programs funded by the levy. They charged that the hearing was a "publicity stunt" meant to broadcast the views of opponents of the soda tax.
Emails sent by Kenney's deputy chief of staff, Steve Preston, shortly before the event show the administration imploring supportive groups to "get as many people as you can" to the hearing. 
"Hopefully we can fill the place up," writes Preston, who had previously served as Kenney's campaign field director. "We are nervous they may be getting Teamsters out there" – a reference to the goods-hauling union opposed to the tax because of its negative impact on its members via lower soda sales.
In another exchange, a top deputy to Kenney drafts pro-tax testimony for a union leader to deliver. Another shows a nonprofit staffer promising that her boss would serve the anti-tax advocates' "heads on a platter" at the hearing.
Last week, in response to questions from City & State PA, Kenney spokesperson Deana Gamble blamed agents from the soda industry for "leaking" the emails in "an attempt to undermine the tax." Yet she simultaneously downplayed the significance of the administration's coordinate efforts to combat industry efforts to kill the tax.
"It's routine for the administration to organize testimony from external stakeholders when a piece of legislation is up for debate," she wrote. "There's a broad coalition of groups that benefit from the programs funded by the tax. So it's natural that we would assist them in submitting testimony to highlight the positive impact the tax has had."
Although Kenney and his lieutenants officially declined to give in-person testimony at the time, emails show Deputy Mayor Rich Lazer – who recently rejoined the office after a scotched congressional bid – had handwritten remarks to be delivered by Laborers District Council leader Ryan Boyer at the hearing. 
In it, Lazer paints a scene of Boyer's supposed interactions with LDC members eager to get a cut of public works projects funded by the tax.
"Those are the people I hear from. Their voices aren't often loud. They don't have a high- priced media campaign flooding airwaves and websites," Lazer writes, as Boyer. "To them, the beverage tax means jobs. And it means hope."
State Sen. Scott Wagner, the GOP gubernatorial candidate and chair of the Senate Local Government Committee for that truncated meeting – and who has signaled his support for state-level efforts to preempt the tax – said he viewed the coordinated effort by Kenney and allies as a silencing tactic.
"Unfortunately, it seems that what was supposed to be a display of rare bipartisan outreach and reasonable discourse became Mayor Kenney's opportunity for the silencing of opposing views," he said. "If the Mayor thinks his beverage tax cannot weather a legislative public hearing, then that is all the more reason to investigate it further."
But to Gamble's point, it is not the first time that the Kenney administration has sought to direct the ground game in support of a tax that is crucial to the administration's agenda but loathed by the powerful and deep-pocketed beverage lobby. Earlier in 2017, a Right-to-Know request filed by City & State PA revealed that the administration had clandestinely directed members of the nonprofit group Action United to picket anti-tax Councilmember María Quiñones-Sánchez at a press event she had organized.
At the time, the council member assailed Kenney operatives for using nonprofit groups to give the appearance of broad, grassroots support for the levy.
"It was manufactured by immature campaign operatives given free rein to engage in inappropriate stunts," Sánchez said of the incident, in an interview last year.
Public Citizens For Children and Youth staffer Shawn Towey was also included in the June 2017 email chain. Today, she says that supportive groups like hers are real and are needed to combat the intensive, multimillion-dollar lobbying effort against the tax. She also still maintains that Wagner and Williams were attempting to stack the deck against the supporters of the soda tax – denying pro-tax Councilmember Helen Gym time to sound off and stuffing the speaker list with anti-tax voices.
"At the last minute...they selected certain people. There were only four pro-soda tax people who could speak," Towey said in a recent interview. "It's like, what's your business coming to Philly to tell us what to do? There was natural outrage."
She had made similar points In the 2017 email exchange, Towey accused state Sen. Anthony Hardy Williams, who asked Wagner to hold the 2017 meeting, of essentially being bought by the soda industry, writing "the emperor has no clothes! Tony Williams' transparent service to big soda – how much $$ did they pay??"
While Towey said she wishes that she chose her words more carefully, she also stood by her assertion that Williams was not acting in good faith. (Sen. Williams did not respond to a call for comment)
"We knew (Sen.) Tony (Williams) was against the tax since Day One," she said. "He's a former Pepsi executive, after all."
While she said she did not recall working as closely with past mayoral administrations – Towey said Preston sends her and other nonprofits a monthly update on soda tax news – she added that she did not view the emails or the request for attendees as unusual.
"(Preston) didn't tell us what to do. We didn't tell him what to do. I didn't view it as direct coordination," she said. "But we didn't realize the whole thing would be canceled by noisemakers. I don't really remember who brought them."
The following is the letter sent to PCCY board members from state Sen. Anthony Hardy Williams:
June 8, 2018
Dear Board Member,
The attached City and State article details coordination between Public Citizens for Children and Youth (PCCY) and Mayor Kenney's office. I am sending my concerns and observations to you, the Board of Directors, based upon my understanding that the Board sets policy and is responsible for establishing organizational culture and giving direction to staff.
To the extent your staff feels comfortable "serving heads" and believes I'm an "emperor," I'd like to fill in some of the blanks. More importantly, since your organization has taken on a lobbying role regarding the sugary drink tax, I want to share my position on this issue, which I wasn't able to share at the reported hearing since it was disrupted.
I have lived in a row house in Southwest Philadelphia for the last 20 plus years (not a palace). By most standards, my neighborhood is a working-class community of significantly modest incomes, and majority African-American residents. I grew up in this neighborhood; I raised my children in this neighborhood - without a body guard (or castle security). I moved back into my neighborhood after I left my "corporate executive" job over 30 years ago. I have been living on a public servant's salary ever since, which is likely lower than many of those commenting on "how much I'm getting paid." If the truth was as important as the narrative, your staffer only needed to check my financial filings to know that I hold no stock in any beverage company and was never contracted as a consultant for the beverage industry.
Rather than making a substantive policy argument, your staff chose to impugn my character.
In regards to the sugary drink tax, it is true my opposition has been stated from its inception. Free PreK and refurbished recreation centers sound wonderful and I wholeheartedly support expanding education and bringing necessary renovations to underserved communities that have been ignored for far too long. The problem is that it's not free, and the overwhelming payer for such services are the very modest income people I live with and represent. PreK slots certainly go to some modest income children, but they also go to families of affluence. The egregious part is that, with no income cap, poor people are subsidizing PreK for families that make a lot more and should be paying. I'm not sure why that's not seen as an obvious injustice to those you claim to serve.
EDUCATION
ENVIRONMENTAL RESOURCES 8 ENERGY
The recreation centers will require debt service paid by taxpayers. Many of those taxpayers will again come from my neighborhood and constituents I represent. Residents in the community should be afforded the opportunity to be employed to build these centers. Maybe I missed the organized protest in city council by the administration and your organization to guarantee these neighbors and people of color can be employed. However, I only witnessed the protest where little African-American children were used as emotional props, brought to council chambers, and cried in the middle of chaos created by your staff and other screaming adults. Is that something you would want to subject your children to? Probably not. I found what happened extremely insensitive and callous.
My opposition comes with the responsibility of my job which requires me to LISTEN to those around me with discernment, respect, and empathy. Not from lofty places where "emperors" reside, but from working class streets. My opinion is not mine alone; it comes from the voiceless. I speak for those who are tired of being directed by people who say they care, but seem only to stake out a position of"I know better about what's good for you than you do."
This country stands on some basic pillars of constitutional rights. Protest is certainly one, but so is freedom of expression, which I thought meant that my right to express my opinion is equal to yours. Regardless of how superior your staff may feel about me and, frankly, many of my neighbors, we have the right to fight for our position in shaping public policy — not have it imposed.
Needless to say, I think the reported emails from your staff represent a serious disconnect between them and the communities and families they work with. I am requesting a meeting with your board to discuss this. I'm happy to bring residents from my neighborhood if you wish to hear from some of the people I represent and your organization is supposed to serve.
Sincerely,
Senator Anthony H. Williams
State Senator 8h District
-