Ethics
Philly Ethics Board fines former DA candidate, Asian business group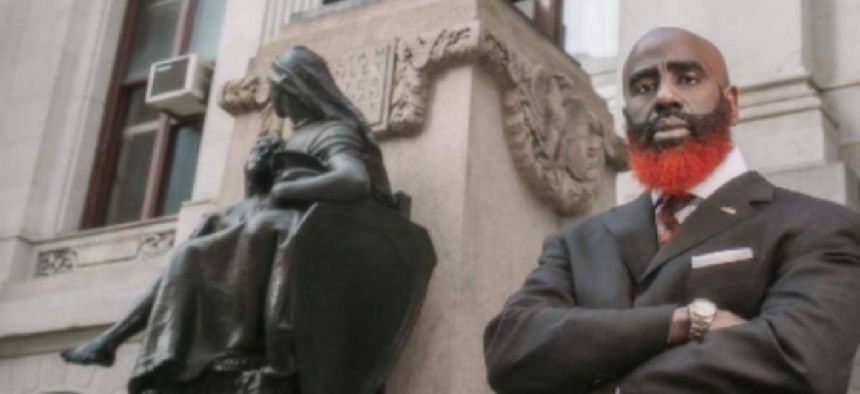 The Philadelphia Board of Ethics released a settlement agreement today that hit former District Attorney candidate Tariq El-Shabazz and an associate with thousands of dollars in fines over campaign finance violations dating to the 2017 Democratic Primary for the city's top law enforcement position.
The new fines are connected to a supportive political action committee that the board had previously ordered to dissolve over related violations.
During his campaign, staffers for El-Shabazz created Trustwave PAC, an outside group that supported his campaign but was also helmed by some of his own staffers – a clear violation, since coordination with outside PACs is considered an in-kind contribution subject to the city's donation limits and financial disclosure rules. 
Trustwave printed and distributed sample ballots at polling places that supported El-Shabazz. The close ties led the Board of Ethics to dissolve the PAC last year after it became clear the group was coordinating with the El-Shabazz campaign. 
Although this arrangement was initially set up without El-Shabazz's knowledge, the most recent settlement, released Thursday, directly faulted El-Shabazz and his campaign treasurer, Taylor Daukas. The pair agreed to pay $2,750 and $2,000 fines, respectively, for effectively operating two political committees.
"This is a companion settlement to the Trustwave PAC agreement the board approved last year," said Michael Cooke, director of enforcement for the Board of Ethics.  "It resolves violations for the El-Shabazz campaign that arose because of the campaign's involvement with Trustwave."
The investigation into the irregularities began in May of last year. Cooke said the timing of these latest fines had allowed the involved parties to negotiate a mutually agreeable settlement.
"We put a high premium on settlement. If it takes a little extra time to get a settlement, we're willing to do that," he said.
A second settlement agreement also laid out a separate series of fines for a group that had sought to kill off a City Council bill regulating bulletproof glass shields in Philadelphia businesses. The Asian American Licensed Beverage Association, which was fined for failing to register as a lobbying group, had vehemently opposed a so-called "bulletproof glass ban" floated by Councilmember Cindy Bass last year. 
The legislation had sought to impose stricter regulations on take-out beer stores – known locally as "stop-and-go" stores. Numerous neighborhood groups and activists have complained that these establishments, which are often Asian American-owned, are skirting the intent of Pennsylvania's liquor codes. Bass said the businesses were ordinary beer stores masquerading as bars for licensing purposes in order to sell over-the-counter shots of alcohol. The bill had variously sought to force these businesses to install more seating, serve hot food, open public bathrooms and, in one iteration that earned the legislation its media nickname, to remove lucite barrier screens designed to protect staff from robbery attempts.
Although the last stipulation was eventually watered down, the proposal inflamed racial tensions between Asian American merchants and some of Bass' supportive constituents in her heavily African American district.
However, the Board of Ethics found that the AALBA had spent thousands of dollars coordinating a publicity campaign around their opposition to the bill, violating a provision that requires individuals who spend more than $2,500 in an effort to influence legislative action to register as lobbyists with the city.
The group was fined $2,000 and agreed to register as a lobbying organization, which entails a $200 registration fee.
With elections for both mayor and City Council seats just around the corner in 2019, Cooke said he hoped the agreements would put pressure on future candidates to keep their campaigns transparent.
"Not just with El-Shabazz, but other recent campaign finance matters; it really emphasizes the need for candidates and treasurers to make sure they're paying attention to what's going on in their campaigns and exercising appropriate oversight," he said.