Elections
Teenage criminal justice reform advocate wins Philly ward election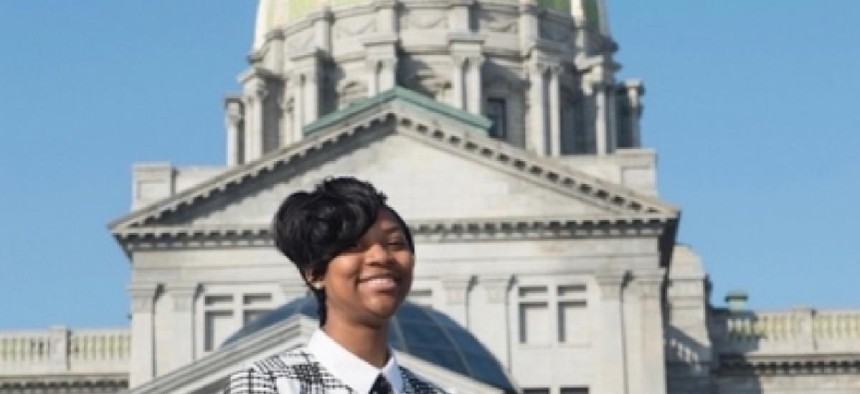 As Philadelphia's aging political machine continues to hemorrhage power and influence, there has been no shortage of talk about shaking up the local Democratic party. But for many party grandees, a lot of it is just that – talk. Recently, the City Committee's 81-year-old secretary was promoted up to a vacant treasurer position – that had previously been held by a nonagenarian.
For those searching for a sign of fresh blood and new ideas injected into a city party that has changed little since sweeping to power in the 1950s, look no farther than South Philly where, last week, 18-year-old Shania Bennett was swept into a committeeperson spot in the 48th Ward's 12th Division. Last night, she was elected as ward treasurer – likely the youngest in the city.
Raised in a poverty-stricken section of South Philadelphia, Bennett said her childhood experiences drove her toward community service. At 15, she says, she knew she wanted to do something to improve her neighborhood, but wasn't sure exactly where to start.
"It was rough," she said. "Growing up there, you see so many wild things on a daily basis. I thought, 'Someone has to change this.'" 
She had put in time working at her church and after-school community service programs, but her vocation still remained unclear. Her parents were interested in politics, she says, but they weren't actively engaged.
"I was just looking for something to do," she said. "So, I reached out to (state Rep. Jordan Harris) for a summer internship. I just emailed him on his House email."
Improbably, hitting up her neighborhood rep worked out (Rep. Harris praised Bennett's time at his office, and said politicos would do well to "remember her name"). Soon, Bennett was meeting other local electeds – like state Rep. Joanna McClinton, whom Bennett describes as "a mentor" – and doing campaign work for judicial candidates. 
She was inspired to get more deeply involved in local politics after serving on Larry Krasner's successful 2017 campaign to become Philadelphia DA. His progressive message about radically changing approaches to policing resonated with Bennett, who watched heavy-handed crime policies harm her peers.
"I was so mad I was too young to vote last year," she joked, about working on Krasner's campaign. "But something I'm very passionate about is criminal justice reform. I'm really interested in diversion programs so people don't end up in prison, and ending the school-to-prison pipeline."
But as she was drawn deeper into the world of Philadelphia politics, something nagged at Bennett.
"I would always notice there weren't young people at my ward meetings," she said. "I thought we needed a young voice. Most of my friends aren't even registered to vote."
So, she decided to run for one of the city's thousands of committee person positions that were vacant. These small-time races typically garner just dozens of votes at best, but Bennett says she approached it like a competitive campaign – making signs to promote her candidacy, going door to door and, on primary day, spending the day at her local polling station.
"I stayed there all day. People said, 'You don't even have an opponent!'" she recalled.
With advanced placement college credits under her belt from her time at the Girard Academic Music Program, Bennett will start at Penn State University Abington next year. She plans to put in time at the ward between classes and commuting to the suburban campus.
Overhauling the city's justice system has been a common priority among younger, reform-minded candidates for City Committee, many of whom also nabbed seats in other sections of South Philly. Bennett notably won her treasurer position along with new 48th Ward leader Anton Moore, a longtime criminal justice activist. Krasner's allies also helped lead takeover efforts in Philadelphia's 1st and 2nd Wards.
But Bennett is also focused on larger-scale ward reform strategies. Many of these efforts center around concerns that the local party's ailing power structure has led to flagging youth recruitment and lower voter turnout. 
Unprompted, Bennett echoes many of these same concerns. She notes that it took a significant amount of time and research to figure out how, exactly, to even run for committee person – a position that is nominally the welcome mat for individuals looking to become more active within the local Democratic Party. Such roadblocks hinder younger candidates from getting involved as other committee people age and disengage from political activism.
"I'm not saying I'm against older people; they have a lot of wisdom and knowledge," she explained. "But my thing is that it seems like a lot of older people don't go door-to-door anymore. I can't tell you the last time I received political literature from people going door-to-door. I don't see people putting up flyers."