Infrastructure
Winners and Losers for the week ending June 15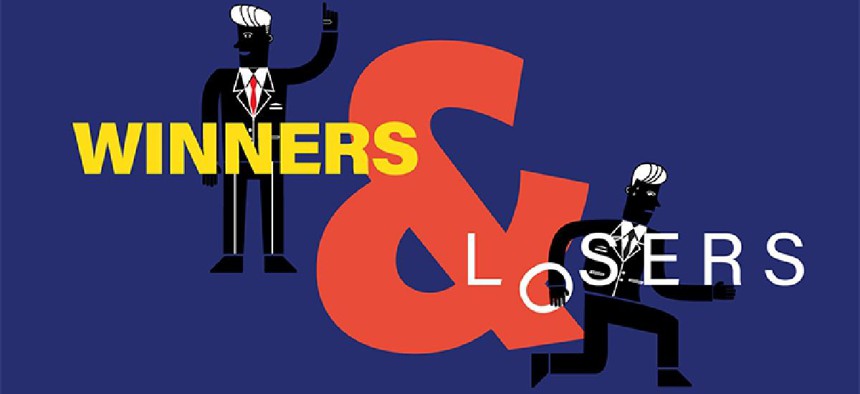 It seems so wrong to make a big deal out of a holiday celebrating the family, with thousands of immigrant families forcibly separated by the Trump administration policy – so many of them coming here to legally seek asylum.
It's wrong on so many levels, from the administration's dismantling of American history and morality to US AG Jeff Sessions' blithe harkening back to the peculiar institution's most insidious defense of itself via biblical verse – it's not good when one of the bulwarks of ensuring the legal separation of church and state invokes scripture as rationale for such heartless sanction.
And let's not forget the unsettling, infuriating echoes of ethnic cleansing in the detention centers where families are separated – children sent behind one fence, parents sent behind another. No wonder, then, that when President Trump continued his blatant mendacity on the policy, again falsely claiming via tweet that "The Democrats are forcing the breakup of families at the Border with their horrible and cruel legislative agenda," more than one person was reminded of the words of Nazi propaganda minister Joseph Goebbels: "If you tell a lie big enough and keep repeating it, people will eventually come to believe it."
If you want to do something to help families being separated or the groups trying to help them, here are a few resources:
This article in Slate not only has an excellent primer on just how the policies are completely created and enforced by the administration, but an extensive list of places to donate, and to volunteer time and services.
This article from the Today Show has a number of ways to help child immigrants in detention centers.
This article in The Cut takes an omnibus approach, including ways to contact the media, elected representatives and protesting.
WINNERS
Patty Pat Kozlowski: After her Facebook post about confronting a "junkie" went viral, thanks in large part to an article calling her out for using what some now consider to be a pejorative term to describe an opioid addict, the GOP candidate for the state House 177th District fired back with a blistering, note-perfect defense of her post, her neighborhood and her city of Philadelphia. The refreshingly un-PC stance will no doubt continue to bring new publicity – and potential voters – to the Republican running to replace outgoing Rep. John Taylor.
Daylin Leach: While there is no denying that the allegations of sexual misconduct that derailed his Congressional bid late last year are still out there, there is also no denying that the state senator no longer deserves to have "embattled" attached as a descriptor in front of his name. Exhibit A: For a fundraiser in his honor this week, in addition to a number of other Democratic Party machers, no fewer than five current members of the General Assembly were listed as members of the party's host committee. There are still people in the party who want to see justice served for his ex-staffers who accused him, including state Rep. Leanne Kruger-Braneky, but for now, Leach appears to have weathered the worst.
Rebecca Rhynhart: We wish we didn't have 942 million reasons to appreciate the Philadelphia City Controller, but here we are. Showing that at least one city official is taking the unconscionable fiscal oversight that led to $27 million missing from city coffers, Rhynhart released a damning audit of the city's' finances, including nearly $1 billion in bookkeeping errors in 2017 alone. If you're looking for the bright side to her report, take solace in the knowledge that Philadelphia is No. 1 in something other than the NFL: the city has the worst accounting practices among the nation's 10 largest cities – by far.
LOSERS
Pittsburgh: This could also be amended to include editorial cartoon fans everywhere. The Post-Gazette fired editorial cartoonist Rob Rogers for doing his job – which, unfortunately for him, his readers, and champions of free speech, meant spending plenty of time picking the low-hanging fruit used to skewer President Donald Trump on a regular basis. This approach to current events didn't sit well with the paper's new editorial page editor, who offered an oleaginous helping of doublespeak to defend the firing – he should have taken a page from Rogers, who proved in an op-ed explaining his side of the debacle that his essay skills are as on-point as his cartooning ones.
Mike Turzai: If there was ever any question of just how badly the Speaker of the House wants a bill banning abortions based on a diagnosis of Down syndrome, his decision to attach the legislation to a previously sure-thing bill to protect underage victims of human trafficking should clear things up. The amendment faces an uphill battle in the Senate, as well as a likely veto from Gov. Tom Wolf if the legislation makes it to his desk – a fate that would sound the death knell for the unrelated human trafficking bill as well.
Ryan Aument: How do you trash the state's best hope for a redistricting bill in, well, forever? By attaching an amendment to create "regional judicial districts" to balance out the geographic imbalance in appellate judge representation. The state senator has a number of valid arguments on the makeup of the judiciary, but to attach his bill to legislation that, while not ideal, was still strong enough to even win the backing of redistricting advocate group Fair Districts PA, created a poison pill.