Elections
Eryn Santamoor hopes to return to Philly City Hall with Council bid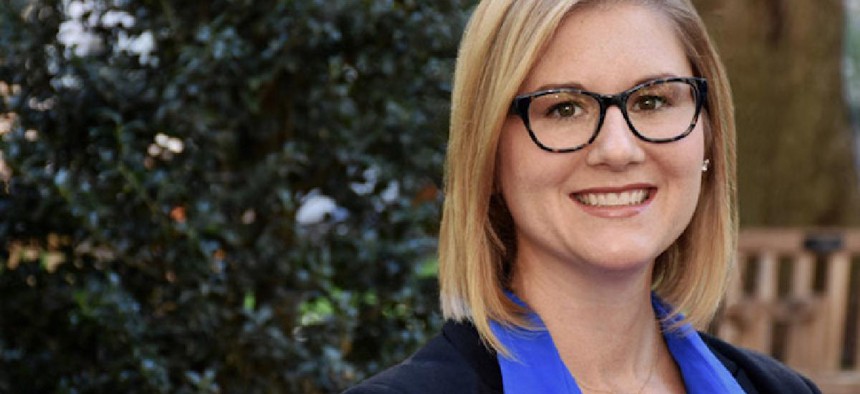 Eryn Santamoor has a simple explanation for why she declared for one of Philadelphia City Council's seven at-large seats, which are elected by voters citywide, in October of last year: to get a jump on fundraising, an area where incumbents historically trounce their less-connected challengers. 
Today, after eight months of campaigning, she's already raised close to $50,000 in support of her bid, still 10 months out from the May 2019 Democratic Primary.
"I started raising money after Thanksgiving of last year. I've worked really hard to raise money and awareness before the end of that year, and I've already raised more money than some of the incumbents," she said. "Of course, any of them could have a fundraiser tomorrow and double that."
A former deputy managing director under Michael Nutter, Santamoor left late in that administration to work at Public Financial Management, a government consultancy that counsels fiscally distressed cities, like Reading. She quit that job last year to run for office full-time.
She says she hopes that if elected, her experience in the executive branch would make her a unique commodity in the chamber, which is dominated by lawyers and former political staffers.
"I think we need folks with a different skill set on council," she said. "No one in council has worked as a city manager...if the city was a bank and no one on the board of supervisors had worked in a bank, that would be a problem."
She said her top priority is increasing "resources" for schools. But much of her pitch for elected office centers on disrupting the sometimes-dysfunctional work culture of City Hall, where simple permits and licensing applications must still be submitted in person. Basic services in comparable cities, like regular street sweeping, count as pie-in-the-sky aspirations.
Santamoor said nuts-and-bolts issues can get written off as too wonkish to campaign on, but that there's a winning formula in speaking to the issues that affect people every day.
There are so many things to fix in City Hall," Santamoor said. "I know a lot about trash collection. It's not sexy, but trash talks. People are sick and tired of dirty streets."
Notably, Santamoor elided specific questions about her political alignment, even as centrist and progressive Democrats battle over what, exactly, the local party stands for.
"I'm a Democrat," she said, after a pause. "Given the political climate right now, it's very easy for us to divide up what a Democrat is and does. I think that's dangerous. The only folks interested in Democrats dividing each other up are Republicans."
To her progressive credentials, she notes that she is the daughter of a school teacher and a labor leader for a New York state manufacturing union. She also underscored her support for at least one initiative that many on council won't touch: immediately opening safe injection sites to staunch the opioid overdose crisis. 
Even self-described progressives like Mayor Jim Kenney only support the idea in theory. Santamoor wants to take the idea a step further and have treatment be a broader doorway to anti-poverty efforts.
"I've been through recovery with several loved ones and I know what we're doing now isn't working," she said. "There's an opioid crisis that is killing people every day. We need a safe place for them to go. But we can't just stop there...People who are dealing with substance abuse disorder, people that are in poverty, don't just have one problem. We need to be dealing with this issue holistically."
But in broad ways, the former Hillary Clinton campaigner tacks more towards a business-friendly version of progressivism that echoes her former boss' tenure in City Hall. Santamoor added that she had sometimes clashed with her father over the future of labor unions.
"At the end of the day, all unions need to transition to 21st-century models that keep themselves sustained," she said. "If you look at the city's resources, for example, we need to be talking about pension reform. The union workers that earned their pensions should not lose out...but we need to be looking at getting out of defined benefit plans."
She added that Nutter was "involved" in her campaign and "was always there for me to call." It could be a mixed blessing: While some hailed Nutter's efforts to clean up the City Hall bureaucracy, he also frequently clashed with council and was known for pitching sometimes unpopular budget cuts.
Santamoor acknowledged that many of her proposals fall more under the purview of the mayor's office. Despite her background, she said she was keenly aware that she isn't running to take over City Hall, but to serve as a colleague to the same people who once declared war on her former boss.
To her, those experiences are one of her biggest selling points.
"I think he governed during a really tough time," she said, of Nutter. "But I learned a lot from him about how, sometimes, we have to make tough decisions during tough times."