Health Care
Tom Farley: tip of the spear in Philly's fight against opioid crisis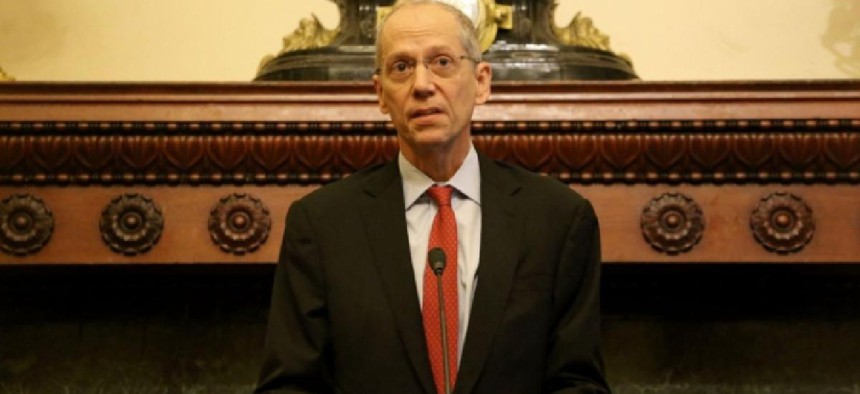 In the world of Philadelphia bureaucrats, Dr. Tom Farley keeps an unusually low profile, despite his very visible role as the city's commissioner of the Department of Public Health.
Back in January, the Tulane-educated physician joined nearly 400 workers for the city's annual overnight count of the city's homeless population. He toured the darkened streets of Kensington with a small crew of Prevention Point staffers. A wiry 62-year-old with a clinician's unflappable demeanor, Farley spent the evening on the sidelines, speaking only to ask questions from harm reduction experts and drug users living on the streets. "I had no idea he was the health commissioner until hours later," recalled a volunteer who worked alongside him that night.
With similar discretion, Farley has spent the last two years in Philadelphia tending to the woes of a deeply unhealthy city. Chronic obesity, high smoking rates, sexually transmitted diseases, cockroach-plagued restaurants – the purview of his 1,200-employee department is vast and its influence somewhat limited.
But in the world of public health, success and failure are measured in preventable deaths. And for that reason, Farley has become a key figure in the city's battle against the overdose crisis, which claimed more than 2,100 lives between 2016 and 2017 in the doctor's first two years on the job.
Under his watch, the Department of Public Health's fledgling opioid surveillance team has begun collecting reams of data using every source within reach, from the bodies at the Medical Examiner's Office to the opioid users on the streets of Kensington. Farley spends a large part of his opioid-prevention budget on naloxone, an opioid-overdose reversing agent, and has employed mass media campaigns to encourage all Philadelphians to carry the life-saving drug at all times. He was also an early champion of the city's controversial push for Comprehensive User Engagement Sites, facilities where people can safely use drugs while having access to treatment and other social services.
"The scientific evidence says this is going to save lives, this is going to help people get into treatment and this is going to help community problems associated with drug use," Farley says, seated in his downtown office in early May. "It's got everything going for it even if your initial reaction is negative."
Sources in the harm reduction community say he has been instrumental in turning CUES skeptics into believers. One harm reduction official said Farley's direct, data-driven approach helped change Philadelphia Police Commissioner Richard Ross' mind on the topic. Farley denies it, deferring credit to the Vancouver police chief: "His initial reaction [with me] was not very positive."
But Farley knows the limits of what education can do. An author of two books, he has examined how the education model has failed to solve public health epidemics. (Just look at the once-popular DARE Program, which scientists have since proven did little to quell drug use in adolescents.) For Farley, the challenge is not changing people's behavior when it comes to deadly narcotics.
"I came from a world where people thought that humans acted very rationally," Farley says. "But the data does not support that – because no one wants to be overweight and yet everyone is becoming more and more overweight. So what drives human behavior as it relates to health and how can we change that? We do it by changing the world around us. That's the source of the problem and that's the source of the solution."
On a Wednesday morning in early May, Farley meets with his opioid surveillance team, which consists of program manager Kendra Viner, policy analyst Jeff Hom and deputy health commissioner Caroline Johnson. It is a new unit with a shoestring budget, a large chunk of which is spent on getting naloxone into the hands of those who need it. ("It's scandalous how much it costs at a time when people are dying," Farley says, of the drug's $70 per-dose price tag.)
Beyond naloxone, though, Farley's number one priority is to get local doctors to prescribe fewer painkillers. The health department cannot enforce prescriptions, but by using state monitoring data, Farley and his team reach out to doctors themselves and try to make an impact. Some epidemiologists say subscription monitoring is an overhyped measure that has little effect on opioid deaths, but to Farley, it's the best long-game tool on his belt to reduce Philly's addicted population.
"Prescribing less is the best long-term approach," Farley says. "Stopping fatal overdoses is a stop-gap approach until we can have fewer people addicted in the first place."
When Mayor Jim Kenney tapped Farley as the city's top public health official in 2016, the overdose crisis was quickly erupting from nascent concern to full-blown national epidemic. With deadly synthetic fentanyl flooding the illegal drug market, that year ended with 907 unintentional overdose fatalities citywide. Last year, when fatalities climbed by more than a third to 1,217, Philadelphia ranked the highest overdose death rate among the 44 cities with a population over 1 million. In 1994, AIDS deaths in the city peaked at 935. "We've already surpassed that now," Farley notes.
Farley had served as New York City's health commissioner under then-Mayor Michael Bloomberg, where he made waves for his unconventional public health initiatives – some well-received, some not. Tackling the city's tobacco and obesity rates, he was an early booster of smoking bans and he went to war against trans fats. As an advisor to his predecessor, Thomas Friedman, Farley prepared a "white paper" proposing to shut down the city's gay bathhouses to curb sexually transmitted diseases. The plan was scrapped, but Farley continued to face criticism over the years from the city's LGBT community.
In Philadelphia, he has avoided the perception of being out of touch. He became a natural booster of Kenney's soda tax. And while he manages a litany of the health department's other duties, the opioid epidemic has brought unprecedented attention to his department, despite its finite resources.
At the meeting, the opioid team discusses how to get naloxone distribution into the city's methadone clinics. They run through a wish-list of datasets to track down, share concerns about stigma in treatment, and discuss outreach to overdose hotspots in South and Northeast Philadelphia that receive far less outreach than hard-hit Kensington. Eventually, CUES comes up.
Once poised to make history by opening the first safe consumption site in the U.S., critics say Philadelphia has been slow to follow through on the proposal while people continue to die at an alarming rate. Farley offers no exaggerate hopes for the facility.
"The estimate an expert came up with at our request is that CUES would save 25 to 75 lives per year, which you could say is so small it's not worth doing or you could say, gosh, one of those people could be my daughter," Farley says. "I think it's worth it."
Farley says there is little he can do beyond presenting other stakeholders with the science in favor of CUES. The site requires private funding, and Farley, an outsider to Philadelphia's monied philanthropists, can do little to help bring in dollars. "I'm a terrible fundraiser," he says.
The opioid overdose epidemic is still a relatively new phenomenon – one that still lacks the investment it needs, both in expanding treatment and in identifying solutions. Meanwhile, Farley has an entire department to run, from overseeing government-run health clinics (Philly is one of few cities that do this) to health inspections at city restaurants.
On a Thursday morning, he meets with Coleman Terrell, the director of the health department's AIDS Activities Coordinating Office, or AACO. They run through the unit's performance metrics for the most recent quarter – a granular survey of everything happening in sexually transmitted disease across the city. It is a robust operation in comparison to the department's opioid surveillance. AACO can track everything from infection rates to the gaps between HIV patient visits to city health clinics, and each metric has a target goal to achieve.
"We didn't have any of this back then," Farley says. "And we don't have anything like this now for the opioid crisis."
When Farley took over the department, the infrastructure was already in place to increase monitoring for certain conditions. He noticed city medical providers were not asking HIV patients about condom usage, and promptly made it a mandatory metric.
Of course, data collection is only one part of fighting a crisis, but it's necessary to craft more effective policy – and to monitor what's working and what isn't within a tangled bureaucratic web. The health department works closely alongside the Managing Director's Office (which handles policy changes), the Department of Behavioral Health (addiction treatment) and other city agencies to combat the crisis.
"We're just one player of many in city government working on this," he says. "But we do have specific areas of expertise where we can make a difference."
Data is one of those areas, Farley believes, and given more resources they can collect more of it and in higher quality. Their recent survey of city drug users offers evidence some say indicates naloxone's widespread distribution is stopping untold numbers of overdoses from turning fatal on the streets of Kensington.
"We had to set up an entire new program to deal with AIDS, and it's worked," Farley says. "It's still very exciting to see the number of HIV infections continue to go down. I hope I live long enough to see them go down to zero, and I may, and so in a way that's a model [for the opioid crisis]. Given enough resources and creative thinking, we can respond to these crises and save a lot of lives. In the meantime, it's an ongoing tragedy."