Elections
Lauren Vidas running against Philly City Councilman Kenyatta Johnson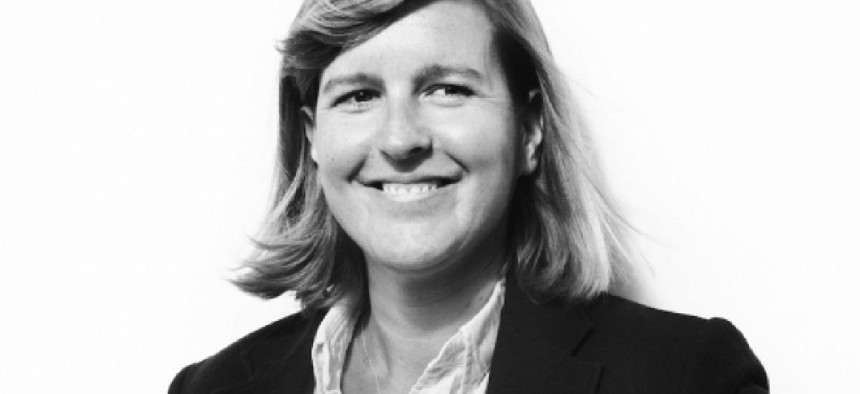 Lauren Vidas, a lawyer and lobbyist who once worked as an assistant finance director under then-Mayor Michael Nutter, has launched a long-rumored bid against Philadelphia 2nd District Councilman Kenyatta Johnson.
"I've always been passionate about public service. No one who knows me is surprised I'm running," she told City & State PA, of her bid for the 2019 Democratic Primary nomination.
The district covers Southwest Philadelphia and many gentrifying neighborhoods in the western portion of South Philly. Vidas, who filed campaign paperwork last week, said she would run on a platform aimed at staunching growing economic inequality in the district.
"You hear about this red-hot economy but people are wondering why their wages are so low and their housing is getting more expensive. There doesn't seem to be a plan to address that," she said.
Vidas has a long history in the chamber – she served as a legislative aide to former Council member Bill Green, helping to successfully file suit against her future boss after Nutter sought the closure of numerous libraries as a cost-cutting mechanism. She said the suit "put her on the mayor's radar" and she would later take a job under Nutter's finance chief, Rob Dubow.
After leaving the Nutter administration, she worked for years as a lobbyist alongside her father, Ed Hazzouri, at the eponymous firm they co-founded in 2013, and later served on Mayor Jim Kenney's transition team. Until leaving the position last week to campaign full-time, she managed East Coast client relationships for the government advising firm PFM.
Hazzouri had long handled lobbying efforts for the politically influential law firm Cozen O'Connor. Vidas said her father would play a minimal role in her campaign.
"I made this decision independently to run. It's something I've wanted to do for years. I do not anticipate nor is there a plan for him to play more than the normal role that any supportive parent would play when their child sought public office," she said. "I'm not doing this at his urging, but because I want to serve the 2nd District."
Were she to be elected, she emphasized, she would work with the city's ethics board to ensure that her family ties would not create a conflict – Hazzouri & Associates still lobbies City Council on behalf of clients like the American Beverage Association. City ethics guidelines would likely require her recusal from legislative matters linked to those entities.
On policy, Vidas described herself ideologically as a "pragmatic progressive" and said she planned to campaign by emphasizing affordable housing issues and education. She said the city should experiment with community land trusts – city-affiliated nonprofit organizations that affordably lease housing to low-income buyers, sharing in equity along the way – and what she terms "strategic upzoning" to add more housing to the burgeoning district.
"The idea that we're building half-million dollar, single-family housing on Broad Street" – a major city thoroughfare with a subway line running directly underneath – "is just one example where development is happening in a way that's going to drive up costs for everyone else rather than putting more units on the market," she explained.
On education, Vidas said she wanted to see more community partnerships designed to send money and other resources to local public schools. She had served on the board of Stanton Community Partners, a consortium of parents and neighbors designed to enhance operations at E.M. Stanton Elementary.
As an openly gay candidate who has worked with the Liberty City Democratic Club, a progressive LGBT political advocacy group, Vidas also said she would pitch a raft of broad progressive policies as gay-rights issues.
"It's important to recognize that public education could be an LGBT issue if a gay couple wants to send their kid to a neighborhood school. If they're struggling to make ends meet, the economy is an LGBT issue," she said.
Vidas is only the second candidate to declare in a City Council district to date – public schools advocate Tonya Bah launched a bid against 8th District Council member Cindy Bass earlier this year. She said this was in part due to advantages enjoyed by district incumbents – more time to fundraise, established neighborhood connections, better name recognition – but that this trend deprived voters of serious discussion about local policy issues.
"There's a real sense of the power of incumbency. It's not easy to put yourself out on a limb and run against an incumbent," she said. "But, regardless of who wins, the district will be better off by having a choice and having conversations that don't happen unless incumbents get challenged."
Johnson, first elected in 2011 after the retirement of longtime Council member Anna Verna, was last challenged by local developer Ori Feibush in 2015. Their costly and acrimonious battle divided many in the neighborhood over issues linked to rapid development and gentrification. Johnson won handily, but Feibush would later sue the councilman, whom he has long accused of meddling with development projects.
Vidas appeared to strike a decidedly different tone as Johnson, an ally of state Sen. Tony Williams and a former state rep himself, runs for a third term in office.
"I'm not running against Kenyatta personally; I'm running for the 2nd District," she said.
Mark Nevins, a campaign advisor to Johnson, said the councilman "looked forward to having a positive conversation with voters" over the coming year.
"Councilman Johnson is going to continue working on important issues like taking on gun violence, expanding access to pre-K for Philadelphia kids, and making sure we create good jobs with good wages and provide affordable housing to every family in the 2nd District, regardless of the neighborhood in which they live."