Elections
Political consultant Treviño-Martinez eyes Philly City Council seat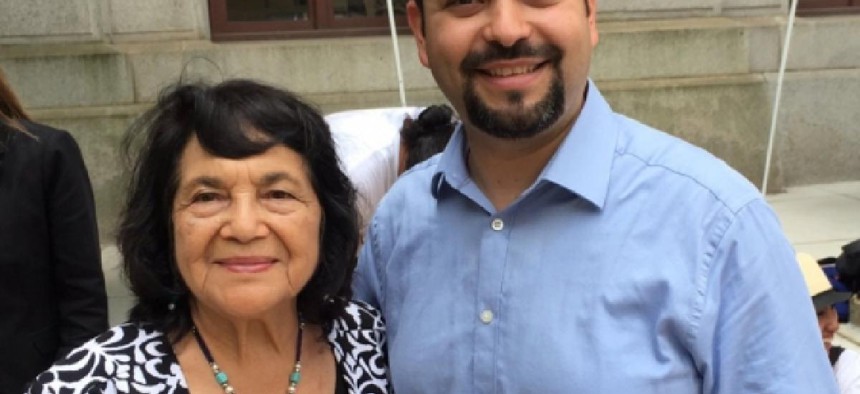 A political consultant who has worked for Pennsylvania Attorney General Josh Shapiro and former Philadelphia District Attorney candidate Richard Negrín is reportedly gearing up for a Philadelphia City Council run.
Fernando Treviño-Martinez previously worked as a regional organizer for UnidosUS, a major Latino nonprofit advocacy organization. He served in the administration of then Philadelphia Mayor Michael Nutter as deputy executive director for the Office of Immigrant and Multicultural Affairs, leaving to work on attorney Ken Trujillo's brief campaign for mayor of Philadelphia.
Later, he founded his own political advising firm, Treviño Strategic Consulting, whose clients have included figures like Negrín and Shapiro, as well as political campaigns across Latin America. Treviño-Martinez is also listed as a "political partner" with the center-left Truman National Security Project.
The South Philadelphia resident acknowledged he was considering a run for one of five at-large seats on Council reserved for Democrats, elected through a citywide vote.
"I'm considering running for City Council next year," Treviño-Martinez said in an email. "I'm in the process of exploring the possibility and I'm expecting to make a final decision later in the year."
A native of Mexico, he said he would run as a champion for the city's immigrant communities.
"The city needs to do a better job including all Philadelphians in the conversation, particularly immigrant communities and middle-class families," Treviño-Martinez said. "As someone who was born in Mexico, I live the same reality as thousands of Philadelphians, but I don't see this perspective brought to the table."
Pressed on policy, Treviño-Martinez outlined an ambiguous plan to find solutions to municipal woes by adapting other cities' initiatives from across the globe. He pointed to the city's poor track record on trash collection, school safety environment, potholes and recycling.
"Philadelphia is paying almost $40 to process recyclables and more than $60 to dispose of waste. Some of our international partner-cities are actually making money by selling their trash to waste-to-energy plants," he said. "This is just an example of a larger institutional failure...We just need to look beyond city limits and learn from our partners."
"Serious consideration" is a key phrase being uttered by a string of other likely candidates waiting to see how the Council field evolves. Several candidates profiled by City & State PA are watching to see if incumbents like Bill Greenlee or Blondell Reynolds Brown stick it out for another term or retire, leaving an open seat.
Like other prospective candidates, Treviño-Martinez's campaign may be less speculative than he is letting on – sources said that he had already reached out to several prospective campaign staffers.
But while a vacant at-large seat would present a tantalizing political prize, consultant Mustafa Rashed said it could also turn the 2019 primary into a free-for-all. The field of declared and likely Council candidates has been growing rapidly, fueled in part by Democratic activism in the wake of the Trump presidency.
"I'm not sure what's harder: for a former political operator to become a candidate or running for an at-large seat in general," Rashed said. "There's no secret it's going to be an incredibly crowded field...Running for city council at-large is one of the hardest jobs. You're running as a mini-mayor with no media and no built-in constituency."