Campaigns & Elections
DA candidates get in last jabs before primary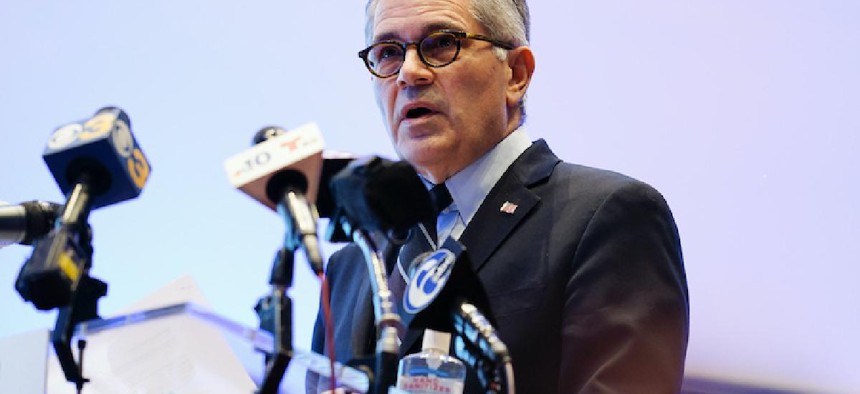 The contentious Philadelphia District Attorney's primary race continues to heat up as the candidates seek to rack up more endorsements and contributions in the final stretch. 
The contest also isn't getting any nicer. 
The incumbent, District Attorney Larry Krasner, faced off against his opponent, Carlos Vega, in a hostile hour-long debate last night, and which was one of the candidates' last chances to get out their final messages before the May 18 municipal election. 
"I'm your worst nightmare. You made a mistake a long time ago," Vega was heard saying to Krasner after the microphones at the debate were turned off.
 "I've been in your head a long time," Vega added, to which Krasner replied, "Sure, Carlos." 
Krasner has a lot of establishment support, but a lack of high-profile endorsements in Philadelphia shows that the race between him and challenger Carlos Vega may be closer than many first anticipated. Vega, a former prosecutor recruited by then-District Attorney Ed Rendell, was one of several prosecutors who were fired when Krasner took office. 
Mayor Jim Kenney, who endorsed Krasner back in 2017, has avoided weighing in this time around. The Democratic City Committee and party chief Bob Brady also declined to choose a candidate. In a rush to gain support, Krasner and Vega have been vying for endorsements from unions, ward leaders, and even celebrities. 
"We have received robust support from Democratic wards across the city. Those wards represent actual voters in the Democratic party, not just a few elite leaders," Jessica Brand, Krasner's campaign spokesperson, said in an email. "The Vega campaign knows we have strong and surging Democratic support - that's why they are relying on Republicans to switch their vote for this election."
Krasner has received endorsements from about a third of Philadelphia's ward leaders, as well as six unions from the AFL-CIO. He also has support from four state representatives, three state senators, U.S. Senator Elizabeth Warren, singer John Legend, and former Philadelphia Eagle Malcolm Jenkins. 
Krasner's national spotlight and establishment support has helped him in fundraising, but the lack of support within the city is just as apparent there too. Although Krasner has raised nearly twice as much as Vega, about two-thirds of his contributions have come from outside Philadelphia and its suburbs. Even more recently, a PAC funded by billionaire George Soros donated $60,000 in radio ad buys for Krasner. 
Vega, on the other hand, has endorsements from just nine ward leaders and a handful of state representatives. The Fraternal Order of Police Lodge 5 has been a vocal advocate for Vega, stating that Krasner has been "soft on crime." He offers a progressive alternative to Krasner that will be harsher on gun crime. 
"Mr. Krasner has simply chosen not to prosecute crime because he blames the root causes of those offenses and believes they should not be addressed by the criminal justice system. But without successful prosecutions that ensure fair consequences to crime, the district attorney forfeits his power to keep violent offenders off the streets and to mandate treatment or participation in diversionary programs for non-violent offenders," Vega said in an email. 
One of the major hits against Krasner, which Vega has emphasized, is that violent crimes have continued to increase during his time in office. Specifically, according to thePhiladelphia Inquirer, illegal gun possession arrests have nearly tripled during Krasner's tenure, while convictions have fallen by 14 percent. Although violent crimes have been rising across the country throughout the pandemic, the troubling trends in Philadelphia began in years prior. 
As opposed to Krasner, the vast majority of Vega's contributions and support have come from within the city. He also has endorsements from several labor unions, but it remains to be seen whether or not the police union's support helps or hurts Vega's cause - especially in a time when many are calling for more police reform in the city. 
On the Republican side, defense lawyer Chuck Peruto is running unopposed. A Democrat-turned-Republican, Peruto supported Krasner in 2017 but has become one of his biggest critics. He makes many of the same points as Vega when attacking Krasner, stating that he needs to put public safety above all else. He also has support among law enforcement officials, similar to Vega, and is running on a more law and order platform. 
"There's certainly a crack in the foundation of the Democratic party when they didn't endorse their own incumbent Democratic district attorney, and I believe that it is an issue of public safety," Peruto said. "If a lot of people are shooting up our streets and we put them in jail, we can consider that mass incarceration. Others might consider it justice." Peruto added that he believes in many Democratic views, but when it comes to law-and-order, he is a Republican. He is committed to getting Krasner out of office, even stating that if Vega were to win the primary, he would drop out of the race. 
There's no doubt that the cash bail, probation, and parole systems - all of which have been Krasner's priorities - need to be reformed. However, it's also clear that the city is more violent, and Krasner's promises for "systemic change" could be falling on more skeptical ears.