Gun Control
GOP lawmakers unveil 'Right To Bear Arms Protection Act'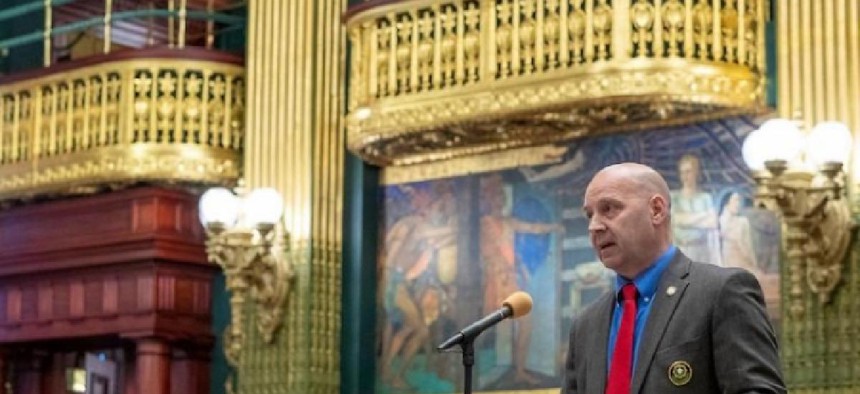 Republican members of the State Senate on Wednesday unveiled new legislation designed to limit the reach of federal gun restrictions and prevent state employees, agents and officials from enforcing them.

The bill, dubbed the Right to Bear Arms Protection Act, is sponsored by some of the chamber's most conservative members, including Sens. Doug Mastriano and Cris Dush. The duo unveiled the legislation on the state Capitol steps Wednesday morning, joined by gun rights advocates.
 
"You should have the right to defend yourself. It's a God-given right, it's not given by man," Mastriano said. "So we are here today to stand firm with the people of Pennsylvania and declare that no matter what edicts, or presidential proclamations or federal laws that may come from politicians or bureaucrats in Washington D.C. — our constitutional rights will be defended." 
Mastriano said the policy has taken on renewed importance following remarks from President Joe Biden in April, where Biden called on Congress to pass a series of bills that would close gun purchasing loopholes and expand background checks. 
The new legislation, which is outlined in Senate Bill 624, would deem all federal policies designed to register, restrict or ban the ownership of guns, ammunition and gun accessories as "unenforceable" by state employees and agents. Under the bill, these "state actors" would be at risk of losing qualified immunity, as well as potential termination of employment and certain benefits. 
Mastriano said the legislation would also freeze state grants from heading to local governments that enforce the federal restrictions, while also prohibiting them from receiving federal money to enforce them. 

The legislation was welcomed by gun rights advocates, including Erich Pratt, the senior vice president of Gun Owners of America, who said Biden's recent call for gun law reforms represents a "full attack by the White House on our Second Amendment rights."

"Eleven states have said that they will not become Joe Biden's puppets, they will not impose any unconstitutional federal gun control, and more states are on the way," Pratt said. "And we certainly hope that Pennsylvania will be one of them."

In April, Biden outlined a series of executive actions his administration was taking as part of a broad effort to curb gun violence, including a proposed rule to crack down on the use of "ghost guns" and the development of model red flag legislation for states.

In recent years, Pennsylvania lawmakers have been unsuccessful at advancing red flag legislation, which would allow courts to temporarily confiscate guns from those believed to be a threat to themselves or others. 
Lyndsay Kensinger, a spokesperson for Gov. Tom Wolf, said the governor does not support the bill. "The administration does not support this terrible legislation, which attempts to disregard federal law and compels the Attorney General to defend any citizen prosecuted under federal gun laws," Kensinger told City & State in an email. 
"We will continue to work with the General Assembly to prioritize worthwhile and necessary legislation such as the red flag law, which should continue to have the administration's support, and safe storage, and universal background checks," Kensinger said.
Adam Garber, the executive director of the gun safety organization CeaseFire PA, said the GOP legislation could prove dangerous. "The only real world impact of these illegal nullification bills would be to endanger the lives of Pennsylvanians by creating an imaginary concept that federal gun safety laws can be ignored," Garber told City & State. "Escalating these types of efforts from places like Carbon County to the state level raises the stakes and magnifies the impact of this dangerous policy."
Garber also called the proposal hypocritical, stressing that local Pennsylvania municipalities are unable to craft their own gun restrictions due to a statewide preemption on such policies.
"Ultimately, the impact will be to endanger people's safety and potentially cost the state money in lawsuits," Garber said. 
SB 624 is currently in the Senate State Government Committee, where it awaits a committee vote.