Health Care
Republicans float spending protections for federal coronavirus aid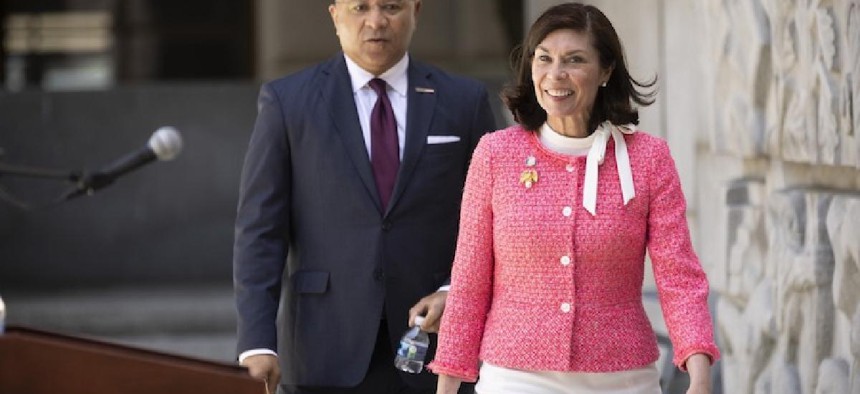 In one of his first major moves as the state's top fiscal watchdog, Auditor General Timothy DeFoor is calling on state lawmakers to implement a series of safeguards to ensure that federal coronavirus aid coming to Pennsylvania is spent properly. 
DeFoor, a Republican, was joined by state Sen. Kristin Phillips-Hill this week to urge lawmakers to pass legislation that would establish guardrails to ensure that the funds are dispersed, and spent, in line with federal guidelines.

DeFoor also pointed to a lack of controls at the federal level that likely increased instances of fraud and errors surrounding the disbursement of Paycheck Protection Program loans.

According to the Office of Inspector General, the U.S. Small Business Administration issued roughly $692 million in duplicate PPP loan disbursements. The OIG attributed the duplicate payments to a lack of "sufficient controls in place to detect and prevent duplicate PPP loans."

In a separate report, the OIG determined that the SBA's efforts to quickly disburse aid to businesses came "at the expense of controls that could have reduced the likelihood of ineligible or fraudulent business obtaining a PPP loan."

Pennsylvania is currently slated to receive more than $7.2 billion in funds from the American Rescue Plan — the latest round of federal COVID-19 stimulus funding signed into law by President Joe Biden. Local governments are expected to receive roughly $6.2 billion, according to the National Conference of State Legislatures. 
DeFoor said that any state-level guidelines will need to protect against the potential misuse of funds, fraud and other deceptive practices.

"I want to be clear, receiving these funds does not mean that Pennsylvania won the lottery. These are our taxpayer dollars, and once this money is out the door and spent — it's gone," he said.

"I don't know if anybody else knows that we're ever going to see another stimulus like this. That's why it's so important to be careful and have the safeguards in place to protect these dollars," DeFoor added. "If misused, it's going to be nearly impossible to get back."
DeFoor was scant on details as to what types of protections he would like to see implemented by the General Assembly, but said he would like to see lawmakers implement policies that prioritize transparency, oversight and accountability.
 
Phillips-Hill, a frequent champion of fiscal reform policies in the state Senate, said she is sponsoring legislation that would tighten oversight of state-issued grants and allow the state to "claw-back" surplus grant funds. 
She urged Republicans and Democrats alike to support legislation that would limit misuse of the federal funds.
"Whether this funding comes from the federal government or the state government, it is all coming out of the taxpayers' wallet," she said. "It doesn't matter which side of the aisle that you sit on, you want to see this money go to individuals and entities that have been most impacted by this pandemic."