Health Care
Senate panel approves bill to ban vaccine passports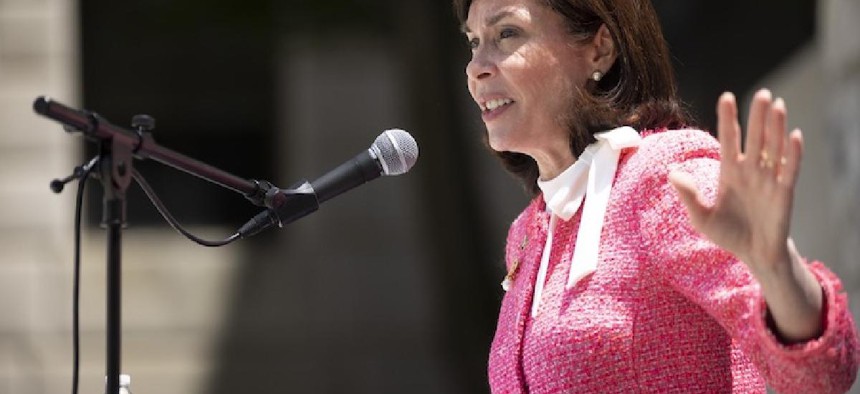 As Pennsylvania continues to plot a path out of the COVID-19 pandemic, Republicans in the state Senate are looking to ensure that Pennsylvanians aren't refused services based on whether they are vaccinated or not. 
On Monday, the Senate Health & Human Services Committee advanced Senate Bill 618, legislation that would prohibit both state and local officials from requiring vaccine passports or any other type of vaccination validation required to access goods or services. The proposal — sponsored by state Sens. Kristin Phillips-Hill and Judy Ward — takes aim at one of the latest flashpoints in COVID-era politics — whether or not a business should be able to require that patrons be vaccinated. 
Ward, speaking in support of the bill in committee, said that any policy that would mandate the use of vaccine passports would infringe upon the rights of Pennsylvanians. 
"I do not believe that government, at any level, should require citizens to show proof of the COVID-19 vaccine," Ward said. "Our goal should be focused on getting the vaccine to those who want it, but not punishing those individuals who have made a personal choice.
"For the government to use vaccination status as a method of denying access to people, places and opportunities, infringes upon the rights and freedoms we are blessed to have as Americans," Ward added. 
Proponents of vaccine passports tout them as one of the most effective ways to reopen the nation's economy in a safe manner. New York, the first state to roll out a vaccine passport, has used the tool to screen patrons at professional sporting events and graduation ceremonies. More than 1 million New Yorkers have requested a passport since March, according to New York Gov. Andrew Cuomo's administration. 

But while some Democratic-led states have welcomed the idea of vaccine passports, other, more conservative states have rebuked the idea entirely. Republican governors in Florida, Texas and Montana, among others, have unilaterally banned the use of vaccine passports in their respective states. 
According to Becker's Hospital Review, at least 10 governors have either banned or expressed disapproval of vaccine passports, as of May 6.
 
Phillips-Hill, the prime sponsor of the bill, said Monday that she hopes Pennsylvania will follow suit. "The state could not require proof of vaccines to enter a restaurant or a barber shop," Phillips-Hill said in committee. But while her legislation would prohibit government entities from requiring any sort of vaccine validation, her bill would still allow individual businesses to request and verify a person's vaccination status. 
The legislation is proactive in nature, as Gov. Tom Wolf's administration has not indicated any interest in establishing a vaccine passport program in Pennsylvania. A spokesperson for Wolf doubled down on the governor's past comments on vaccine passports, stressing that the administration has no plans to implement them.
"Nothing has changed on the governor's position on vaccine passports," Wolf spokesperson Lyndsay Kensinger told City & State PA in an email. "The governor has no intention to endorse, create, or require vaccine passports in Pennsylvania, but he believes that private entities/venues/businesses have the right to set their own requirements for entry."
After receiving a 6-4 party-line vote in committee, SB 618 now heads to the full Senate for consideration.