Health Care
Vaxx progress prompts COVID restrictions rollback on Memorial Day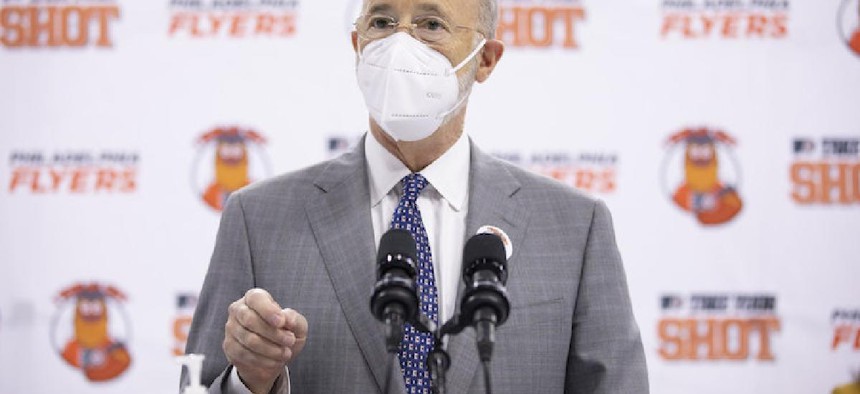 Memorial Day will carry some added significance in Pennsylvania this year, with Gov. Tom Wolf's administration set to lift nearly all of the state's coronavirus mitigation measures in the early morning hours on Monday, May 31. 
Wolf, who spoke to reporters during a press conference in State College on Wednesday, said that with COVID-19 vaccines showing real promise in the state — and the nation — in the fight against the coronavirus pandemic, Pennsylvania is now at a place where pandemic restrictions can be done away with entirely. 
"I think the big thing was the progress we're making on the vaccine. I think people are also becoming a lot more confident that we have a really good path to the kind of safety that we didn't have 16 months ago," Wolf said. "There was no algorithm that said, 'Once we hit this we get to opening," but there are just a lot of good indications moving in the right direction and one of them was the vaccines."
The measures scheduled to be lifted include limits on gatherings and business occupancy levels, as well as restrictions on bars, restaurants and nightclubs. However, the state's mask requirements will remain in place until 70 percent of the state's adult population is fully vaccinated for COVID-19, officials said. 
To date, over 50% of the state's population has received their first dose of a COVID-19 vaccine, while 42% of adult Pennsylvanians are fully vaccinated against the coronavirus, according to data from the state Department of Health.
"We continue to make significant progress in the fight to stop the spread of COVID-19 and as more Pennsylvania adults get vaccinated and guidance from the CDC evolves, we can continue to move forward with our reopening efforts," Acting Health Secretary Alison Beam said Tuesday in a press release. "I encourage Pennsylvanians to take the critical steps needed to put this pandemic behind us by getting vaccinated, follow through with both doses if you receive the Moderna or Pfizer vaccines, and continue to take steps like masking, frequent hand washing and sanitizing and social distancing."
The decision to lift restrictions at the end of this month was met warmly by legislative leaders across the political spectrum, who touted the vaccine as the difference-maker that is pushing the state toward normalcy. 
But some lawmakers, particularly Republicans, still have qualms with how Wolf has handled the state's COVID-19 response. House Majority Leader Kerry Benninghoff praised Wolf's intention to roll back his COVID-19 restrictions on Tuesday, but stressed to reporters during a press conference on Wednesday that the relaxation of mitigation measures may be too little too late for some businesses in the state.

He pointed to Wolf's controversial business waiver program early in the pandemic, which left the decision as to whether businesses could remain open to the Department of Community and Economic Development as a contributing factor to the plight being experienced by the state's economy and small businesses. 
"Early on we were frustrated because there were some initiatives that were trying to decide who was the important businesses or who were considered essential versus those who are not. Sadly, some of the small ones still tell us that they're trying to recover from that. And more sad, there are some who are closed for good," Benninghoff said, later adding, "We need to get businesses open."