U.S. Congress
Ward announces Stage 1 breast cancer diagnosis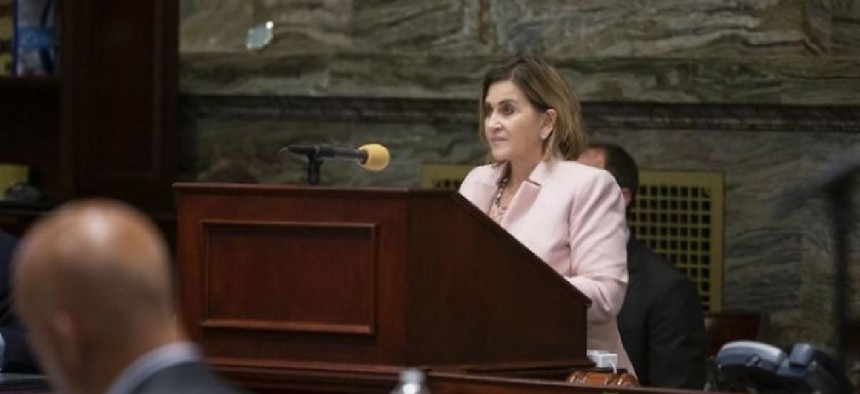 Kim Ward, the Pennsylvania Senate Majority Leader and highest-ranking woman in the Pennsylvania General Assembly, announced Tuesday that she is receiving treatment for breast cancer after being diagnosed late last year. 
The announcement came during an appearance on KDKA Newsradio, where she told host Marty Griffin that her diagnosis came two weeks after being elected the first female floor leader in Pennsylvania history.

Ward said her cancer was caught early and that it is currently Stage 1 with no lymph node involvement. She said she has undergone four rounds of chemotherapy treatment, as well as a lumpectomy, and was able to continue working. 
Thank you @MartyGriffinKD @KDKARadio for allowing me to share my personal breast cancer story with you & the people I serve for the first time publicly on your show.

Love you, Marty!https://t.co/WaZBgRH8jb

— Senator Kim L. Ward (@SenatorKimWard) May 11, 2021
Ward said she is facing a few more surgeries, including a mastectomy and removal of her ovaries, as a genetic test revealed she is at a greater risk of developing certain cancers. 
"At first I was upset about the gene but then I felt good because at least I'm like, well, at least this makes sense and now my kids will know, my nieces will know, my granddaughters will know that it's there and they can be tested and treated," Ward said.
Ward said she hopes to use her platform to raise awareness over the importance of receiving regular cancer screenings, as well as "to advance things that we can do better in the healthcare system with the insurance industry."
Ward said she routinely received mammograms each year, but missed an appointment last year due to the onset of the COVID-19 pandemic. She urged others to remain vigilant with their health and get routine mammograms. 
"A lot of women get this, so you need to be very vigilant and think about yourself," she said.