Health Care
Wolf promises a collaborative approach to emergency declarations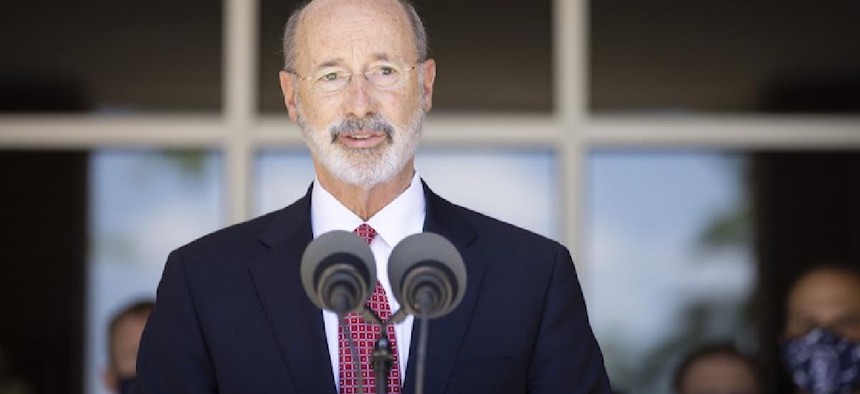 After voters this week approved constitutional amendments to curb a governor's ability to issue and extend emergency declarations, Gov. Tom Wolf renewed the state's COVID-19 declaration and said he will work collaboratively with state lawmakers on all emergency declarations moving forward. 
The COVID-19 emergency declaration, which has been in place since March 6, 2020, gives the governor broad authority to issue executive orders with the force of law. Wolf has made great use of the state's COVID-19 emergency declaration over the last year, using it to implement a range of mitigation measures, from business closures and stay-at-home orders to restaurant restrictions and capacity limits.

But Wolf's ability to use emergency declaration powers will be severely limited once new constitutional amendments take effect – these will limit the length of an emergency declaration to 21 days, unless extended by the legislature. 
The constitutional changes – which will also allow the General Assembly to terminate an emergency declaration without needing the governor's signature – meaning that Wolf will be forced to the negotiating table over whether or not the emergency declaration should continue. Previously, Wolf could declare an emergency and extend it at will, without needing the General Assembly's blessing.

Wolf, after extending the COVID-19 declaration on Thursday, said he would work with legislators over the future of the declaration, as well as other emergency declarations currently in effect. 
"We will continue to monitor vaccination rates and adjust mitigation orders accordingly," Wolf said in a statement. "I have been in touch with the General Assembly regarding this extension, and we will continue to collaborate on the future of this disaster declaration and any future declarations that become necessary to help Pennsylvanians in the midst of an emergency."
Senate Majority Leader Kim Ward, who sponsored the proposed amendments that were ultimately approved by voters, said in a statement Thursday that legislative leaders had been in contact with Wolf to determine how to move forward under the COVID-19 emergency declaration.

Ward said that legislative leaders will operate guidelines set by the new constitutional amendments moving forward, and that Wolf's administration agreed to hand over "specific information" that Ward didn't identify. Ward said the information is needed to "take the necessary next steps to expedite the reopening of our state."
"We are committed to working with the governor to ensure the voice of the people is heard and restore liberty while preserving the fundamental principles of our democracy even during times of crisis," she said. 
But questions remain as to how long the collaboration will last. Last year, Republican legislators repeatedly attempted to terminate Wolf's emergency declaration, arguing that he had abused executive authority by unilaterally shutting down businesses and implementing COVID-19 mitigation measures.

The attempts to end the emergency declaration failed, as the state Supreme Court ruled that Wolf had the ability to veto attempts to end his emergency declaration. That veto power is now gone thanks to the constitutional amendments, and at least one lawmaker, state Rep. Russ Diamond, is already eyeing another attempt to end Wolf's COVID-19 emergency declaration, once and for all.

In a co-sponsorship memo sent to colleagues, Diamond outlined plans to introduce another resolution to end Wolf's COVID-19 emergency declaration, asking his fellow legislators to sign onto the effort. He wrote, in part: "Please join me in co-sponsoring this legislation in support of the will of the people, who have voted to empower us to act with such a resolution."