Elections
Pa. GOP eyes new voter ID strategy as Wolf rejects election changes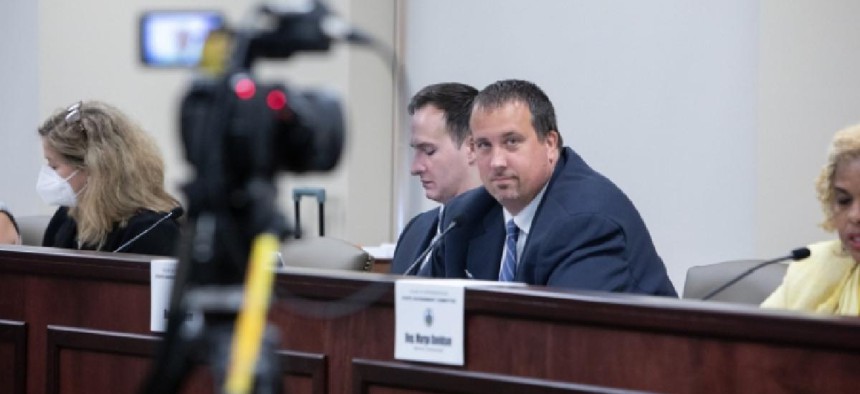 Keeping his promise, Gov. Tom Wolf on Wednesday vetoed a GOP voting bill that would have required voters to show proof of ID at the polls and mandated that county officials verify signatures on mail and absentee ballots. 
The legislation, which Wolf has said would make voting more difficult in Pennsylvania, would have also shortened deadlines for voter registration and mail ballot applications. Republicans said the omnibus bill would have improved election security while also making voting more accessible through the creation of in-person early voting centers and curbside voting for those who are disabled. 
"I think the people of Pennsylvania, in general, do not want to see voter suppression in Pennsylvania," Wolf told reporters on Wednesday. "We don't want to be Arizona or Texas or any Florida … We believe our democracy is important. We want people to be able to vote. So, I don't think the people of Pennsylvania want HB 1300, which is why I vetoed it."
But while Wolf has effectively sealed the fate of House Bill 1300, GOP lawmakers are now looking to implement voter ID requirements using a new strategy – one without the need for Wolf's signature. 
House State Government Committee Chairman Seth Grove, chief author of HB 1300, said Tuesday Wolf's veto signifies the end of election reform talks and that his committee will look to advance a proposed amendment to the state constitution that would require voters to show ID at the polls. 
The measure, Senate Bill 735, would require voters to show ID before receiving a ballot at the polls, and also require those not voting in person to submit proof of ID with their ballot. 
"To say I am disappointed in Wolf's lack of action is an understatement. Though Wolf has put on blinders to problems within our election process, it doesn't mean the problems do not exist. As chairman of the House State Government Committee, I will continue to seek solutions to the issues at hand," Grove said in a statement. "This will begin with the committee taking up Senate Bill 735 to require voter identification via a constitutional amendment. This will take election reform directly to the people, the majority of whom support the measure, and bypass the executive branch."
Wolf has criticized Republicans in the General Assembly over their election-related proposals, which he says have been driven by "fringe conspiracy theories." Some Republicans, including Grove, signed a letter last December urging Congress to block Pennsylvania's electoral votes, a move that Democrats say undermined confidence in the 2020 presidential election. 
In order for the state constitution to be amended, a proposed change must pass both chambers of the General Assembly in two consecutive legislative sessions. If approved twice, the measure would not go to Wolf's desk, but would instead be decided on by the voters in a ballot referendum.

Wolf said Wednesday that he's not worried about the proposed constitutional amendment bypassing his approval.

The Democratic governor also vetoed a portion of the state budget that would have funded a Bureau of Election Audits housed within the state auditor general's office. The bureau was originally outlined in legislation sponsored by House Speaker Bryan Cutler, though the budget passed by lawmakers only included $3.1 million in funding and did not include any legislative language establishing the office. 
Wolf said Wednesday that he vetoed the funding for the election audit bureau because he feared it would be used to "relitigate" the 2020 presidential election.

House Democratic Leader Joanna McClinton welcomed the line-item veto: "We take election integrity very seriously and welcome the governor's decision to reject costly and duplicative election audits inspired by lies and conspiracy theories."
Grove, however, said Wolf went back on his word when he negotiated the budget package with GOP legislative leaders. "Gov. Tom Wolf also agreed to the bill before it was taken up by the General Assembly, but now, just days later, line-itemed vetoed funding for the auditor general to conduct election audits," he said.

Grove said past auditor generals, including former Democratic Auditor General Eugene DePasquale, audited aspects of the election process. 
"Between 2016 and 2019, former Auditor General Eugene DePasquale provided needed oversight of our elections by auditing numerous aspects of the 2016 election, showing the office has the ability to audit elections," Grove added. "Why the governor would take away that oversight from the state's top watchdog is beyond me."