Congress
Pa. lawmakers vote to end Wolf's COVID-19 emergency declaration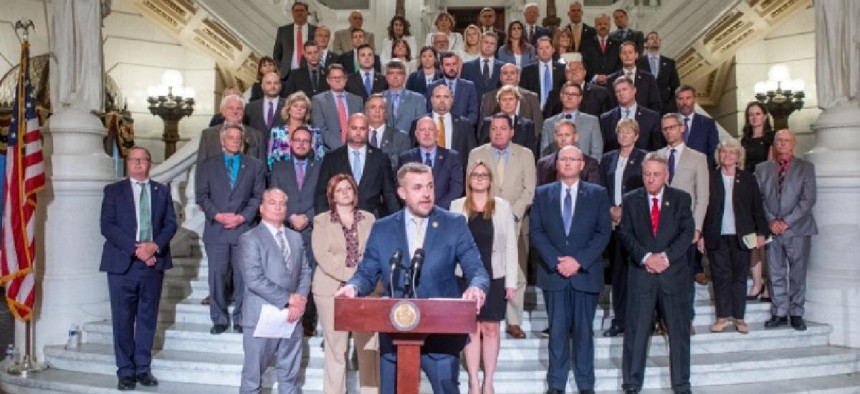 Armed with new constitutional powers, state lawmakers on Thursday voted to terminate Gov. Tom Wolf's COVID-19 emergency declaration after more than a year of jostling with the governor over the state's pandemic response. 

Senate lawmakers voted 30-20 to approve House Resolution 106, which effectively terminates the entirety of Wolf's COVID-19 declaration. The House passed the measure earlier in the week. The vote came one year after lawmakers tried to end the pandemic disaster emergency declaration for the first time – an attempt that was ultimately unsuccessful, as Wolf vetoed the resolution. 
This time around, lawmakers had new constitutional powers on their side, thanks to two ballot initiatives that, among other changes, stripped Wolf of the ability to veto resolutions seeking to terminate his emergency declaration. 
Republican lawmakers said the results of the May 18 ballot referendum provided them with a new mandate to end the emergency declaration – and the executive orders made under it – once and for all.
"Today's vote marks another victory for the citizens of the Commonwealth – hard working Pennsylvanians who spoke with their votes, their calls, their emails and their messages," House Speaker Bryan Cutler said following the House's first vote to end the emergency declaration on Tuesday. "They have sacrificed in unimaginable ways. And today's action, to finally bring this emergency to an end, honors their patience, their perseverance, determination and sacrifice. The emergency is over, we have a duty to carry their voices into this Capitol. That's exactly what we did earlier today."
Wolf first issued the emergency declaration on March 6, 2020 to give his administration more flexibility to respond to the COVID-19 pandemic. Under the state's Emergency Management Services Code, governors have broad authority to issue executive orders with the force of law. Wolf made great use of the powers afforded to him early on in the pandemic, using them to close businesses, halt in-person education and issue stay-at-home orders to limit spread of the coronavirus.

The governor also used the emergency declaration to implement capacity restrictions on businesses and restaurants, and Wolf also waived an array of medical and licensing regulations, which allowed virtual telemedicine appointments throughout the pandemic. 
But while Wolf touted the emergency declaration as an essential tool to combat the COVID-19 health crisis, Republican lawmakers grew frustrated with his coronavirus mitigation measures and continued reliance on executive orders. In June of last year, the General Assembly approved a similar resolution that would have ended Wolf's COVID-19 emergency declaration. 
Lawmakers believed they did not have to present the resolution to Wolf for his signature, but the state Supreme Court ultimately ruled in Wolf's favor, requiring lawmakers to send the resolution to him for his signature. Wolf promptly vetoed it. This week, however, the circumstances were different, with lawmakers able to terminate the resolution without Wolf's signature thanks to two new constitutional amendments. 
House lawmakers amended the resolution to terminate the entirety of Wolf's COVID-19 emergency declaration, a move that the governor said would come with consequences. A full repeal of the emergency declaration "threatens" steps his administration took to suspend and waive regulations, including those that make it easier for retired health care professionals to reactivate their licenses, he said.
"The particular bill that came out of the House just basically negates all of that and I think that's a problem," Wolf said. "I stand ready to … work with legislators to make sure that we move forward in a way that's acceptable, but I'm not sure that Pennsylvanians really want to go that far back."

After a series of negotiations between the Senate, House and Wolf's office, lawmakers settled on a different solution: Ending the emergency declaration, but continuing many of the regulatory waivers and suspensions issued by Wolf under the declaration. 
To do so, lawmakers passed separate legislation, House Bill 854, which will preserve Wolf's regulatory suspensions until Sept. 30. "Today we came up with a solution to address the most pressing needs," Senate Majority Leader Kim Ward said. "These waivers will protect our health care [workers] and will protect our most vulnerable. It'll protect our families, and it will help protect our businesses. So, I think that we've come together and we've ended up with a pretty good package here."
Democrats in both chambers expressed reservations over the impact that ending the emergency declaration could have on Supplemental Nutrition Assistance Program (SNAP) benefits coming from the federal government. "This is a move to gain political points for the next election cycle. It's not legislating with the health and safety of Pennsylvania as the priority, which is what we should be doing," said Sen. Amanda Cappelletti, of Delaware and Montgomery counties. 
"We need to know for certain if we can continue this program. To vote for this now just seems so short sighted to me. I'm very, very concerned about that," said Berks County's Sen. Judy Schwank.

Democrats also accused Republicans of engaging in "political theater" by ending an emergency declaration when nearly no COVID-19 mitigation orders are currently in effect. 
Kevin M. Levy, an attorney with Saul Ewing, told City & State that despite claims that ending the declaration wouldn't change much of the state's current pandemic response, it still would have significant, real-world legal impacts. 
"Practically speaking, today's resolution won't have too much of an impact on Pennsylvania residents or businesses. However, the resolution will have long-term implications on the governor's ability to issue executive orders related to businesses across the state," Levy said. "The governor will not have the authority to order business closures or restrict venue capacity limits. Even though virtually all of those restrictions have been lifted in the last several weeks, the governor's office has continued to signal that it would revisit restrictions if the COVID numbers spiked in the wrong direction. With today's resolution, Gov. Wolf loses that authority."
A spokesperson for Wolf did not immediately respond to a request for comment about approval of HR 106. 

Senate President Pro Tempore Jake Corman said in a statement that the vote to end Wolf's emergency declaration aligns with the will of the voters who chose to roll back some of Wolf's emergency powers on May 18.

"The people of Pennsylvania gave us a mandate to take a different approach to managing the COVID-19 emergency. Ending the disaster declaration while preserving critical waivers for telemedicine, health care staffing and other priorities fulfills the promise we made to Pennsylvanians to protect lives and livelihoods," Corman said. "The actions of the General Assembly will finally allow our Commonwealth to move forward from the pandemic and begin our recovery without the looming threat of new shutdowns or restrictions."