Budget
Proof of ID at the polls? Dems say 'No way' as budget deadline looms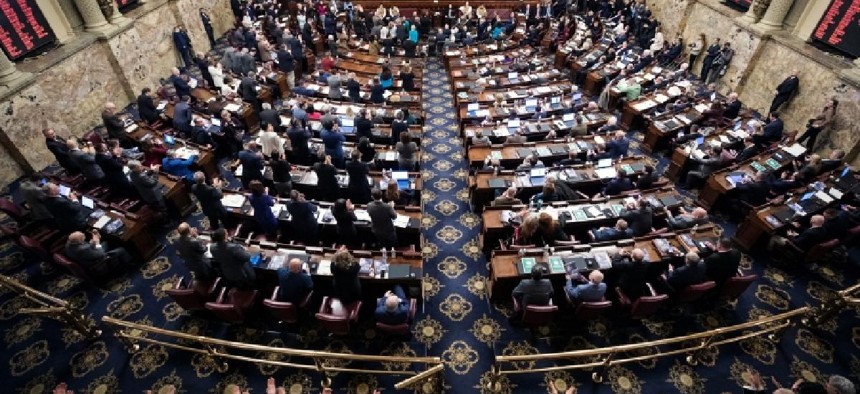 Republican state lawmakers have pushed two separate proposals through their respective chambers that would require all Pennsylvania voters to show proof of ID each time they go to the polls.

In a near party-line vote, House lawmakers on Tuesday approved a sweeping voting bill that would require all Pennsylvanians to show ID at the polls and mandate signature-matching for mail and absentee ballots. Meanwhile, the Republican-controlled state Senate advanced a proposal that would enshrine voter ID requirements in the state constitution.
The partisan push for strengthened voter ID requirements and other elections security measures comes as GOP state lawmakers across the country have enacted similar laws that critics say will make voting more difficult.
Gov. Tom Wolf has taken a hard stance against the proposals, saying: "Make no mistake, the leaders of the House Republican Caucus are being driven by fringe conspiracy theories, and that is no way to make good policy. I vow to Pennsylvanians that I will always uphold the freedom to vote and access to the polls."
The House legislation, dubbed by supporters as the "Pennsylvania Voting Rights Protection Act," would establish in-person early voting beginning in 2025 and allow curbside voting for those who are disabled. 
The bill, which was developed without input from the Wolf administration, is sponsored by House State Government Committee Chairman Seth Grove, who hosted 10 informational election-related hearings earlier this year. Grove defended his bill against Democratic criticisms, arguing that it strengthens election security and increases access to the ballot simultaneously. 
"The Pennsylvania Voting Rights Protection Act protects our most vulnerable and protects our voting rights through three broad concepts: Increased access, increased security and modernization," Grove said on the House floor. "We know access and security are not mutually exclusive." 
Grove's bill would require all Pennsylvania voters to show ID each time they go to the polls, and expand the types of ID that are acceptable. If approved, the legislation would require counties to provide voters with government-issued voter registration cards that can be used as a form of ID. If voters don't have ID with them at the polls, they would be able to sign an affidavit, under penalty of perjury, affirming their identity. 
The legislation – House Bill 1300 – would also require counties to match ballot signatures with signatures on record, and it would also require more identifying information on mail and absentee ballots, such as a social security number, driver's license number or voter registration number. 
If approved, the measure would push the deadlines for voter registration and mail-in ballot applications further away from Election Day. Additionally, counties would be permitted to roll out in-person early voting centers beginning in 2025, and voters who are disabled would have new options, such as curbside voting. 
But while Republicans such as Grove have championed the bill as one that makes it "easier to vote and harder to cheat," Democrats framed it as a proposal that would lead to voter suppression.

Multiple Democratic lawmakers looked to compare HB 1300 to laws throughout history that have disenfranchised people of color. State Rep. Donna Bullock, chair of the Pennsylvania Legislative Black Caucus, pointed to provisions in the bill that would place limits on the number of dropboxes allowed per county, among other hindrances.

"House Bill 1300 makes it more difficult for communities like mine to vote. House Bill 1300 reduces access to mail-in ballots, reduces access to drop off boxes, and all of these are no different than other voter suppression tactics we have seen in the past," Bullock said. "As I mentioned before, when we see Black and brown voters show up at the polls, it is met with violence and it is met with legislation intended to suppress their votes. House Bill 1300 is no different."
Democrats also accused Republicans of attempting to sow doubt in the 2020 presidential election, with state Rep. Malcolm Kenyatta referencing a letter signed by legislative Republicans urging Congress to reject the state's Electoral College votes. The letter was sent as former President Donald Trump stoked unsubstantiated claims about voter fraud and a stolen election. 
"The reason you're hearing so much anxiety and you see member after member on this side of the aisle popping up to speak, is really, very simple. You would not trust a con artist to make policy about fraud. You wouldn't trust an arsonist to make policy about fire prevention. You wouldn't trust a shoplifter to make policy about larceny, and I don't trust the people who wanted to overturn the election to make our election laws," Kenyatta said.
Republicans, however, argued that HB 1300 would increase public confidence in Pennsylvania elections by bolstering security provisions, such as voter ID, and require independent audits of every election in the state.
"Pennsylvanians can only have faith in their government if they have faith in the system which creates it," House Majority Leader Kerry Benninghoff said in a statement. "The Pennsylvania Voting Rights Protection Act takes a realistic and holistic approach to overhauling Pennsylvania's outdated election laws. Its provisions have broad support from Pennsylvanians and includes asks from county officials, local election administrators and election stakeholders that were expressed over the course of four-months-worth of hearings that covered every aspect of Pennsylvania's election law and administration."
But while Republicans pitch the bill as a much-needed fix to the state's Election Code, they still need to earn the support of the governor, who promised Tuesday to veto it in its current form. 
"I want election reform, too. But House Bill 1300 isn't it," Wolf tweeted. "The lawmakers behind this bill are the same ones who asked Congress to throw out PA votes and whose lies directly contributed to the Jan. 6 insurrection."
Wolf has criticized efforts from Republican lawmakers to enact voter ID requirements over the last few weeks, and his administration walked away from negotiations with the House, calling voter ID and other Republican-backed election security proposals "non-starters."
But while HB 1300 will likely be met with a veto, a Senate proposal to codify voter ID in the state constitution would circumvent Wolf's desk entirely. Senate Bill 735, which was approved by the Senate with a 30-20 vote on Wednesday, would require all in-person voters to show ID at the polls, and all mail-in ballots to include a copy of a voter's ID. 
State Sen. Judy Ward, the bill's prime sponsor, says the proposal would give voters the opportunity to decide whether or not voter ID requirements should be implemented.

"Governor Wolf is definitely not listening to the majority of Pennsylvanians when he threatens to wield his veto pen on voter ID legislation," Ward said. "With the governor's refusal to even consider having voters provide verification to vote every time, we were left with no choice but to place the issue on the ballot in the form of a constitutional amendment."
"As a constitutional amendment, we are allowing voters, not politics, to decide how best to secure elections," Ward added.
In order to amend the state constitution, a proposal must be passed by both chambers of the General Assembly in two consecutive sessions. The proposal then gets placed before voters in the form of a ballot referendum, with Pennsylvanians having the final say.