Toomey blasts Biden and Democratic efforts to end the filibuster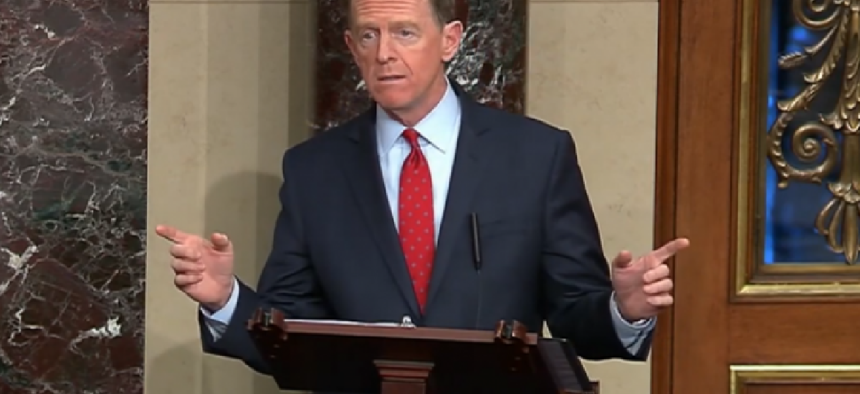 Appearing before the Pennsylvania Press Club on Monday, U.S. Sen. Pat Toomey didn't mince words when offering an assessment of President Joe Biden's time in office, so far. The outgoing junior senator suggested that Biden has largely ignored his campaign promises to be a unifying force in the White House, and instead catered to the progressive wing of the Democratic Party. 
"Whatever happened to the guy who ran for president as the great unifier? I've known Joe Biden for a long time … and I thought he ran a smart campaign; I thought his inaugural address was terrific, and it was all about how he was going to unite the country – bring people together from both sides of the aisle, find consensus and move forward," Toomey said. "I don't see it. I don't see it in the people that he's appointing … and I don't see it in the policies that he's been pursuing. In fact, I see the opposite."
Toomey, who will be leaving office at the end of his current term, said Biden appears to be fashioning his presidency after the likes of Franklin Delano Roosevelt and Lyndon B. Johnson – both of whom expanded federal programs during their time in office.

"It seems to me what's animating the Biden agenda is to have the federal government provide the needs of the middle class – just completely divorce any sense of personal responsibility and simply have a government program for virtually every need that a middle class person or family could have," Toomey added. 
Since taking office, Biden has outlined sweeping proposals to transition the country out of the COVID-19 pandemic and rebuild the nation's infrastructure. In March, Biden signed a $1.9 trillion COVID-19 relief bill that provided direct aid to individuals, as well as state and local governments. Biden has also proposed a wide-ranging federal infrastructure plan, but the proposal appears to have been narrowed down after negotiations with GOP lawmakers.

Toomey said he sees room for compromise on the issue of infrastructure.

"I think there's a better than even chance that something happens – that something gets done in this space when you have 11 Republicans on board with 10 or 11 Democrats," he said. "That's a significant sign that this could pass the Senate."
Toomey also took aim at Senate Democrats, particularly for their calls to abolish the filibuster, which has threatened to stymie many Democratic priorities. 
Toomey said the filibuster helps maintain an ideological balance in the Senate. He added that Democratic attempts to pass House Resolution 1 – a major overhaul of the nation's election laws – were nothing more than an attempt to generate support for abolishing the filibuster, given that the measure was unlikely to pass. 
The Republican senator added that Republicans had an opportunity to abolish the filibuster when they were in the majority during former President Donald Trump's administration, but chose not to.
"We could have, we had the votes, but we thought that was bad for the country. We knew it was bad for the institution. We knew it was bad for our governance if we would swing dramatically from left to right every time an election went differently than it had gone before and so we didn't do it," Toomey said. 
Brendan Welch, a spokesperson for the Pennsylvania Democratic Party, defended Biden's agenda since taking office this past January.

"It sure sounds like Pat Toomey has a lot of free time to play 12-dimensional chess in his head about the universally popular Biden agenda," Welch told City & State in an email. "Democrats have delivered shots in arms and put money in the pockets of communities, businesses, and working Pennsylvanians across the Commonwealth. America is back thanks to Joe Biden and Democrats – and no thanks to Pat Toomey. We wish him the best in his retirement."