Elections
What happened in three mayoral primaries and what it means for cities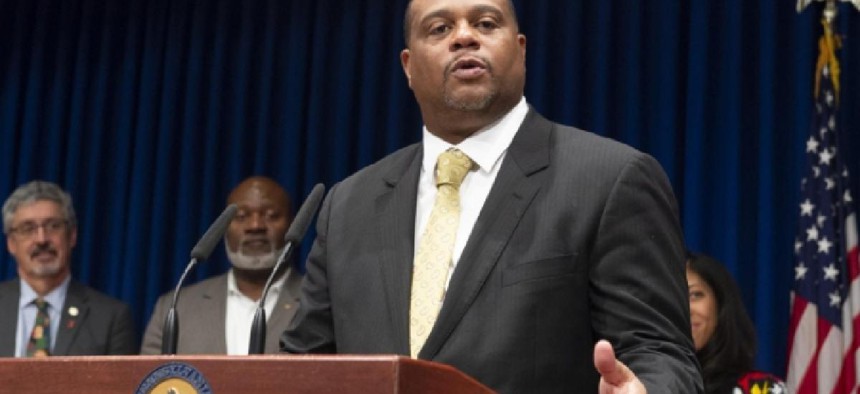 Democratic mayors in three of Pennsylvania's biggest cities were unseated by challengers in last month's municipal primary. 
State Rep. Ed Gainey defeated two-term incumbent Bill Peduto in Pittsburgh's mayoral primary. Harrisburg City Council President Wanda Williams upset Mayor Eric Papenfuse, also denying him a third term. And Matt Tuerk beat incumbent Ray O'Connell in a crowded Allentown Democratic mayoral primary. 
These three people are now poised to become mayors of their respective cities. As it stands, Gainey will be running unopposed in November. While Williams and Tuerk will face some opposition, each candidate will likely win in the Democratic-heavy cities. 
"I can only speak for what we saw in my own campaign, but it seems clear that the voters were looking for more creative and focused responses to challenges like the housing affordability crisis or improving community-police relations," Gainey said in a statement. "I think that's a testament to the work of dedicated organizers and advocates who have been building towards a more just and equitable city for years, and I think we'll continue to see those demands driving the conversation in the future."
A combination of grassroots campaigning and progressive movements contributed to these victories, but overall, it looks to be a pushback on the status quo. 
"It wasn't as much dissatisfaction with the incumbents as it was a desire for change," Tuerk told City & State. "I'm not going to look at this as a thorough rejection of [O'Connell]. There was just a majority of people looking for something different."
Tuerk was able to make in-roads in all parts of the city through his campaign efforts. A fluent Spanish speaker, he said his ability to communicate face-to-face and over the phone with voters was crucial to his success. More than half of Allentown's population is Hispanic or Latino, and many voters said they've never spoken with a politician before. 
"2020 was a year that had COVID-19, the Black Lives Matter movement, and a lot of stuff going on. People felt disconnected," Tuerk said. "I was getting out there and being a visible presence, and that was what the city was looking for: Leadership they can engage with." 
Williams and Gainey were also able to reach a large portion of their city's Democratic electorate. Each candidate has spent years, if not their entire lives, in their city, and that community engagement helped them gain a broad reach and excel in high-turnout areas. 
Williams defeated Papenfuse by just 56 votes in the municipal primary, revealing the impact of consistent outreach in these tight races. Despite being on city council for the last 16 years, Williams entered the race late and was seen as a significant underdog. She was fourth among Democratic candidates in fundraising, but now, she's a win in November away from becoming the city's second Black and second female mayor ever. 
During her campaign, Williams promised to focus on infrastructure, affordable housing, and public safety. She also wants to build a more equitable, livable city in order to boost economic development and job creation. 
Gainey focused on similar issues that voters saw as a priority. He appealed to Black Pittsburghers and emphasized the need for reforms around policing and affordable housing. 
"It's clear in these off-year elections, when turnout is lower, that to win a primary election you are going to need a strong grassroots organization," Mike Mikus, Democratic consultant, told City & State. "Gainey relied on that in Pittsburgh, and it propelled him to victory."
The robust organizing and rigorous, feet-on-the-ground campaigning made the difference, but that wasn't the only driving factor. Voters looking to have their voices heard and be properly represented was a clear contributor, as well. 
Harrisburg and Pittsburgh, whose populations are more than half Black and nearly a quarter Black, respectively, will likely see a Black mayor in office, and Allentown could have its first bilingual mayor. Volunteering and phone banking may go a long way, but the old-fashioned personal connections have shown to be just as valuable. 
"It was grassroots, but it was also hustling," Tuerk said. "We knew when people had their mail-in ballots, and we made sure we were making a phone call when they got their ballots. I showed up at the door and I called them. When you have candidates willing to work hard and work smart, that leads to success."
Mikus said that in order to maintain that success, Democratic candidates must practically address the issues voters are focused on. In districts with communities of color, that initiative is needed to increase voter turnout. 
"One issue on the rise is violent crime," Mikus said. "The majority say there needs to be reform in policing, but at the same time, the issue of defunding police has affected Democrats." Candidates can't just list the talking points said in focus groups. They need to provide effective communication and proper messaging that speaks to the everyday issues affecting the people in their communities. 
"They need to take Latino voters very seriously," Tuerk said of Democratic candidates. "[The party] can learn from what is happening here and take that to places like Lancaster and Philadelphia and have a positive impact."