Budget
Wolf calls on lawmakers to use COVID-19 aid to fund school districts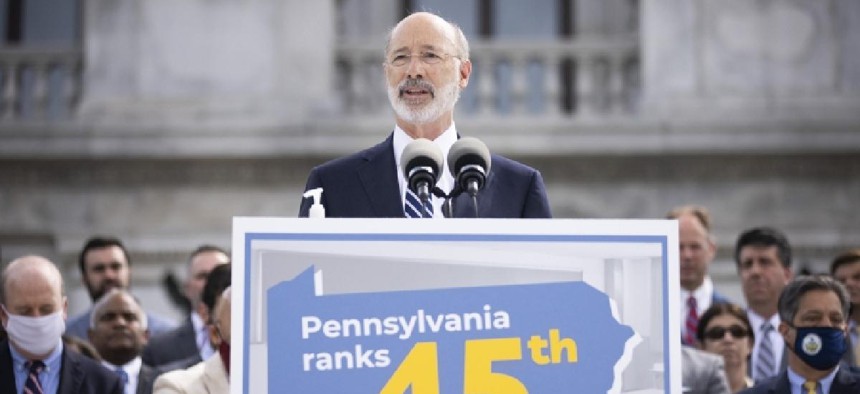 As the state budget deadline nears, Gov. Tom Wolf is doubling down on calls to make historic investments in education as the state sits on a $10 billion nest egg made up of $7.3 billion in federal coronavirus aid and a $3 billion state revenue surplus. 
Flanked by Democratic state lawmakers on the Capitol steps, Wolf on Tuesday called on lawmakers to approve a $1.35 billion increase in basic education funding, including a $1.15 billion increase that would be run through the state's Fair Funding Formula, which allocates new school funding using a weighted formula based on a district's wealth and student needs. 
The proposal is one of multiple education initiatives included in Wolf's budget plan for the 2021-22 fiscal year, along with charter school reforms and proposed increases in pre-K and special education funding.
Wolf said that because the Fair Funding Formula only applies to new basic education funding that exceeds 2014-15 levels, the $1.35 billion investment is needed to ensure that all of the state's basic education funding is run through the formula.

"We have a chance right now to bring education funding into the 21st century where it belongs," Wolf said during a press conference on Tuesday. "To do that, we need to run all current state basic education funding through the fair funding formula. And while doing that, we need to make sure that no school district loses a single penny in state funding because of this adjustment. Yes, that will take a major investment, but it's an investment we have to make to ensure that all students have access to a high quality education."
Wolf had initially called for the increase in basic education funding to be supported by an increase in the state's Personal Income Tax rate – a proposal that was a nonstarter among the General Assembly's Republican leaders. However, Wolf said Tuesday that due to the state's budget surplus and American Rescue Plan allocation, a tax increase likely won't be needed. 
"I don't think it's necessary at this point," Wolf said of his proposed tax increase. "I think we are going to have to, at some point, figure out how we address the revenue requirements of this plan moving forward." He added that lawmakers should make the necessary investments in education while they have excess funds. "We do have a Fair Funding Formula in place – a way to do this. We have the ability right now to fund this. Let's fund it."
House and Senate Democrats expressed support for Wolf's education funding initiatives, while also calling for some of the state's American Rescue Plan dollars to be spent to rebuild schools with asbestos and failing infrastructure. Wolf had previously proposed expanding the Redevelopment Assistance Capital Program (RACP) by $1 billion to allow schools across the Commonwealth to apply for grants to remediate school buildings. 
"There is no excuse … that we can't fix the school buildings in Scranton, we can't fix the school buildings in Chester, that we can't fix the school buildings in Philly and Pittsburgh and every other community all across Pennsylvania," said state Sen. Vincent Hughes, who has long advocated for funding to address school infrastructure. 
But while Democrats see a golden opportunity to make unprecedented investments in education, the Republican-led General Assembly is looking to chart a different course. 
On Monday, Senate Republicans unveiled a 94-page proposal that would expand tax credit programs designed to provide scholarships for K-12 students to attend private schools, as well as some public schools. Proponents of the bill say it comes on the heels of increasing interest in scholarships to attend alternatives to traditional public schools. 
Jason Gottesman, a spokesperson for House Republicans, said in an email Tuesday that Democrats are painting an inaccurate picture of the state's financial landscape. He said that due to deficit spending and the governor's COVID-19 shutdowns, the state's budgetary picture "is not as rosy as Democrats would make it out to be."

"While Republicans have and will continue to ensure our commitment to funding education, we are not in a position to use what financial flexibility we do have to make promises beyond our ability to fulfill them. Our plan for spending federal stimulus dollars will be reflected in the budget we produce," Gottesman wrote in an email. "Currently, we are going through the guidance from the federal government on how the money can be spent, taking into account the years of deficit spending from the Wolf administration that needs to be addressed in this budget, and making sure we are responsible to taxpayers by not raising taxes in any potential budget plan we put together."