Campaigns & Elections
Ed Gainey hopes to usher in a more equitable Pittsburgh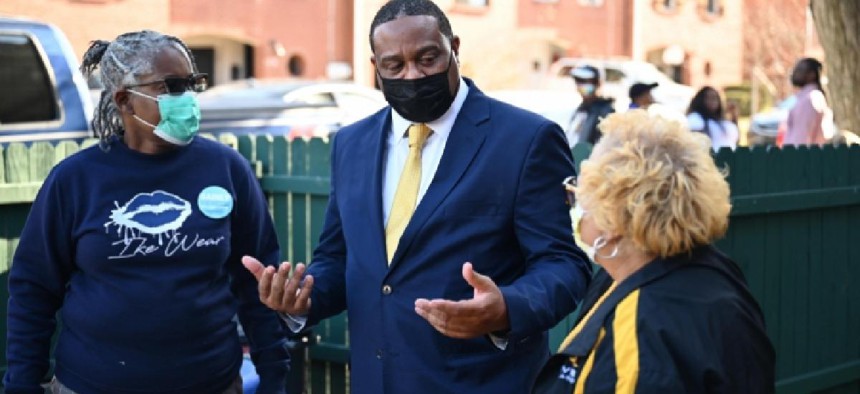 Democratic state Rep. Ed Gainey is one general election victory away from becoming Pittsburgh's first Black mayor. 
After an eight-year stint in Harrisburg as a state legislator, Gainey is preparing to return to local government in the Steel City, where he previously worked as an aide for two different mayors. Many view the general election contest as a formality, as Gainey already knocked off incumbent Mayor Bill Peduto by 4,000 votes in the Democratic primary back in May.
And while Gainey will face Democrat-turned-Republican challenger Tony Moreno in November, Gainey has already outlined issues that will be a top priority in his first 100 days in office. Many of the issues he is hoping to address center around equity, opportunity and safety for Pittsburgh residents, particularly those in Black and brown communities. 
At the top of his list are policing reforms. No, he doesn't want to defund the police – a stance he's made clear in multiple interviews and media appearances. However, the Democratic nominee does want to rebuild the relationship between Pittsburgh residents and the city's police force, which he says starts with an overhaul of how police and the community interact.

"My first 100 days in office, I'm gonna be focused on police-community relations," Gainey told the Black Political Millennials podcast in April. "We have to find a way to begin to build trust and get rid of that culture where we got police officers that feel comfortable to have a private Facebook chat [or] chat group where they can talk about people like me and the LGBTQIA community like we're deplorable. Those are things that have to be dealt with immediately."

Gainey's police reform platform centers around demilitarizing police equipment and training, redirecting those resources toward community policing efforts and creating alternative response options for nonviolent emergencies. Reforming use of force policies and banning no-knock warrants are also among his goals.

Gainey has also stressed a desire to create a citywide public health plan to address root causes of crime and violence in Pittsburgh. Specifically, he said law enforcement, spiritual leaders and health professionals all need to weigh in on how to better address crime.
"We need a plan that's going to address some of the systemic roots of what's causing this violence," Gainey told Marty Griffin, a KDKA NewsRadio host, in June. "We also need to start focusing on, from a community standpoint, what is causing the violence. What is going on internally that makes you want to get up and kill somebody? No public safety, no law enforcement is gonna be able to solve that equation. That equation can only be solved when we talk about dealing with it from a public health and mental health perspective." 

Gainey's mayoral campaign has also centered around an issue near and dear to his heart – community development. During his appearance on Black Political Millennials, Gainey said he was first introduced to politics after learning how public policy can directly impact neighborhoods. He's expressed support for inclusionary zoning policies, which either encourage or require developers to provide a percentage of housing units at below-market prices. He said this practice could help fend off the negative impacts of gentrification in various neighborhoods around the city. 
"We have to be 100% focused on affordable housing. We have to pass inclusionary zoning so that we can make sure that the city is zoned so that we're not being pushed out. Zoning is what helps keep us here and that's one way of keeping us here," he said.
Proper use of federal funds coming to Pittsburgh could help increase affordable housing opportunities for city residents, according to Gainey. He also stressed the importance of establishing community benefit agreements, which are contracts between community groups and developers that outline certain terms agreed to by both parties. His platform calls for using the city's planning process to request community benefit agreements, which he says could help limit gentrification and require greater diversity within a project's workforce. "When you do that, what you do is you give a community an identity," he said on Black Political Millennials. "An identity means that they don't feel like they've been left behind or that they've been run over."
And Gainey's focus on building a grassroots coalition of Pittsburghers may have been what helped him emerge victorious over Peduto, who was seeking his third term in office. Gainey said in a separate KDKA interview that he believed his message "resonated with this city" – a comment that has been echoed by Democratic strategists. 

"It's clear in these off-year elections, when turnout is lower, that to win a primary election, you are going to need a strong, grassroots organization," Mike Mikus, a Pennsylvania-based Democratic consultant, told City & State. "Gainey relied on that in Pittsburgh, and it propelled him to victory."
Gainey will face off against Moreno in November, an Army veteran and retired Pittsburgh police officer who claimed the GOP nomination after running against Gainey and Peduto in the Democratic primary. And while Gainey is expected to be the victor due to the prevalence of Democrats in the city, he pledged in a recent appearance on KDKA to represent all Pittsburgh residents if he does go on to win the general election.
"What you're going to get from me as a person that goes to work every day, that's going to work as hard as I can to serve the people of this city," he said. "I look forward to that and I thank you for the opportunity to serve, and we can't wait to go to work. I can't wait to go to work."