Campaigns & Elections
Fetterman raises $2.5 million for Senate bid in second quarter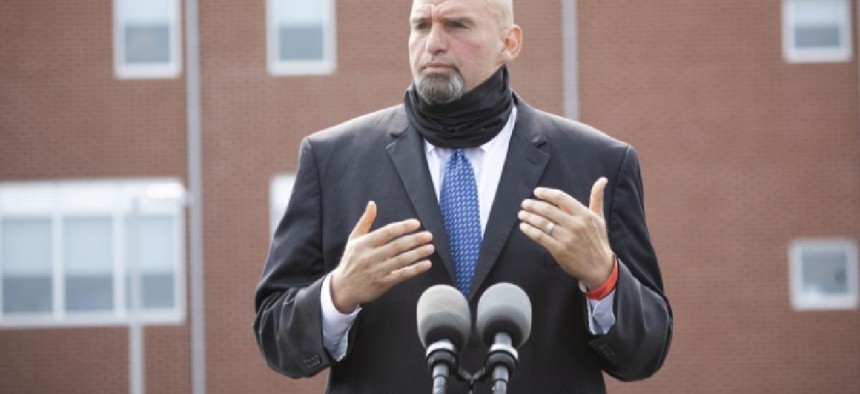 Lt. Gov. John Fetterman continued pulling in cash from supporters during the second quarter of the year, raising a total of $2.5 million from April through the end of June, according to campaign finance data released by his campaign.

Since launching his U.S. Senate campaign in February, Fetterman has raised a total of $6.5 million, a sum that has dwarfed the fundraising efforts of other candidates seeking outgoing Sen. Pat Toomey's seat.

"I am so grateful that our movement is continuing to grow," Fetterman said in a statement. "To have received over 231,000 individual contributions since we launched this campaign is truly humbling. Gisele and I are just overwhelmed with gratitude. Thank you." 
Fetterman's second quarter campaign finance report is not yet available, however, his campaign says it received more than 91,000 donations this quarter, including donations from more than 30,000 first-time contributors. 
Fetterman raised upwards of $3.9 million in the first quarter of this year, more than any U.S. Senate candidate in Pennsylvania has ever raised in the first quarter, Fetterman's campaign says. 
Rebecca Katz, a senior advisor to Fetterman, said the second quarter fundraising haul demonstrates the enthusiasm behind his Senate bid. 
"This quarter, we saw over 31,000 new donors join our campaign, and we received over 91,000 contributions. This is what true, grassroots momentum looks like. We are building a people powered campaign one $28 donation at a time because the people of Pennsylvania believe in John Fetterman." 
Based on early campaign finance numbers, the former Braddock mayor appears to be the leading fundraiser in the Democratic race for Pennsylvania's Senate seat. He outraised Montgomery County Commissioners Chair Dr. Val Arkoosh by nearly $1.5 million, though Arkoosh still reported strong fundraising numbers after receiving endorsements from Emily's List and 314 Action.

Arkoosh reported raising more than $1 million in her first quarter in the Senate primary race, and will enter the next quarter with upwards of $625,000 on hand. 
Tiernan Donohue, Arkoosh's campaign manager, said Arkoosh's fundraising total shows growing support behind her campaign. 
"This outpouring of support so far, which is a significant downpayment on a successful campaign, marks continued momentum behind Val, and we look forward to continuing to grow in the months ahead," Donohue said.